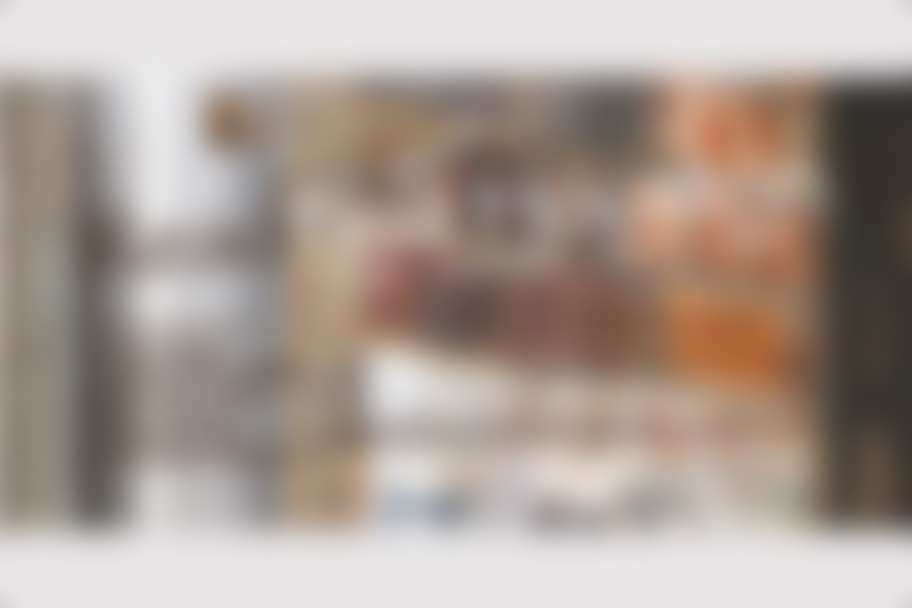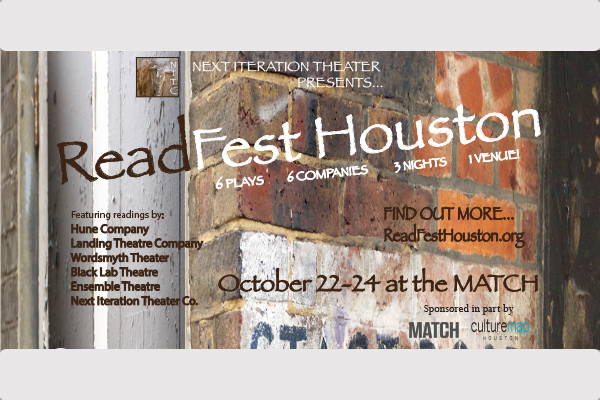 | Date | TIme | |
| --- | --- | --- |
| Thursday, Oct. 22 | 8:00 PM | |
| Friday, Oct. 23 | 7:00 PM | |
| Friday, Oct. 23 | 8:00 PM | |
| Saturday, Oct. 24 | 5:00 PM | |
| Saturday, Oct. 24 | 7:00 PM | |
| Saturday, Oct. 24 | 8:00 PM | |
ReadFest Houston celebrates the dynamic play developmet process by offering free staged or concert readings of new plays or plays new to Houston. During the ReadFest, Houston residents and visitors will be treated to the unique voices of six Houston theaters, and the opportunity to experience the MATCH as a cultural destination in Midtown.
The ReadFest will open on Thursday, October 22 at 8:00 p.m. with a show by Black Lab Theatre. An opening reception on Friday, October 23 at 6:30 p.m. is followed by shows by The Landing Theatre and Hune Company. On Saturday, October 24, shows continue from 5:00 p.m. onward with readings by The Ensemble Theatre, Wordsmyth Theater and Next Iteration Theater Company. Audiences will be able to join NITC, as well as the other participating theater companies for socialization in the MATCH breezeway between shows, and at various Midtown bars for after-parties.
SCHEDULE
Thursday, October 22
BLACK LAB THEATRE at 8:00 PM
Beth Kills Birds by Jordan Jaffe, directed by Troy Scheid
Friday, October 23
HUNE COMPANY at 7:00 PM
Exit Strategy by Ike Holter, directed by Julia Traber
LANDING THEATRE at 8:00 PM
Daughters of the Moon by Reginald Edmunds, directed by Timothy Eric
Saturday, October 24
WORDSMYTH THEATER at 5:00 PM
Dreams/ D-E-F-E-R-R-E-D by Mihaly Magz, directed by Melissa Flowers
ENSEMBLE THEATRE at 7:00 PM
Front Porch Society by Melda Beaty, directed by Eileen Morris
NEXT ITERATION THEATER at 8:00 PM
Time is the Mercy of Eternity: A Meditation in Four Acts
by Deb Margolin, directed by Dianne K. Webb
Play readings have always been an integral part of developing new work for the stage and for introducing theater audiences to cutting edge work. Play readings performed by actors allow playwrights a low-cost opportunity to hear their words through actors' voices while allowing actors and audiences a chance, as vital participants to the playwright's proccess, to experience work often still in progress. The ReadFest aims to bring this experience to both seasoned theatergoers in Houston, as well as engage new audiences who may not be familiar with the breadth and strength of Houston's theater offerings.
Find out more on the ReadFest website:
ReadFestHouston.org
This event is sponsored by