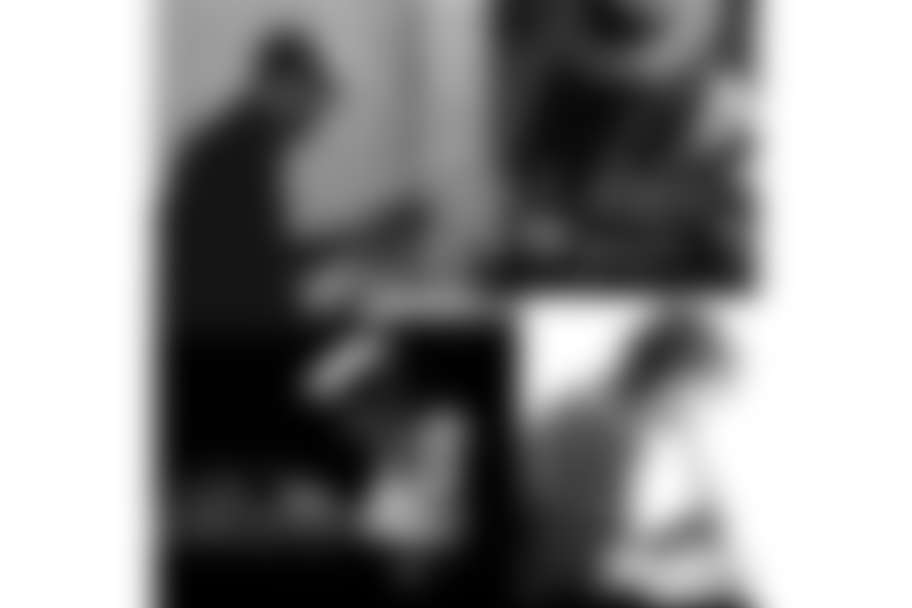 Tetuzi Akiyama (Tokyo, Japan) - guitar
Bryan Eubanks (US/Berlin, Germany) - saxophone, electronics
Jason Kahn (US/Zürich, Switzerland) - drums, percussion
Toshimaru Nakamura (Tokyo, Japan) - no-input mixing board
Since the mid-1990's, international movements in experimental music have introduced such significant mutations in acoustic and electronic approaches that the identification of the acoustic and the electronic as distinct mediums might now be somewhat invalid (is sound itself, not the medium?). Boundaries between composition/improvisation and performance/installation have also interwoven, blurred and in many cases completely collapsed. Can we now eliminate the distinction between "sound art" and "music"?
In their own practices, each of these four artists has been on the forefront of these mutations, and each has produced a work that has contributed significantly to this and related questions. How does equipment used for sound amplification/mixing become an instrument itself (when there is supposedly no sound source to amplify or mix)? Is there a distinction between an idiomatic "musical" gesture and non-idiomatic sound? What is the difference between "drumming" and "playing a drum"? When a sound leaves an instrument (and its performer) and affects other sounds (and the room), who's sound is whose within an ensemble? Is there individual agency in this collaboration? These four improvisers will meet together as a quartet for the first time on a 16-date US tour, that will bring them to Nameless Sound's first concert event at Houston's new MATCH arts center. Expect to hear something unlike you've ever heard before.
After "long unhappy years with the electric guitar", Toshimaru Nakamura began developing what he calls the "no-input mixing board": simply a mixing board with inputs connected to outputs, so as to generate internal feedback. In Nakamura's hands, this re-appropriated piece of audio equipment has become a new instrument. Its range of intense sonic phenomenon, high-pitched drones, feedback loops, electronic patterns and whistles refocuses listening on the distinct physical qualities of sound and the individual listener's relation to how they are received in space. As one moves the position of their head (and their ears' relationship to the sounds), they perceive significant changes in the sound's shape
From "drumming" to "playing the drums" to "playing" electronics, and from performance to installation, Jason Kahn's own artistic journey has been highly individual (though typically collaborative). Kahn first became active as a member of Joe Baiza's Los Angeles-based harmolodic punk band Universal Congress Of. Based in Europe (Berlin, then Zürich) since 1990, Kahn was present for much of the very influential electro-acoustic improvisation happening in the 90's. Though his current music may seem a distant remove from his early activities and studies in jazz, rock and Arabic music, the propulsion of his drumming and his interest in space have remained constant. On drum set, Kahn's playing swings across a wide spectrum of approaches, ranging from ecstatic, rhythmic drive to abstract sound textures using a variety of found metal objects and cymbals.
Bryan Eubanks employs the soprano saxophone as both an acoustic instrument and as part of a unique feedback system built and designed by himself, using open circuit boards and custom-built analogue circuitry. A musical autodidact who was trained as a photographer, Eubanks has explored acoustic holography in his installation work and has composed work for solo, ensemble and custom generative software. Eubanks is currently based in Berlin.
Tetuzi Akiyama presents what seems to be a contrasting approach in this group. A guitarist with clear roots in blues and folk styles, Akiyama offers delicate (even fragile) melodic shapes, a harmonic sensibility and a compositional use of silence to this ensemble. Though his sources are more obviously based in traditional idioms, Akiyama's beautiful (and very human) guitar gestures nonetheless played an important role in Japan's austere, minimal and experimental Onkyo music of the 90's . The phrases and contours of his playing unfold with an unhurried patience. Not relying on volume or power to grab attention, his musical world draws the listener in with its rich melodic and harmonic detail.
Links:
Tetuzi Akiyama:
Bryan Eubanks:
Jason Kahn:
Toshimaru Nakamura:
Supported by the Japan Foundation through the Performing Arts JAPAN program.