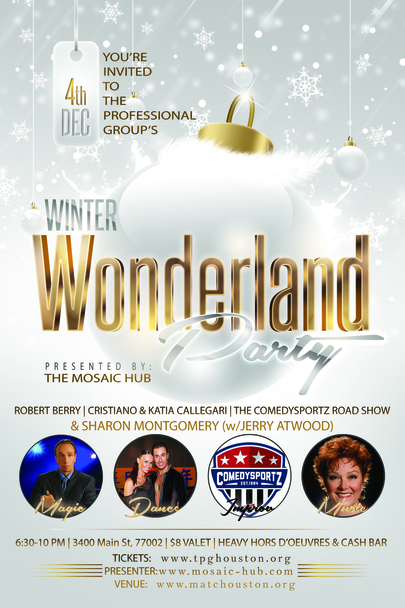 You're invited to The Professional Group's Winter Wonderland Party, presented by The Mosaic Hub!
Bring your spouse, friends, colleagues, and clients and join us for a very special evening of entertainment, food, and fun! Enjoy the spectacle of magician Robert Berry, the sassy moves of ballroom dancers Cristiano and Katia Callegari, the wit and humor of the Comedysportz Roadshow, and even the sultry sounds of the fabulous Sharon Montgomery and pianist Jerry Atwood.
Heavy Hors D'oeuvres & Cash Bar.
Valet parking available ($8.00) or surrounding parking ($5.00 to $6.00) $75.00 per person.
Dress is holiday casual (unless you feel like "putting on the Ritz").
Contact Natalie Lerner at (281)300-9656 or natalie@mosaic-hub.com if you have questions.
Presenter: www.mosaic-hub.com In Conjunction with: www.tpghouston.org