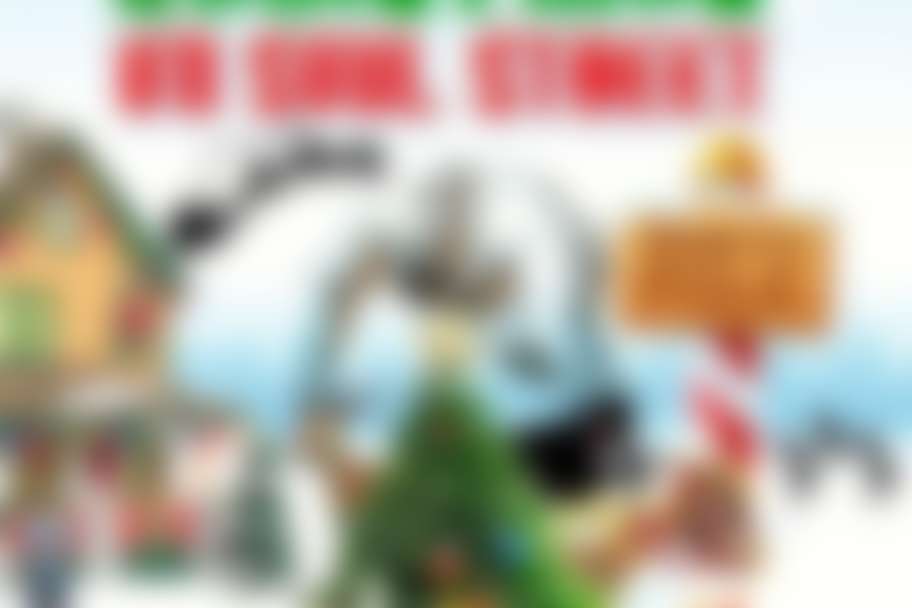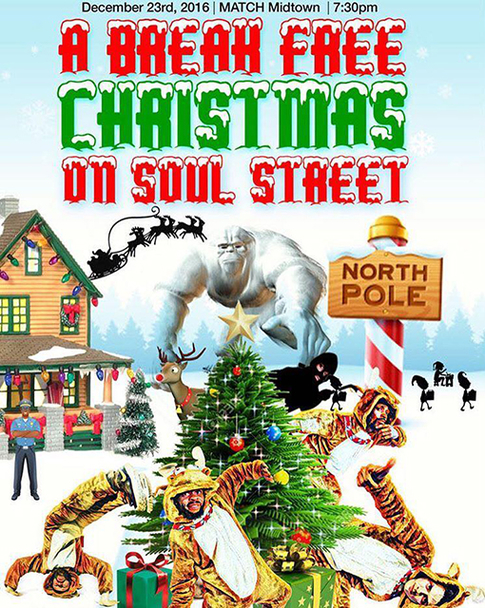 The World Premiere of the International Touring Dance Theatrical Production.
Written, Directed, Choreographed By: Break Free Hip Hop School & Soul Street Dance Company.
The MUST SEE Christmas Production of this season! A father and his three sons,The Breakinsons, and their mind-bending adventure to a North Pole party - The Winter Wonderland Jam! Despite rather unusual encounters with strange characters - some new, some old, some familiar to the Holiday Season. They finally make it, but was it worth it?
Founded in August of 2011, Break Free Community Center's mission is to provide a safe and inspiring environment for young people. Since opening our doors, we've had the honor of serving hundreds of youth from our community.
Our goal is to educate youth on positive alternatives, creative expression, healthy living, and positive Hip Hop Culture.
We offer multiple programs utilizing dance, music, and art that allow our community to discover positive outlets. Our staff believes that expressing yourself creatively is the most honest and direct way to "Break Free" from any negative situations a young person faces on a daily basis.Healthy living is also a huge part of what BFCC promotes. We are a drug free environment with a purpose of educating youth on drugs, eating habits, and physical exercise. Every day, our center is open to anyone looking for that positive place to work at. The Break Free Community is unified through Hip Hop Culture. Hip Hop was created by youth as a positive outlet that promotes peace, love, and unity. Break Free offers a variety of classes all sharing one common theme - the powerful tool of creative expression. Through art, we believe that significant life skills can be learned and instilled in our students, as well as giving them a positive alternative leading to a much more productive, healthy lifestyle.
Our instructors are highly experienced and travel the world educating on Hip Hop Culture. Break Free instructors are truly passionate about their art and do not only share their skills, but instill the authenticity of the culture to all students. We believe in hard work, commitment, and determination. This isn't a day job for us - this is our life!
For more information or to sign up today visit:
Break Free Hip Hop School
1903 Spring St. Houston, Tx 77007
713-944-4699
www.breakfreehouston.com
Houston based Soul Street Dance is one of the most dynamic premier dance companies in existence. Their technical and artistic skills, stage presence and wit allow them to push the performance envelope to an amazing standard of excellence.
Although they are called a "Dance Company", their talents far outstrip any one category. In addition to dance, Soul Street performers are actors, athletes, (with uncanny strength), and lately, songwriters and musicians.
Soul Street's high standard and attention to detail coupled with impeccable business practices earned them the honor of representing The United States Of America abroad under the auspices of the Arts Envoys touring program from the State Department's Bureau of Educational and Cultural Affairs. They have recently completed two tours of the European Eastern Bloc, sharing the joy of dance through workshops and performances with young aspiring dancers from the former Soviet Union countries. They are currently in preparation to represent the U.S. further in an upcoming tour of Haiti.
In all travels they garner goodwill for our country and Houston, Texas by modeling sober, responsible behavior along with open hearts and minds and clean fun that allow them to seamlessly share experience with all cultures.
Soul Street has the amazing ability to totally engage audiences from ages two to two hundred. A huge repertoire and outstanding flexibility have earned them the title, "Rock Stars of the Educational Theatre World" and they're working hard to expand these accolades worldwide! From educational shows, workshops, full-fledged evening performances or any combination of the aforementioned, Soul Street can bring it to you with an excellence that will leave you speaking of nothing else for days!
Soul Street's consistent excellence in dance and factual attention to subject matter has made them one of the top educational outreach groups in this country. With repertoire ranging from the music of Vivaldi and, to Rock n Roll to Hip-Hop and every stop in between, Soul Street brings the arts to your facility, huge or intimate, and straight into your heart. They would love to demonstrate this to your audiences in person. Ever appreciative of their innate talents, they respect their audiences and themselves by continual practice and innovation. (Never a slack moment. Or a dull one either!) Have a show tailored to your specific needs or just enjoy what they already have at hand.See for yourself at the NBA All-Star Games or some of the most prestigious theatre venues in Europe. Soul Street has the goods and always lavishly shares them!