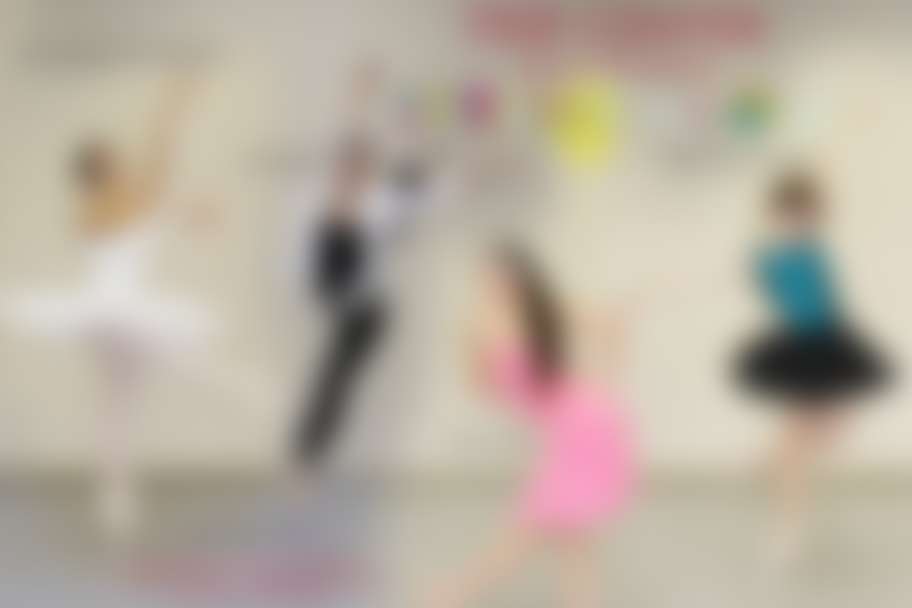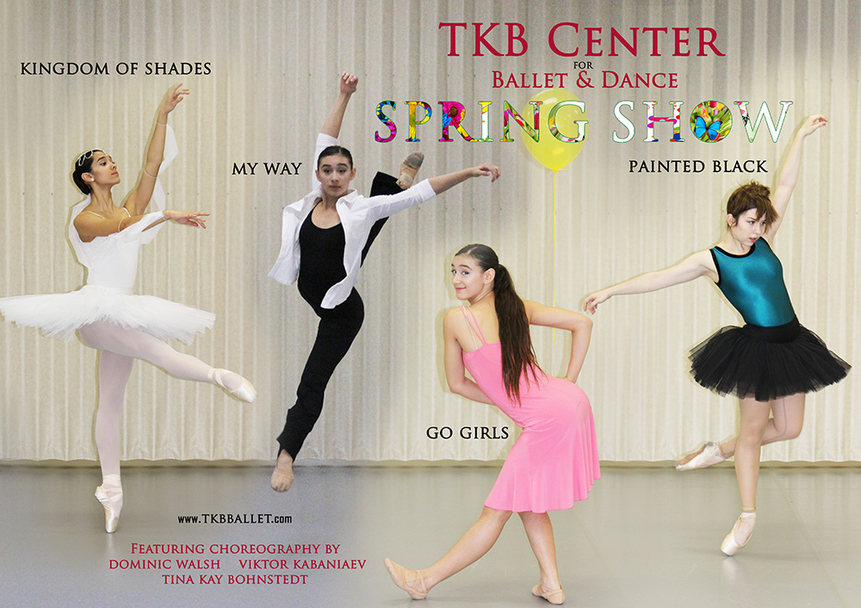 TKB Center for Ballet & Dance is excited to showcase an original Choreography by the renowned and critically acclaimed Choreographer Dominic Walsh, original pieces from Viktor Kabaniaev "Go Girls", "Painted Black" & "My Way" by Tina Bohnstedt. Also included is the Kingdom of Shades from La Bayadere performed by our TKB Foundation students.
For our Spring Show, we are proud to present original works from our Ballet School's guest choreographers/master instructors.
Dominic Walsh
Walsh was born in Elgin, Illinois in 1971 and started his training at an early age with Lisa Boehm, Warren Conover, and Larry Long in Chicago. He joined Houston Ballet in 1989, was promoted to Soloist in 1993, and Principal Dancer by 1996. Walsh danced throughout Asia, Europe, and North America receiving praise from international critics including Anna Kisselgoff of the New York Times who called him "impressively virtuosic" and the New York Post's Clive Barnes who described him as "excellent and exuberant." Walsh has danced all the major classics including Swan Lake, Giselle, Don Quixote, Romeo & Juliet, and Manon with international stars such as Nina Ananiashvili and Alessandra Ferri.
He danced Houston Ballet's entire contemporary repertoire, and Ben Stevenson created numerous roles for him including Marc Antony in Cleopatra. Walsh was the inspiration for the lead roles in Natalie Weir's Steppenwolf and In a Whisper.Some of the choreographers most influential to his artistic development include Ben Stevenson, Jiří Kylián, Nacho Duato, Natalie Weir, William Forsythe, Glen Tetley, Sir Frederick Ashton, Sir Kenneth MacMillian, George Balanchine, and Christopher Bruce.
Walsh continues to receive commissions to set and create works nationally and internationally including Teatro di San Carlo, Naples, Italy, Medea (2009) and The Sleeping Beauty (2011); Ballet Florida, Bello (2006); Ballet Quad Cities, The Nutcracker (2008); American Ballet Theatre Studio Company, Alchemy (2004); London Studio Centre, Sub-Luminus (2010); Asami Maki Ballet Tokyo, À Bientot (2006); New National Theatre, Tokyo, Orfeo ed Euridice (2007) and Wolfgang for Webb (2010). After the premiere of Orfeo ed Euridice, critic Ryoko Sasaki wrote: "It is a sophisticated excellent work with meditation and emotion moderately blended with each other." And critic Akiko Tachiki said: "The choreography in which techniques of classic ballet and contemporary dance fuse was full of deformations and twists, and sparkled with unique originality." Walsh is also the Resident Choreographer for Sarasota Ballet of Florida, creating/staging Wolfgang for Webb (2008), The Trilogy (2009), and Time out of Line (2011).
Dominic is continuing with a busy schedule traveling the globe creating new works and staging existing creations. This season he will be creating/staging his works for Ballet San Antonio, Colorado Ballet, Festival Ballet Providence, Whim W'Him, and Asami Maki Ballet in Tokyo. He is also traveling, giving master classes and workshops, as well as staging works by his former director and mentor, Ben Stevenson. Last season Dominic staged Mr. Stevenson's Romeo and Juliet, and this season, his Swan Lake. He has also staged his Esmeralda Pas de Deux in Tokyo and Cinderella for Tulsa Ballet in past years.
Viktor Kabaniaev
Viktor Kabaniaev - Ballet Master & Director of the Professional Ballet Division Viktor Kabaniaev, award wining and internationally acclaimed choreographer and teacher, was trained at the famed Vaganova School in St. Petersburg, Russia . During the years that followed, he worked as a principal dancer in various ballet companies in the former Soviet Union, Germany and United States. Mr. Kabaniaev has performed principal roles in many classical, neoclassical and contemporary ballets and has toured extensively in France, Iraq , Poland, Singapore, Germany, Switzerland, Spain, Italy , Liechtenstein, Sweden, Austria, Panama, Japan and Thailand. r. Kabaniaev has created over 40 works for Cincinnati Ballet, Ballet Austin, Hanover Ballet, Diablo Ballet, Smuin Ballet SF, Sacramento Ballet, Moving Arts Dance and many ballet schools and colleges around United States. He created over 60 pieces for YAGP. His works were presented in the Republic of Belarus , France , Germany , Poland , Japan, Australia , Netherlands , Russia , Italy , and the United States. In 2010 Mr. Kabaniaev joined WSPA as a teacher for Professional Program.
Tina Kay Bohnstedt
Tina was introduced to ballet as a 9 year old while growing up in the circus in her hometown of Munich, Germany. Her mother decided to have one of the circus dancers, a professional ballet dancer from Poland, give Tina private lessons so Tina would look more graceful on the trapeze.
Tina began her intense dance training at the Heinz-Bosl Stiftung Ballet Academy in Munich in 1981, and received her diploma in 1989. During this time, she was awarded the Junior Gold Medal at the German Ballet Competition (1986) as well as fourth place finalist in the Moscow International Ballet Competition (1989). From 1989 to 1998 she was a principal dancer with the Bavarian State Ballet in Munich.
In 1992 her artistry was recognized with the Bavarian Cultural Award for Outstanding Achievement in the Arts. She performed a wide range of classical and contemporary roles, including Juliet in John Cranko's Romeo and Juliet, Kitri in Ray Barra's Don Quixote, Aurora in Peter Wright's Sleeping Beauty, Mary in John Neumeier's Nutcracker, Olga in Cranko's Oniegin and Bianca in Cranko's Taming of the Shrew. She performed several lead roles in Balanchine pieces (Serenade, Symphony in C, Four Temperaments, Apollo, Who Cares) as well as works by Hans van Manen, Jiri Kylian, Ohad Naharin, Angelin Preliojai, Ulysses Dove, Gerhard Bohner and many others.
Tina toured internationally in China, Italy, Korea, the Philippines, Thailand, Colombia, Peru, Poland, Belarus, Spain, Switzerland and the United States. After moving to San Francisco in September of 1998 Tina became a guest dancer with the Lawrence Pech Dance Company. She joined Bay area professional company Diablo Ballet as a principal in September of 1999 and was featured in many works created for her by the company and guest choreographers such as KT Nelson, Val Caniparoli, Julia Adam, Nikolai Kabaniaev and Viktor Kabaniaev.
In 2007 Tina choreographed her first piece for Diablo Ballet, the critically acclaimed The Mirror. She created several other works for the company including A Tribute to Lena Horne, a piece choreographed in honor of her late mother. She has also choreographed pieces for Kirov Ballet Academy, Northern California Dance Conservatory, Metropolitan Ballet Academy, Colorado Conservatory of Dance, Contra Costa Ballet, Houston Ballet II, Houston Ballet, Uptown Dance Company and Space Coast Ballet Academy. She has also choreographed a number of solos for YAGP competitors and Orlando World Competition.
In 2005 Tina became Director of the Diablo Ballet Apprentice Program and in 2007 also began serving as a Ballet mistress for the company. During this time she served as guest artist and guest teacher for several companies in the San Francisco Bay Area including Smuin Ballet Company, Berkeley Ballet and Contra Costa Ballet. In January of 2011 Tina became faculty member at City Ballet San Francisco. In September 2011 she assumed the position of Ballet Master at Houston Ballet for two seasons. Tina has taught for many other ballet schools and companies including Kirov Ballet Academy, Bavarian State Ballet, Houston Ballet's Academy, Space Coast Ballet Academy, Northern California Dance Conservatory, Metropolitan Ballet Academy, Panama Ballet, Dominic Walsh Dance Theatre and Colorado Conservatory of Dance.
TKB Center for Ballet & Dance is a classical ballet school situated in Houston, TX. TKB offers instruction in Ballet, from Discovery to our Pre Professional program. Included in our array of dance offered at TKB including Ballet are Horton Jazz, Contemporary and Hip Hop. We also offer excellent summer workshops. For more info go to TKBballet.com