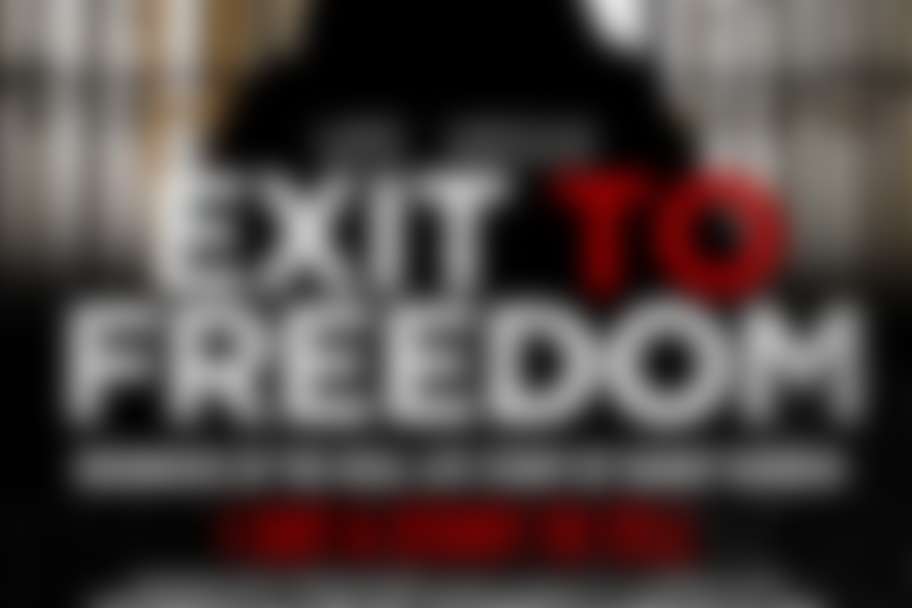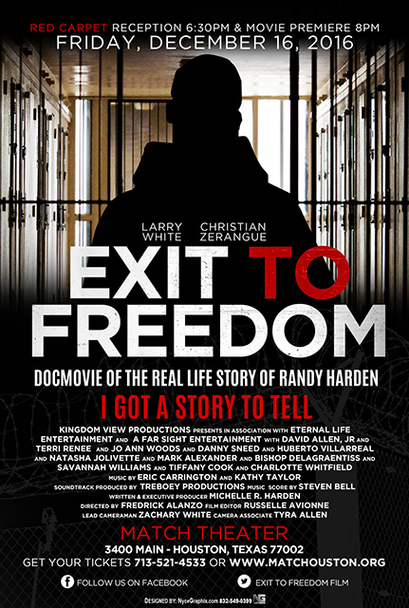 Written by Michelle R. Harden
Red Carpet Experience & Special DocMovie Release
6:30 PM: Reception
8:00 PM: Movie Premiere
$35 VIP (priority seating and ETF gift)
$20 General Seating
Kingdom View Productions associated with Eternal Life Entertainment and A Far Sight Productions PRESENTS DocMovie EXIT TO FREEDOM
A flirty teenage boy discovers his identity through an exit sign, not before many twist in learning the truth about his identity. It is a provocative story that will allow you to experience from the big screens, his story, his way. The Randy Harden story, Exit to Freedom, after six times incarceration, hopeless and lost; but had a praying mother and family to combat the demons in his life. Discovering he was number two of thirty-eight children, yes #2 of 38 kiddos. Randy discovers his true identity through his FEARS, HIS FAILURES, HIS FATE AND HIS FAITH. The FRAGMENTS of his life was the pieces that came together to prepare him for his FREEDOM.
It is a common story that we see everyday with a young person's bout with drugs. Listen to Randy's story as he shares the struggle, the journey and now the freedom from incarceration and drug addition to crack cocaine.
The reenactment of his story incorporated a very talented cast and reknown gospel artist. It is a tear jerker and an emotional engaging piece.
EXIT TO FREEDOM is a message of hope, faith and demonstration of the power of prayer.
Special Music & Appearance by
Kathy Taylor & Eric Carrington
Soundtrack: I GOT A STORY TO TELL
Written by: Randy Harden
Music by: Treboey Productions
Mix/Master: Global Entertainment
Sound Consultant: Steven M. Bell
Meet the Cast and Crew at the Red Carpet Experience
Randy Harden
Larry White
Christian Zerangue
Pastor David Allen, Jr.
Terri Renee
Jo Ann Woods
Mark Alexander
Danny Sneed
Charlotte Whitfield
Walter Boughton
Freddie Oliver
Tiffany Cook
Katwayna Roberts
Savannah Williams
Huberto Villarreal
Bishop Delagraentiss
Trini Green
Manuela Domingos
Norman Sanchez
Natasha Jolivette
Caitlin Delaney
Krista Hill
Elisabeth Timmons
Ramona Franklin
Mama & Papa Flake
David Flake
Who should attend:
Mothers who are praying for your children to get off of drugs
Ministers/Pastors who service inner city youth and learn their plot of peer pressure
Individuals who have been incarcerated and struggle with remaining free
Individuals that have a story to tell of their Exit to Freedom
Attire: STUNNING
Attire is red carpet semi-formal to formal. Camera ready for photos. No jeans or tennis shows.
ALL VIDEO/PHOTO DURING THE MOVIE IS PROHIBITED.
This is a Kingdom View Production with Executive Producer - Michelle Harden, Director/Producer - Fredrick Alanzo Film and Creative Editing A Far Sight Entertainment - Russelle Avionn
Follow Exit to Freedom and Learn more about the movement
Stay connected with Exit to Freedom by joining our mobile connection:
Text: 54244
Message: ETF
info@exittofreedomfilm.com
713.664.5876
Media Contact
ETF will donate 10% of the profit proceeds to The Naomi's House. The NH help disenfranchised women transitioning out of incarceration.
www.thenaomishouse.global