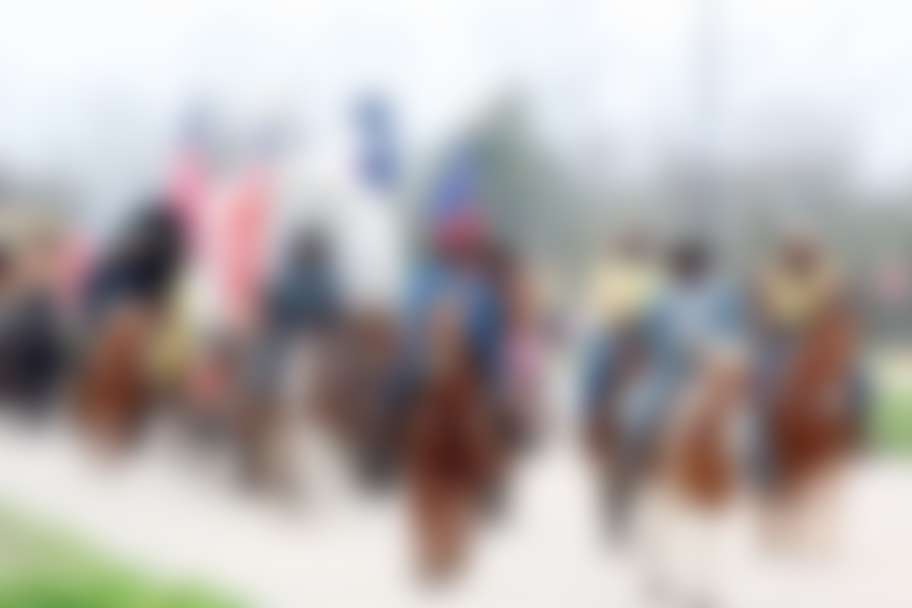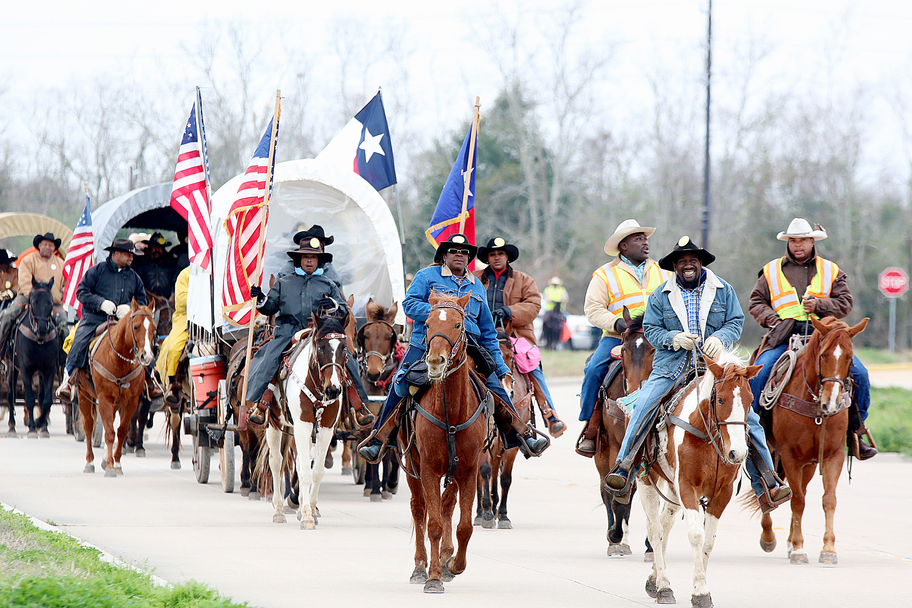 | Date | TIme | |
| --- | --- | --- |
| Wednesday, Feb. 10 | 12:00 PM | |
| Thursday, Feb. 11 | 12:00 PM | |
| Friday, Feb. 12 | 12:00 PM | |
| Saturday, Feb. 13 | 12:00 PM | |
| Sunday, Feb. 14 | 12:00 PM | |
| Monday, Feb. 15 | 12:00 PM | |
| Tuesday, Feb. 16 | 12:00 PM | |
As central as the Houston Livestock Show and Rodeo is to the identity of Houston and her citizens, the trail rides, which act as a highly anticipated prelude to the "main event," still remain somewhat shrouded in mystery for most Houstonians. Perhaps the trail riders with the most fascinating traditions and folklore are our region's African-American trail riders, who celebrate Texas's black cowboy heritage not only at "rodeo time," but year-round.
The Texas Gulf Coast is home to a rich, black cowboying tradition. The counties that surround Harris —especially Waller, Fort Bend, Brazoria and those further south along the Coastal Bend — are still home to a thriving ranch economy. African-American cowboys helped build that economy, and it is this legacy that spurred the creation of the Rodeo's black trail ride associations.
The Rodeo's first African-American trail ride group was the Prairie View Trail Ride, founded in 1957 by Jamie Francie, Jr. Due to its success, the organization outgrew its camp sites and meeting places, and Francie encouraged fellow trail rider Fred Gray to start a second group in the southwest part of town. Noting that Brazoria County had a strong agricultural economy, he recommended that Gray focus his ride in that sector of the region. With that, the Southwestern Trail Ride Association was born.
The primary focus of the exhibition Honoring Houston's African-American Trail Riders is the Southwestern Trial Ride. This group begins its ride, as most groups do, by hosting a huge celebration featuring zydeco music. Over the last 20 years, with the increase of the Creole population in this part of Texas and the music's association with rural life, zydeco has become the signature music of the black trail rides.
In recognition of these trail riders, Houston Arts Alliance's Folklife + Traditional Arts program presents the exhibition/installation Winter Celebrations Part Three: Honoring Houston's African-American Trail Riders.
Gallery Hours
Monday to Thursday, Noon to 6 PM
Friday and Saturday, Noon to 7 PM
Sunday, Noon to 5 PM
Opening Reception
The opening reception on Thursday, February 11, 2016, from 6 to 8 PM. will feature food, drink and a zydeco dance with Marcus Ardoin and Da Zydeco Legendz.
All events are free and open to the public.