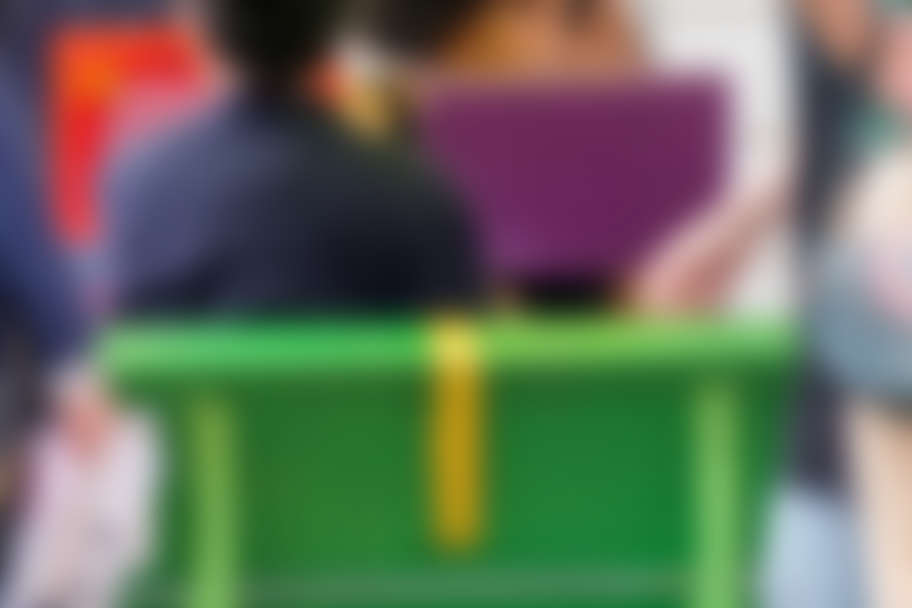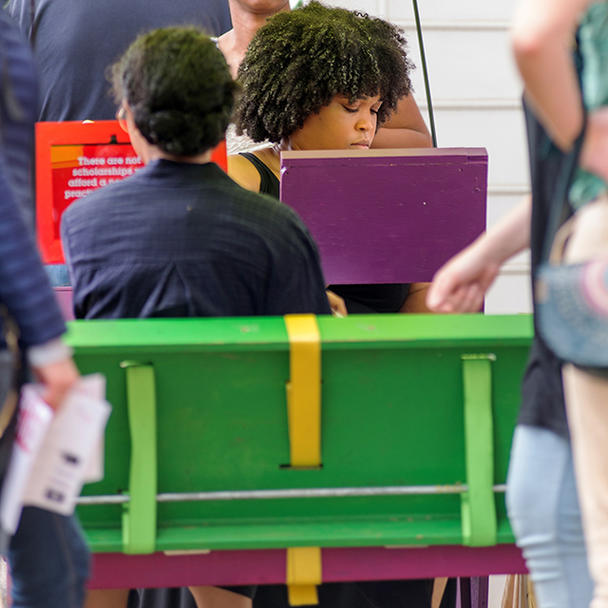 | Date | TIme | |
| --- | --- | --- |
| Tuesday, Apr. 18 | 6:00 PM | |
| Wednesday, Apr. 19 | 6:30 PM | |
| Thursday, Apr. 20 | 12:00 PM | |
| Friday, Apr. 21 | 5:30 PM | |
| Saturday, Apr. 22 | 10:00 AM | |
| Sunday, Apr. 23 | 12:00 PM | |
Activism Art
Locations Vary. Below are details on where you can catch the Ghana ThinkTank mobile mosque around town. All events are unticketed and no reservations are required.
"The question was left open to allow people to give us their concept of 'cultural diversity.' I was so impressed by the honesty and openness of Houstonians when answering the question. Clearly this is something we all need to talk about." - Carmen Montoya of Ghana ThinkTank
In 2017, Ghana ThinkTank will bring answers to the question they asked Houston in 2016: What's your Houston Diversity Problem?
Ghana ThinkTank will travel with their Mobile Mosque to various locations during CounterCurrent17. Please keep an eye on this page for the most up-to-date info on locations and times!
Tue 4/18/17
CounterCurrent17 Opening Night Celebration
6pm-7:30pm
American Muslim Video Cypher Houston (Take I)
7:30pm-9pm
MATCH (Travis and Holman Streets)
3400 Main Street
Wed 4/19/17
Bismillah Block Party
6:30pm-8pm
NEW LOCATION: Levy Park Conservancy
3801 Eastside St.
Houston, TX 77098
Thu 4/20/17
Syrian Women´s Pop Up Lunch
12pm-2pm
Nurturance of Self and Other in Intimate Relationships
7:30pm-9pm
Dua e Kumail
9pm-10pm
Outside UH Graduate College of Social Work (adjacent to eL Seed mural)
University of Houston, Entrance 16 off Cullen Boulevard
Fri 4/21/17
Jumu'ah Prayer
1pm-2pm
Yoga in The Park with Shireen Haq
5:30pm-7pm
Mobile Muslims | Grassroot Islam Discussion #12
7pm-9pm
Sufi Dhikr Circle
9pm-10pm
Buffalo Bayou Park
2929 Allen Parkway
Sat 4/22/17
Adjusting Creatively: A Workshop for Women with Tamika Evans and Melanie Villegas
10am-12pm
MacGregor Park (near the Martin Luther King, Jr. Memorial)
5225 Calhoun Road
Sun 4/23/17
Islamic Art Workshop with Artist Samar Babar Palette Of Style and CounterCurrent Closing
12pm-2pm
Aurora Picture Show
2442 Bartlett Street
Please keep an eye on this Facebook page.
Houstonians—students, conservatives, immigrants, office workers and artists, laborers and children—had a lot to say. Much of it related to cultural and ethnic identity, to fitting in, and to feeling like a scapegoat for other people's problems. Since then, international think tanks have been concocting solutions to Houston's problems. In 2017, discover what these think tanks had to say about solving the problems of the "first world."
Ghana ThinkTank will travel about the city with this new information, engaging people in conversation and exhibiting displays of the journey of Houston's diversity problem from the city to the think tanks, and how their considered responses and ideas travel back to Houston—and how we might implement their solutions.
Ghana ThinkTank is an international collective that "develops the first world" by empowering "third world" think tanks to create solutions for the problems people face living in the "developed" world.
Citizen Think Tanks for Houston Diversity Problems: Sathenagar Slum residents in Mumbai and Kochi City residents, India; a group of artists in Tehran, Iran; a hacker collective in Yogyakarta, Indonesia; a group of rural artisans in Tassoultante, Morocco; medical students in Gaza; Syrian refugees in Serbia; Syrian refugees in Germany.
Ghana ThinkTank is presented as part of the INTERSECTIONS initiative. INTERSECTIONS is a program of the University of Houston Cynthia Woods Mitchell Center for the Arts, which seeks to build bridges between visiting artists and Houston's Muslim and non-Muslim residents, with a focus on the University of Houston students.
INTERSECTIONS is made possible in part by the Association of Performing Arts Presenters; Building Bridges: Campus Community Engagement Grants Program, a component of the Doris Duke Charitable Foundation and Doris Duke Foundation for Islamic Art.
NOTE: In addition to listed locations, Ghana ThinkTank will travel throughout the festival. Please check this page for updates about when and where to catch this project.