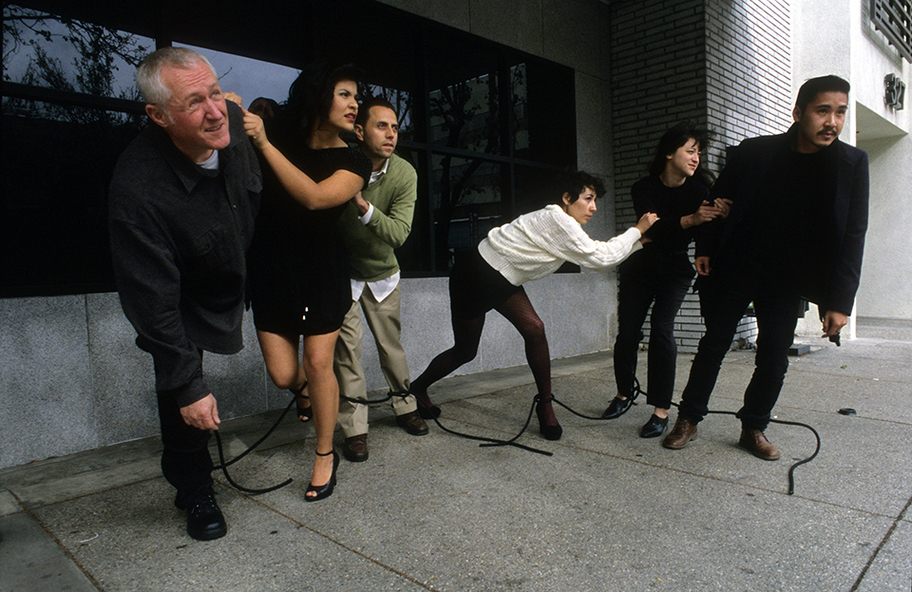 Performance Lecture
The Quintero Theatre
Cynthia Woods Mitchell Center for the Arts
University of Houston Main Campus
3351 Cullen Blvd.
Houston, TX 77204-4016
Reception: 5:00 PM in the Blaffer Café, University of Houston Main Campus
"Los Angeles is built atop a desert creating a mirage of sophistication and mystique while primal activities take place beyond the scope of consciousness." - Harry Gamboa Jr.
For more than forty years, Harry Gamboa Jr. has aimed his lens at the Los Angeles "urbanscape," exposing its subtle layering of codes, rules, and visual markers that contribute to making a sophisticated living space for millions of people. In this new performance lecture, Gamboa delves into the notion of myth in contemporary society with images and videos of his work. He discusses the various creations that he has directed with his current performance troupe, Virtual Vérité, and earlier works (1970s and 1980s) with Asco, the young and pioneering group of Chicano artists who produced new methods of art making in bold and public ways.
Often with a strong dose of subversive humor, many of Gamboa's works are publically staged narratives performed for still photography, video, and an immediate, live audience. Most of the works are never announced beforehand nor advertised in any way, and are usually presented via scholarly publications, mass media, the internet, and word-of-mouth.
Harry Gamboa Jr. is an artist, a writer, and educator whose art has been exhibited in museums and art spaces throughout the U.S. and internationally. He is a faculty member of the Photography and Media Program at California Institute of the Arts.
Illusions of Urbanscape is part of Till Now: Contemporary Art in Context, a year-long speaker series hosted by the University of Houston School of Art and the Blaffer Art Museum which brings together leading voices in the field of contemporary art.
Run Time: 60 minutes
NOTE: Seated performance
PARKING + DIRECTIONS: Enter the University of Houston campus off Cullen Blvd., and turn into Entrance 16. Visitor parking is available in Lot 16B.