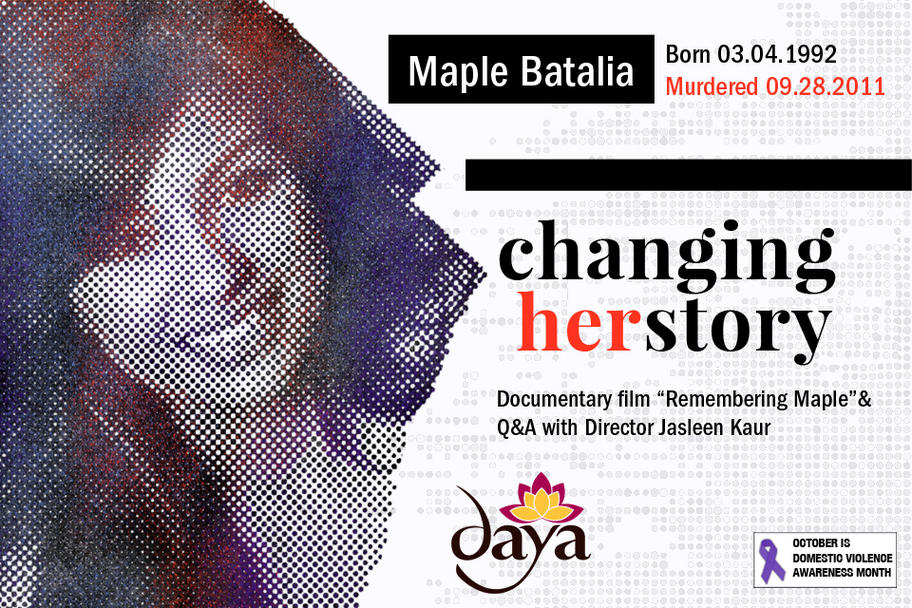 In September 2011, 19-year-old health sciences student, Maple Batalia, was fatally stabbed and shot near her campus library by a jealous ex-boyfriend, leaving friends and family devastated, confused, and riddled with questions:
How did this happen to a child from our community? Why was no one aware that she had been abused? What can be done to ensure that this never happens again?
To commemorate October as Domestic Violence Awareness Month, join Daya for a screening of "Remembering Maple", a documentary that profiles the life of Maple Batalia and the impact of her death on her family, friends, and community. The screening will be followed by a discussion with the director, Jasleen Kaur. We will highlight how we can confront domestic violence and highlight available resources. Join us in changing her-story and end domestic violence in our community.
Doors open at 5:30 PM. Program starts at 6:00 PM.
Daya is a Houston based organization that provides culturally specific services to South Asian survivors of domestic and sexual violence, more information available on www.dayahouston.org