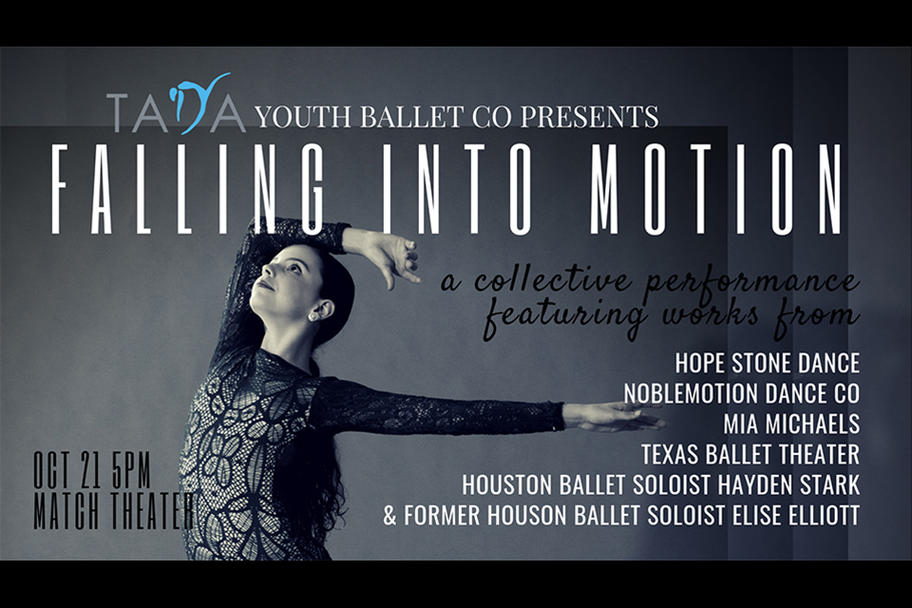 World Premieres by Mia Michaels, Elise Elliott, and Hayden Stark
"Falling Into Motion" is the Fall opening performance for Texas Academy of Dance Arts's Youth Ballet Company (YBC). This evening of dance is presented by the YBC, featuring Guest Artists from the Houston and Fort Worth Areas, as well as accompaniment from Houston musicians.
Starting the evening is an excerpt from TADA's new production of "The Sleeping Beauty," set to perform on March 2nd and 3rd. Next is the pas de deux from Ben Stevenson's "Martinu Pieces," created by Stevenson on his dancers at Texas Ballet Theater. Performed by Carolyn Judson and Alexander Kotelenets, this pas de deux was influenced by the devastating effects of Hurricane Harvey and Stevenson's close connection to the city of Houston. Next is a world premiere by Three-Time Emmy Award Winner and former judge on So You Think You Can Dance, Mia Michaels. This piece was created on, and is performed by, TADA's Competitive Team, TeamTADA. Also in this act is another short excerpt from Sleeping Beauty. Finishing Act I is "Gliere," a New Work by YBC Artistic Director, and Former Houston Ballet Soloist, Elise Elliott. This piece, performed by the YBC Apprentice Company, is set to Reinhold Gliere's Gavotte from "8 Pieces, Opus 39." Featuring our youngest company members, this short piece is accompanied by Houston Symphony member, David Connor (Upright Bass) and Houston Ballet Orchestra Member, Karen Wilkson (Violin). Technical and quick, "Gliere" showcases YBC's emerging corps de ballet, led by YBC Company members.
The second act is "75," YBC's Elise Elliott's tribute to her father's 75th birthday. This World Premiere, performed by YBC Company and accompanied by Tarana Taylor on piano, is set to the Aria and first five variations of Bach's "Goldberg Variations." Through solo, duet, pas de trois, pas de quatre, and ensemble movements, this piece illustrates the intricate musicality and nuances that are Bach's score.
Beginning the final act is a World Premiere by Houston Ballet Soloist, Hayden Stark, created on and performed by YBC Company, Junior Company, and Apprentice Company dancers. Following this new work is a piece by Houston's Hope Stone Dance Company. Founded in 1997, Hope Stone celebrates over 20 years of artistic excellence and recognition in Houston. Hope Stone has committed itself to improving the quality of life for Houstonians through art. Next is a new contemporary work by Andre Silva (Principal at Texas Ballet Theater) titled "Bongo Bong." Quirky and fun, this piece showcases YBC's Company and Junior Company dancers. Noblemotion also graces the stage in this act. Noblemotion Dance is one of Texas' premier contemporary dance companies and has received critical acclaim for their extraordinary athleticism and cutting-edge programming. The company offers a broad repertory and remains focused on creating new work: work that lives close to the nerves. A short solo from YBC's upcoming "Sleeping Beauty" is also included in this act. Closing the evening is Elise Elliott's World Premiere of "Cello Suite," set to three of Bach's most famous scores for cello, featuring YBC's Junior Company and Company dancers. Fluid, precise, and joyful, this New Work showcases TADA's rising stars.
Join us for an exciting evening of dance, showcasing the talent of tomorrow!
*In addition to supporting TADA"s New Production of "The Sleeping Beauty," a portion of the evening's proceeds will go to Texas Children's Hospital*