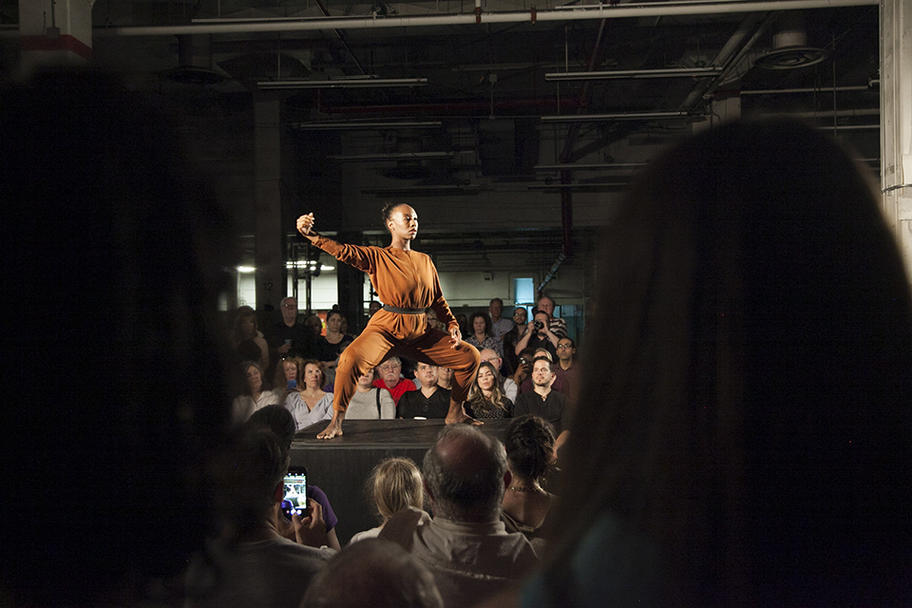 Performance
The Space HTX
2005 Commerce Street
Houston, TX 77002
Ten choreographers create ten short dances in one very large space, but for one very small stage: a raised cube with a 4′ x 4′ playing space. During the 2018 CounterCurrent festival, the fourth annual Ten Tiny Dances® will focus on themes of "color" to be interpreted by audience and artists alike. Audiences are asked to attend in all-white to fully embrace the theme and immerse themselves in the interactive nature of this work.
By enlisting artists at all stages of their careers, Ten Tiny Dances® continues to challenge audiences and artists on the definition of performance. Participating artists include: Alde Lewis (guest artist, A. L. Efficacy Movement); Alonzo Lee Moore IV; Catalina Alexandra; Christopher Thomas; Elijah Alhadji Gibson; Liannet Madrazo; PhaeMonae (guest artist, Core Dance); Shani Sterling; Trent D. Williams, Jr.; and Ty'Esha Lewis.
Created in Portland, Oregon, in 2002 Ten Tiny Dances® continues to be produced by founder Mike Barber and others, by permission. See www.tentinydances.org for more information.
ABOUT THE ARTIST
Harrison Guy is the Artistic Director of Urban Souls Dance Company (founded in 2004). His works display passion, beauty, and activism rooted in African American culture. Guy began his dance journey in La Marque, TX at Ruth Elgin Dance Studios. Building on his love for social dance and Hip-Hop, Harrison studied dance at Prairie View A&M University under the artistic direction of Kenneth Epting and Paula Williams, Energy Source Dance (Murfreesboro, TN), The Houston Metropolitan Dance Center, Sam Houston State University, Deeply Rooted Productions (Chicago), Dallas Black Dance Theater, and The Ailey School (NY). Harrison has gained a reputation for creating works that shifts the consciousness of the audience. He has facilitated a cultural exchange in Kigali, Rwanda, and was commissioned to create a work at Vanderbilt University in the spring of 2015 to honor one of America's most prominent composers, John Harbison. In 2016, he launched Houston's first African American Dance Festival. His latest collaborative work was on view at Project Row Houses Round 47.
Pia Agrawal joined the Cynthia Woods Mitchell Center for the Arts as Program Director in August 2014 where she ensures the success of the center's public programming including the Mitchell Artist Lecture, the annual CounterCurrent festival, and activities relating to the Mitchell Center Artist-in-Residence program. Prior to her work at the Mitchell Center, she served as the Managing Director of the Rude Mechs (Austin) and as Programming Director of FringeArts (Philadelphia). She loves all the possibilities Ten Tiny Dances® has to offer.
NOTES
This project may contain nudity.
Limited seating will be available for those who need it. Please be prepared to stand and walk for the duration of the performance. On-site valet parking.
Audiences are asked to attend in all-white clotihing.
Doors open at 7 PM, and Saint Arnold will be serving free beer.
Run time is 60 minutes.
Photo: Ten Tiny Dances® CounterCurrent 2017, Photo by dabfoto creative