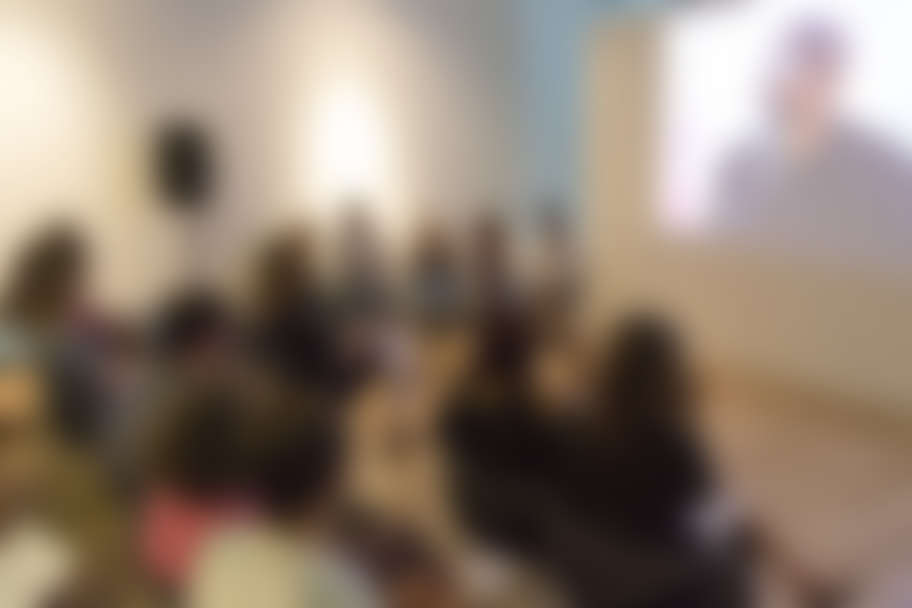 | Date | TIme | |
| --- | --- | --- |
| Wednesday, Apr. 10 | 12:00 PM | |
| Thursday, Apr. 11 | 12:00 PM | |
| Friday, Apr. 12 | 12:00 PM | |
| Saturday, Apr. 13 | 12:00 PM | |
Discussions
4/10 - 4/13, 12-1pm Daily
MATCH Rehearsal Room
3400 Main St.
Current Conversations are a series of public conversations across disciplines and along parallel lines of inquiry. CounterCurrent festival artists and University of Houston faculty experts engage in lively discussion about themes and concepts connected to this year's festival programming. Each one-hour, lunchtime talk kicks off with a set of rapid-fire presentations followed by questions and answers among panelists and the audience. Light fare and coffee will be provided.
---
WEDNESDAY, APRIL 10, 12PM
DUAL GROWTH FOR SPECULATIVE FUTURES
A street artist shapeshifts in double-time, casting each project from an alternative future's point of view. A developmental cognitive neuroscientist discovers an advantage for language switching in the bilingual brain. A performer returns as the future generation of Dora the Explorer, co-written with Mom. A biologist explores whether ciliates having two types of nuclei in each cell results in increased evolvability. With:
Panelists include:
Ganzeer, Artist: CounterCurrent19, Perpetu-War
Dr. Arturo E. Hernandez, Director of Laboratory for the Neural Bases of Bilingualism, Professor of Developmental, Cognitive, & Behavioral Neuroscience, Department of Psychology, University of Houston College of Liberal Arts and Social Sciences
Jennif(f)er Tamayo (JT), Artist: CounterCurrent19, LA QUEERADORA
Dr. Rebecca Zufall, Department of Biology and Biochemistry, University of Houston College of Natural Sciences and Mathematics
THURSDAY, APRIL 11, 12PM
RADICAL KINSHIPS AND FIERCE EMBODIMENT
A multidisciplinary artist opens spaces for honoring the past and healing for the future. An artist sustains a life, a home, and a practice- commanding measures of value on her terms. A Jill-of-many-trades shapes the show from every angle. A scholar links past, present and future embodiments of disability activism.
Panelists include:
Leticia Contreras, Artist: CounterCurrent19 Ten Tiny Dances®: Nightlife and Salt Water Sweet Water
Awilda Rodríguez Lora, Artist: CounterCurrent19, SUSTENTO: from La Performera to La Mujer Maravilla
Roxy, House of Kenzo, Artist: CounterCurrent19, Ten Tiny Dances®: Nightlife
Dr. Jess Waggoner, Postdoctoral Fellow, University of Houston College of Liberal Arts and Social Sciences: Women, Gender & Sexuality Studies
FRIDAY, APRIL 12, 12PM
SENSING AT THE EDGE OF DETECTION
A RiTUAL Lab designs technology to predict movie tags and fight cyberbullying online. An artist fine tunes a 70-foot string instrument over 30 years to resonate. A particle physicist mutes all background interference in the search for Dark Matter. A sounding crowd moves as a collective sensing organ to elicit a Public Song.
Panelists include:
Ellen Fullman, Artist: CounterCurrent19, The Watch
Okwui Okpokwasili, Artist: CounterCurrent19, Sitting on a Man's Head
Dr. Andrew Renshaw, Department of Physics, University of Houston College of Natural Sciences and Mathematics
Dr. Thamar Solorio, Director, (RiTUAL) Research in Text Understanding and Analysis of Language Lab. Department of Computer Science, University of Houston College of Natural Sciences and Mathematics
SATURDAY, APRIL 11, 12PM
WATER MIRRORS/FLIPPING LENSES
An artist anchors a camera obscura to flip the history of the waterways and what they hold. A polymath shares his points of view on water from many disciplines and many decades. A serial inventor makes a microscope lens for your smartphone. An Environmental Justice activist imagines that Another Gulf is Possible.
Panelists include:
Tia-Simone Gardner, Artist: CounterCurrent19, Salt Water Sweet Water
John H. Lienhard, Engines of Our Ingenuity, Professor Emeritus, University of Houston Departments of Mechanical Engineering and History
Yudith Nieto, Artist: Another Gulf Is Possible Collaborative
Dr. Wei-Chuan Shih, University of Houston Department of Electrical and Computer Engineering, Biomedical Engineering, Materials Science & Engineering, and Chemistry
---
ABOUT THE ARTIST
Carrie Marie Schneider (Houston, TX) is an artist interested in reimagining the sociocultural politics of space and time through the organization social projects that interrogate the many ways in which community, care, and economics are connected. Her projects include Hear Our Houston (2011), a hub of public generated audio walking tours, Care House (2012), an installation in the house she grew up in considering the roles of caregiving/caretaking and the bodies of mother/home and Sunblossom Residency (2009-15). Schneider co-organizes Charge, a convening at Art League Houston of local and national presenters to platform artist-led models and to consider artists' work in the larger economy. Schneider was an inaugural fellow for the 2017 Center for Art and Social Engagement fellowship through the University of Houston and Project Row Houses.
NOTES
Light lunch and coffee provided.
Duration: 60 minutes
The MATCH Rehearsal Room where Current Conversations will take place is ADA accessible. The family restroom in the MATCH breezeway is gender neutral, and will be available during Current Conversations.