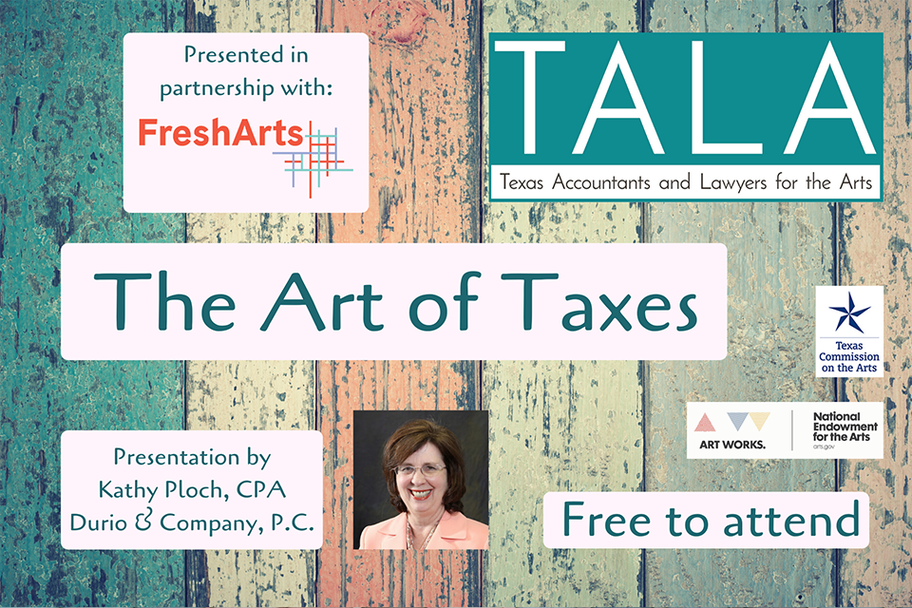 Artists! Learn the important stuff when it comes to your federal tax return.
It's important to be up to date with information that impacts your tax liability. Join TALA as we cover new rules and general basics for completing your return.
Structured with artists in mind, this seminar is designed to walk you through your tax return, addressing common artist concerns and important IRS regulations pertaining to creative practices.
Topics covered include:
What it means to be self-employed/independent contractor
What the self-employment tax is and how it is paid
Keeping records of income and expenses
Which expenses are deductible
What is needed to prepare your taxes
Estimated tax payments
Business v hobby rules
Home office expenses
Overview of the business personal property tax and sales tax
Meet the speaker, Kathy Ploch, CPA:
Kathy is a CPA at Durio and Company P.C. She previously spent 7 years as a Tax Compliance and Consulting Specialist at Harper & Pearson Company, P.C. She has been in public accounting preparing all types of taxes for 35 years and has worked with small nonprofit organizations for 20 years. Kathy is a Past President of TALA and has been a volunteer with the organization since 1999. She is a member of the Houston CPA Society and served as the Society's President in 2009-2010.