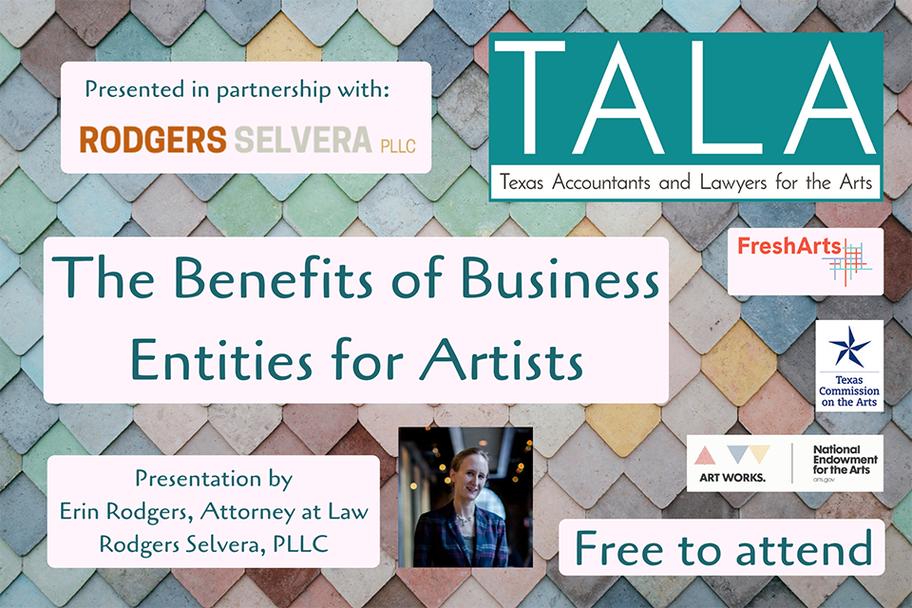 Presented by TALA and Rodgers Selvera PLLC
Do you know what type of business structure is right for your artistic pursuit? Learn about the types of business entities artists should consider, how limited liability can protect you, and the responsibilities of becoming incorporated. Attorney Erin Rodgers sorts it all out and gives you the pros and cons of business models most used by artists.
Meet the speaker, Erin Rodgers, Attorney at Law:
Erin has been practicing entertainment and nonprofit law in the Houston area since 2007. Erin holds a Bachelor of Music in Music Business from Loyola University New Orleans, and a J.D. from the University of Houston Law Center. She has spoken at many entertainment industry events, and teaches copyright and business courses at the Art Institute of Houston. She serves on the Texas Entertainment and Sports Law Council, and is a member of NARAS. She was a past legal director at Texas Accountants and Lawyers for the Arts.
In addition to practicing law, Erin is a classically trained clarinetist, and also plays the piano, accordion, and guitar. Erin has performed as a vocalist with Dave Brubeck and the Louisiana Philharmonic Orchestra, as a performer and musician with Catastrophic Theatre, and currently performs with Houston indie rock band The Wheel Workers, as well as with several other groups.