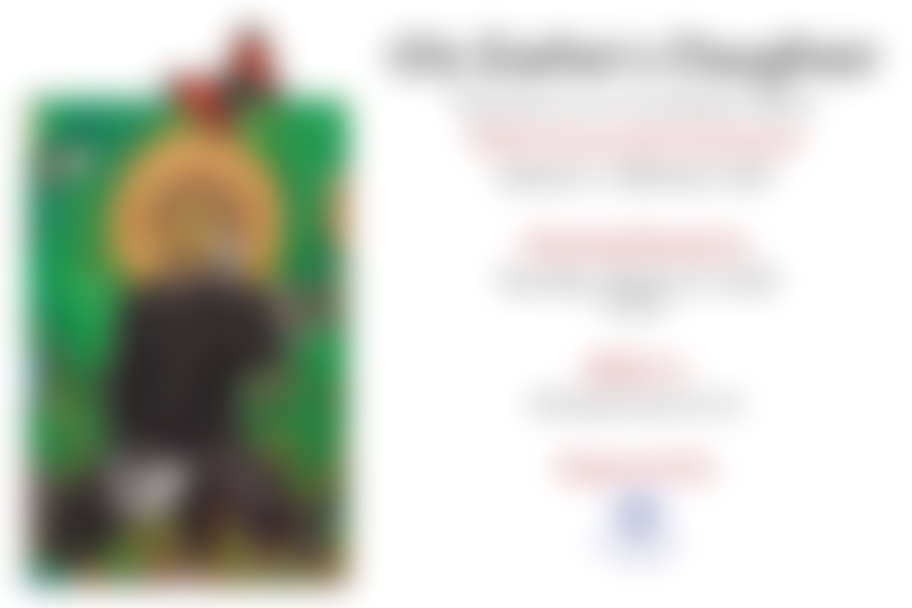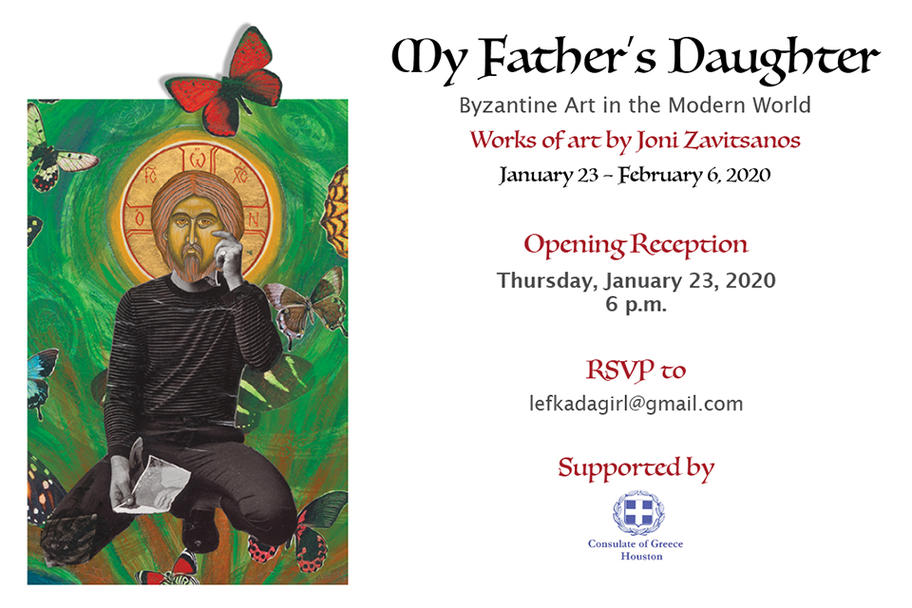 | Date | TIme | | Note |
| --- | --- | --- | --- |
| Tuesday, Jan. 21 | 10:00 AM | | |
| Wednesday, Jan. 22 | 10:00 AM | | |
| Thursday, Jan. 23 | 6:00 PM | | Opening Recep. |
| Friday, Jan. 24 | 10:00 AM | | |
| Saturday, Jan. 25 | 10:00 AM | | |
| Sunday, Jan. 26 | 10:00 AM | | |
| Monday, Jan. 27 | 10:00 AM | | |
| Tuesday, Jan. 28 | 10:00 AM | | |
| Wednesday, Jan. 29 | 10:00 AM | | |
| Saturday, Feb. 1 | 10:30 AM | | |
| Sunday, Feb. 2 | 1:00 PM | | |
| Monday, Feb. 3 | 11:00 AM | | |
| Tuesday, Feb. 4 | 11:00 AM | | |
| Wednesday, Feb. 5 | 11:00 AM | | |
Opening Reception
Thursday, January 23 from 6:00 PM to 9:00 PM
General Gallery Hours are 11:00 AM to 4:00 PM unless otherwise notated. Refer to the schedule above.
*The gallery will open at 1:00 PM on Sunday, February 2.
'My Father's Daughter: Byzantine Art in the Modern World' is a special exhibition for Joni Zavitsanos, as it chronicles the work of her father's (Diamantis John Cassis 1936 - 2015) side by side with her own. Her father was on a quest to discover and create meaningful, edifying art. He used the principles of Byzantine iconography, a structured art form copied and used to depict biblical themes in Orthodox churches, to create both ancient and modern imagery that continues to speak to audiences in a unique and didactic way.
Zavitsanos has followed in her father's footsteps, recreating the ancient imagery of the Byzantine era, to give a modern statement for today's society. Both of them strive to answer the question, "Can modern art be edifying", and "How would that look?"