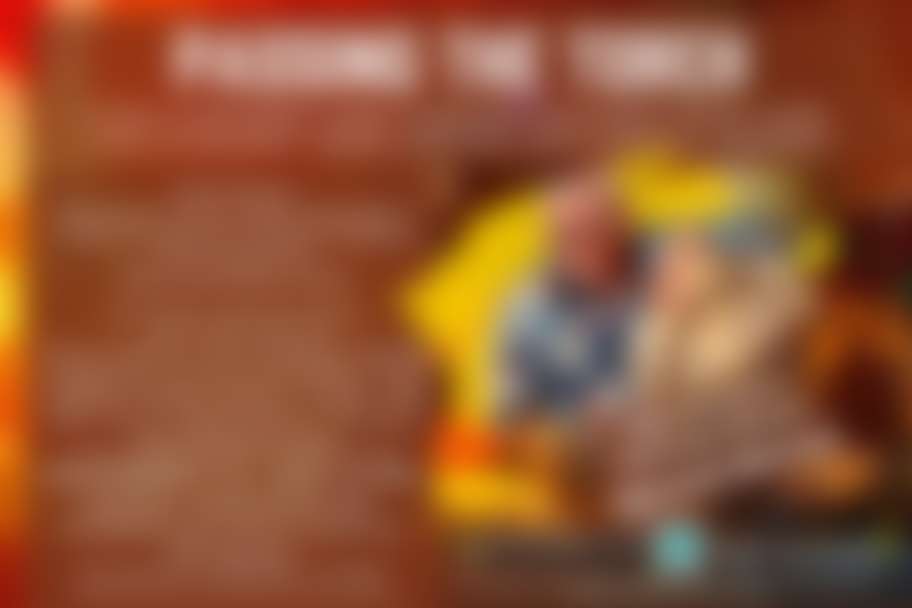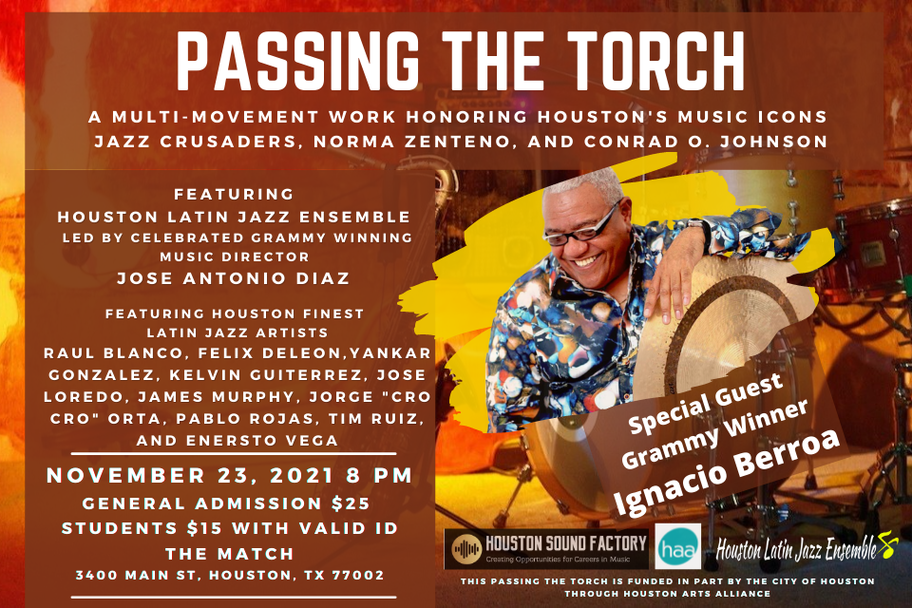 a multi-movement work honoring Houston's music icons Jazz Crusaders, Norma Zenteno, and Conrad O. Johnson
Passing The Torch, a multi-movement work honoring Houston's music icons Jazz Crusaders, Norma Zenteno, and Conrad O. Johnson.
Houston has a rich musical history; Passing The Torch honors three of our city's music icons' contributions in the genre of jazz in the area of swing, Latin, contemporary, and jazz education. In addition, The Houston Latin Jazz Ensemble, led by José Antonio Diaz, will feature the artistry of Grammy Winning Cuban drummer Ignacio Berroa and original works from Houston's Latin jazz composers.
José Antonio Diaz is the founder and artistic director for the award-winning organization Diaz Music Institute in Houston, Texas. Diaz is a Grammy Nominated Music Educator Top 10 Finalist, Country Music Association Foundation's Music Teacher of Excellence, winner of Berklee College of Music's John LaPorta Jazz Educator of the Year Award, and recipient of the Mayor's Hispanic Heritage Award. Inducted into DownBeat Magazine's Jazz Hall of Fame, Diaz has performed with such artists as Ignacio Berroa, Candido, Pete Escovedo, Oscar Hernandez, Eddie Palmieri, Danilo Perez, David Sanchez, Arturo Sandoval, Poncho Sanchez, Nestor Torres, Chucho Valdes, Dave Valentin, Jose Valentino and Miguel Zenon to name just a few.
Grammy Award winner and international drum star Ignacio Berroa is recognized by many as one of the greatest drummers of our times. His numerous contributions to the American music scene have earned him a place among a selective group of artists who set new musical trends for the 20th century. Jazz Legend Dizzy Gillespie best defined Ignacio as "The only Latin drummer in the world, in the history of American music that intimately knows both worlds; his native Afro-Cuban music as well as Jazz." Barroa studied at the National School of Arts and Havana's National Conservatory, beginning his professional career in 1970. By 1975 Ignacio Berroa had become Cuba's most sought-after drummer. After moving to New York in 1980, Ignacio met and had the privilege of working with musicians of the stature of Mario Bauza, among others. It was Mario who introduced him to the late Bebop master Dizzy Gillespie.In August 1981, Dizzy officially invited Ignacio to join his quartet. Later, Ignacio became an integral part of all the essential bands assembled by Gillespie, such as "The Dizzy Gillespie's 70th Anniversary Big Band", "Dizzy Gillespie All-Star Big Band" and the "Grammy Award" winner "United Nations Orchestra."
Passing The Torch is funded in part by the City of Houston through Houston Arts Alliance.
PROGRAM selections announced from the stage.
Houston Latin Jazz Ensemble
Jorge Galvan - Alto Sax
Kirsten Codrington - Alto Saxophone
James Murphy - Tenor Sax
Ernesto Vega - Clarinet & Tenor Sax
Simon Morales - Bari Sax
Pablo Huerta- Trumpet
Kelvin Guiterrez - Trumpet
Felix DeLeon - Trumpet
Rochelle Sloan - Trumpet
Yankar Gonzalez - Trombone
Jose Loredo - Trombone
Jonathan Hernández- Trombone
Javis Hooper - Bass Trombone
Raul Blanco - Piano
A'Lan Mack - Piano
Tim Ruiz - Bass
Nicco Martinez - Guitar
Robert Chapa - Drums
Jorge "Cro Cro" Orta - Percussion
Liseth Aguilar - Percussion
Marques Pruitt - Percussion