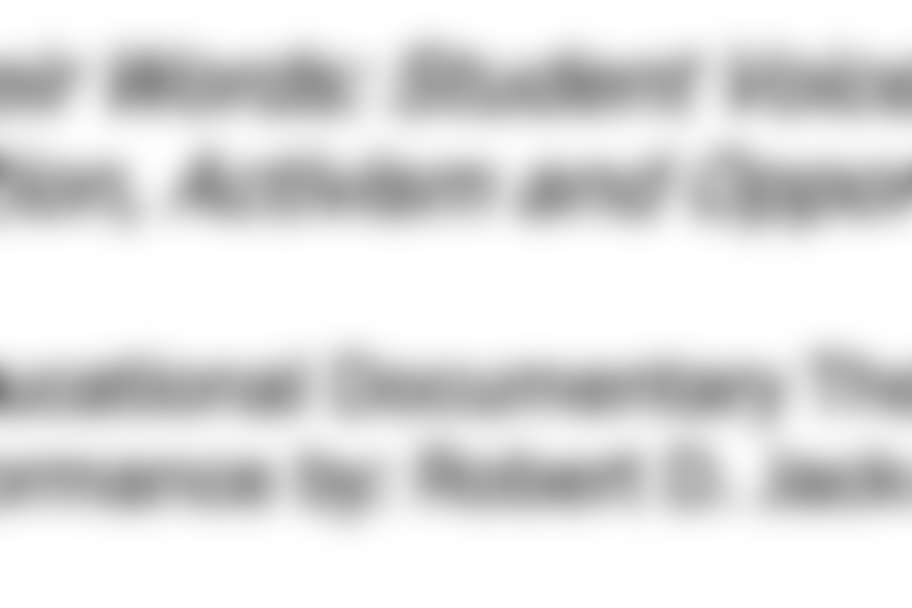 | Date | TIme | | Note |
| --- | --- | --- | --- |
| Tuesday, Jun. 29 | 7:00 PM | | Livestream |
| Wednesday, Jun. 30 | 7:00 PM | | Livestream |
| Thursday, Jul. 1 | 12:00 PM | | Stream Begins |
| Sunday, Jul. 4 | 11:59 PM | | Stream Ends |
HOUSTON PREMIERE PRODUCED, DIRECTED AND STARRING ROBERT D. JACKSON. FUNDED IN PART BY THE CITY OF HOUSTON AND THE HOUSTON ARTS ALLIANCE
In Their Words: Student Voices on Education, Activism, and Opportunity is a blend of spoken word poetry and documented interviews from students in Houston and New York City that are outraged by the inequity that exists in public school systems across the nation. Robert D Jackson uses documentary filmmaking and theater to highlight youth voices and perspectives for audiences in Houston. Documentary theatre is created based on real life stories such as personal experiences, social issues or historical events.
Primary documentary material included recorded interviews, newspaper articles, video footage and photography to interpret and compose a theatrical representation of several events taken place in Houston and New York City.
This performance incorporates different models of documentary theatre (form, purpose, content) to build the competency to advocate for educational equity in the United States and beyond.
Robert D. Jackson created this play from transcripts, field notes, audio/visual recordings of 19 students, artists, and poets between the ages of 15-24 who identify as a person of color from a low-income background.
Special Appearances & Contributors include: Lyrical Faith Poetry (6th Ranked Woman Poet in the Word), Outspoken Bean (Houston's Fifth Poet Laureate), Writers in the Schools (WITS), Meta-Four, Wasiq Javed, Houston Public Library and the REN MEN.
About Robert D. Jackson:
Robert D. Jackson is an actor, public speaker, educational strategist, and producer who utilizes live media experiences to push the boundaries of storytelling. Through theater, film, television and other mediums, Robert's work unlocks how the power of communication can bring different communities together. Robert received his BFA in Drama from the NYU Tisch School of the Arts and a Master's in Educational Leadership, Politics, Advocacy from NYU as well. His passion for activism lead him to found and head several organizations that aim to empower low-income and marginalized populations. More information available at RobertDJackson.com.
Robert D. Jackson is a recipient of the Let Creativity Happen Express Grant. This grant is funded by the City of Houston through Houston Arts Alliance.