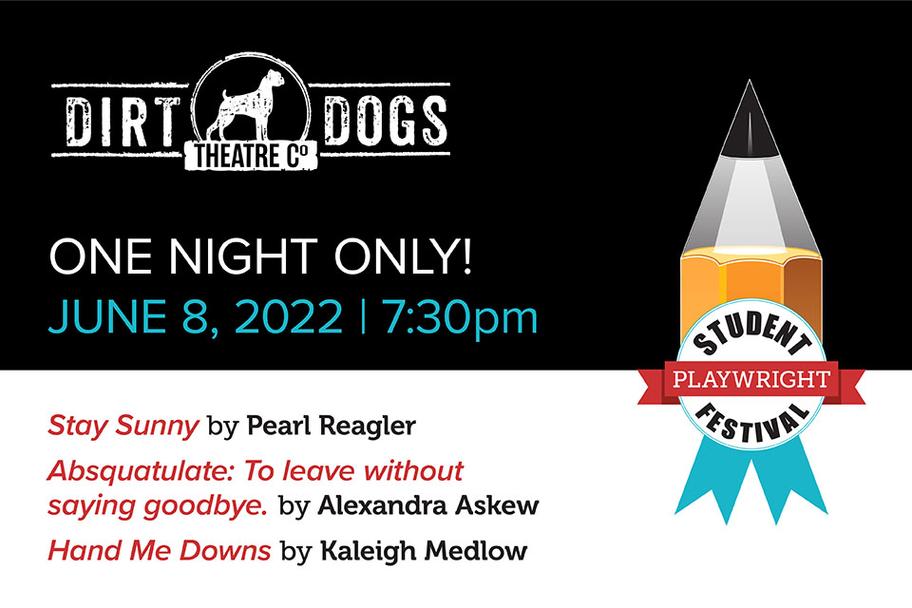 Did you miss the live performance? Purchase your Video-On-Demand access now!
VOD access runs now through June 24 at midnight.
---
Three playwrights from three Houston area high schools premiere their one-act plays at the 2022 Dirt Dogs Theatre Co. Student Playwright Festival:
Stay Sunny by Pearl Reagler, directed by Curtis Barber: Four teenagers join a group phone call to try and make sense of a mysterious impending disaster.
Absquatulate: To leave without saying goodbye. by Alexandra Askew, directed by Holly Vogt Wilkison: A family struggling with the unexpected loss of one of their own must learn how to live with each other as their dynamics shift and tensions rise while they grieve.
Hand Me Downs by Kaleigh Medlow, directed by Eileen J. Morris: The journey of three generations of Black women is explored as the women hand down a blouse from daughter to daughter, while simultaneously handing down generational trauma and tendencies.