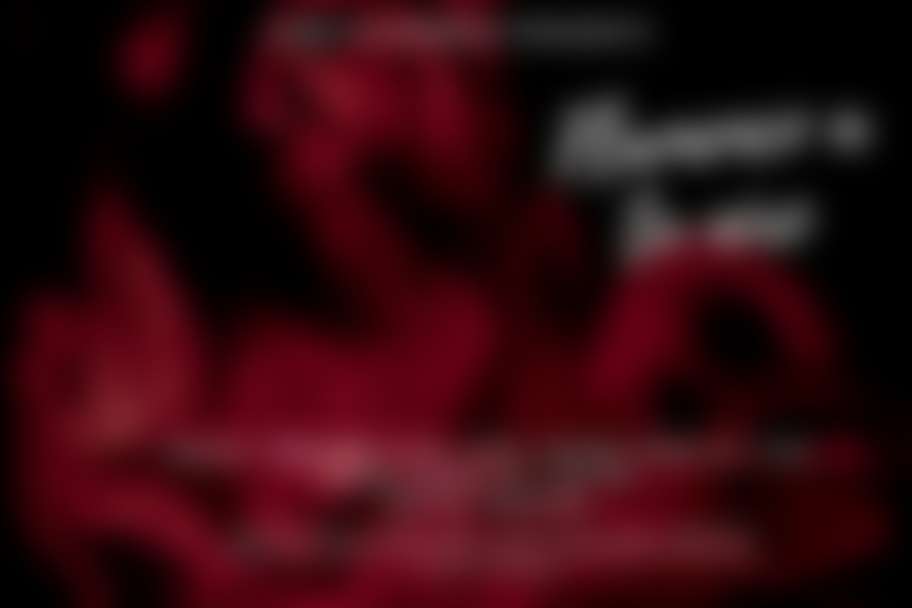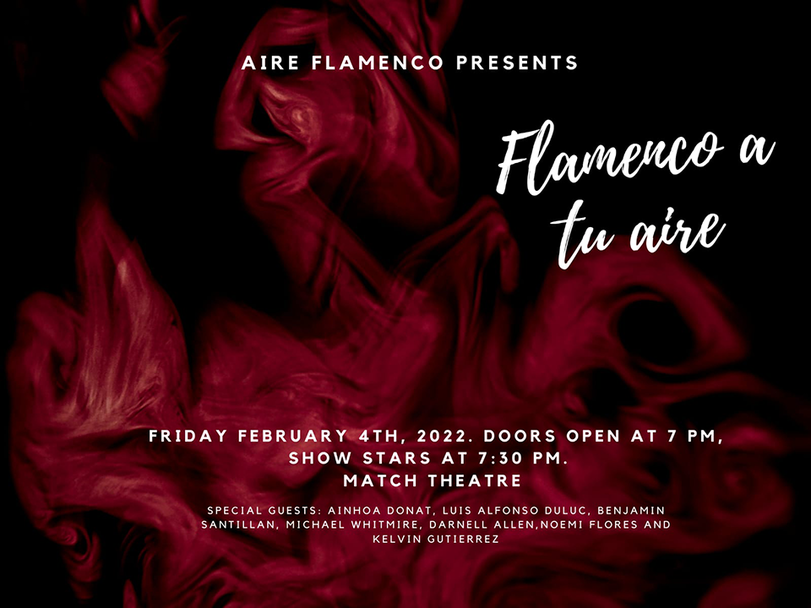 Aire Flamenco Houston presents "A Tu Aire," a trip through Andalucia and the influence of the North of Spain and Cuba on flamenco. The gipsy spirit is filled with duende (inspiration) and living in the moment. "A Tu Aire" means "at your pace, at your style". When you travel through Andalucia that is what you feel, people living "A Su Aire". We hope we portray this feeling throughout the theatre experience with special guests including Luis Alfonso DuLuc (poetry), Ainhoa Donat (baile/dance and poetry), Benhamin Santillan (baile/dance), Noemi Flores (baile/dance), Michael Whitmire (baile/dance), Darnell Allen (baile/dance), and Kelvin Gutierrez on the trumpet. Backstage production by Joseph Longoria.
Aire Flamenco Houston is a local flamenco assembly including Lorena Gomez al baile/dance, Marisol Monasterio al cante/singing and baile/dance, Joseph "Jose" Maurer al toque/guitar and Ashdin Medhora al cajon/percussion.
Please join us in our journey through Andalucia, its dances, songs, history and beats!
---
ABOUT THE ARTISTS
The rough tone and emotional cracks of her cante make Marisol the "jondo" (deep) voice of the tablao. Originally from Venezuela, Marisol Monasterio's studies in flamenco song and dance started more than 10 years ago. Marisol took dance classes with Arte y Pureza in Houston and Seville, Manuela Carrasco, Samara Carrasco and Concha Vargas in San Francisco, as well as La Lupi, Angel Atienza and Leonor Leal in Seville. She has studied cante (singing) locally and in Spain with acclaimed artists such as Kina Mendez , Javier Heredia, Laura Roman, Juan Bacan, Isai Chacon, and Sergio "el Colorao" Gomez. Marisol recorded as a vocalist in Amin Safari's CD "Pasión de la Guitarra". She was honored by the Houston Press as one the 100 Creatives 2012 due to her unusual voice and emotional performance. Marisol was a dancer and singer for Hierro Forjado Flamenco Company in Houston. She was the Artistic Director of the theatre production Caminos Gitanos in 2015 and Toward the Gypsy Roads in 2016. She is a freelance singer and dancer collaborating with artists from Houston and Austin in tablaos such as Flamenco Vivo, Aires de Feria, Flamenco de Verano and now part of a local flamenco group Aire Flamenco.
Born in Houston, Texas, Lorena Elizabeth Gomez knew she loved to dance since she was a little girl. She started her journey by taking classical ballet classes from UH instructor Shirley Gao Lee. In 2001 she discovered the Rogelio Rodriguez dance academy. There, she found her passion for Flamenco. She was fortunate to take classes with Rogelio Rodriguez and Magadalena Ruiz, who were very important flamenco figures in the scene. After many years of classes, recitals and events, Lorena began performing in live tablaos in 2015. From that moment onward Lorena started to collaborate with various flamenco artists throughout the city. She currently trains with Lucia & Valdemar escuela flamenca and flamenco dancer & teacher Ana Maria Barcelo and is a member of Aire Flamenco.
Ashdin Medhora has been playing guitar and percussive instruments since he was 11 years old. He specializes in blues, rock, improvisation, various ethnic styles, and experiments with the didgeridoo, ambient sounds, and making fretless guitars. He graduated from the University of Texas at Arlington with a B.S. in Mechanical Engineering in 2010. He plays Capoeira (a Brazilian martial art that combines fight, music, and acrobatics) with Aruandê Capoeira of Houston. He is now the percussionist for Aire Flamenco Houston.
At a young age Joseph started his study of music. First was percussion but he soon discovered the guitar. Early on he found Flamenco and over the years it never left him. For the last twelve years he has dedicated himself to his study and his love of Flamenco. He studied at Carmen de las Cuevas in Granada Spain and upon return to Texas has accompanied dance classes at various flamenco studios perfecting his rhythm. Here in the United States he's studied with Jose Valle Chuscales and Valdemar Phoenix. While in Spain he studied with Jorge "el pisao" Sanchez in Granada and currently studies with Miguel Salado in Jerez. He now accompanies Marisol Monasterio and Lorena Gomez in the group Aire Flamenco.