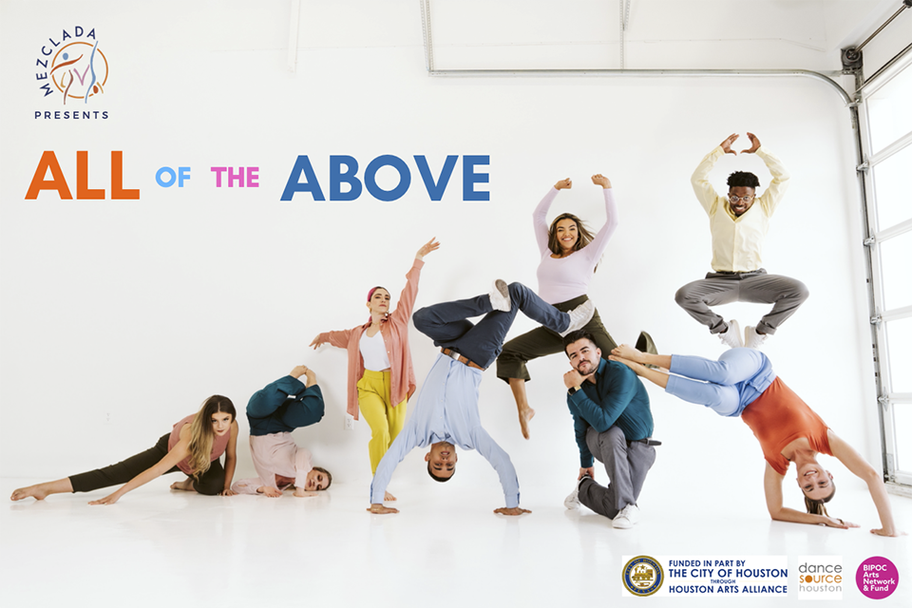 All of the Above is a new evening-length dance work by Mezclada Dance Company to be presented January 12th and 13th, 2023 at the Midtown Arts & Theater Center Houston (MATCH). The event will be ticketed and open to the general public.
The show is primarily performed by Joel Aguilera (Artistic Director) Lizzy Woodson (Assistant Director) and seven core dancers of Mezclada including Julia Cipriani, Hector Cisneros, Sonia Engman, Sydni Lee, Kenny Louis, Jeffrey Louis, and Elyssa Vega. Along with the cast of Mezclada, All of the Above includes Houston based guest artists. This work fuses and celebrates a combination of cultures and art forms such as Hip Hop Culture, Latin Culture, and traditional concert dance styles. Through the practice of fusing these styles together, Mezclada Dance Company hopes to pay homage to the cultures that inspire the performance while creating a blend of art that will speak to a wide range of audience members.
The music for the performance varies from funk and Latin jazz to salsa with classical melodies, while the choreography consists of dance techniques including breakdancing, modern, salsa, hip hop, and more. Join us as we celebrate these cultures and seek to find beauty in how the assorted music and dance styles can be intertwined.
Along with this event, Mezclada has been offering free community dance classes every month at geographically diverse areas of the city.