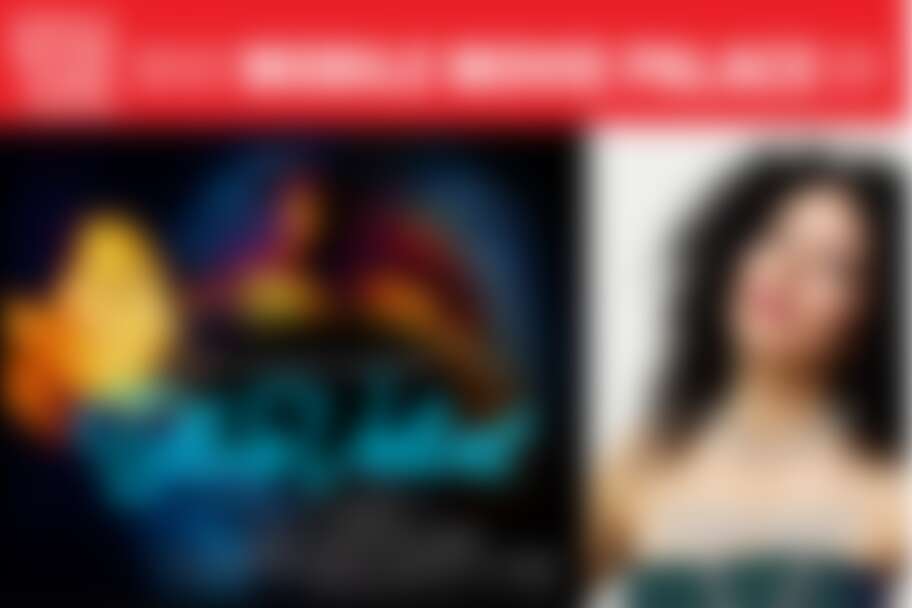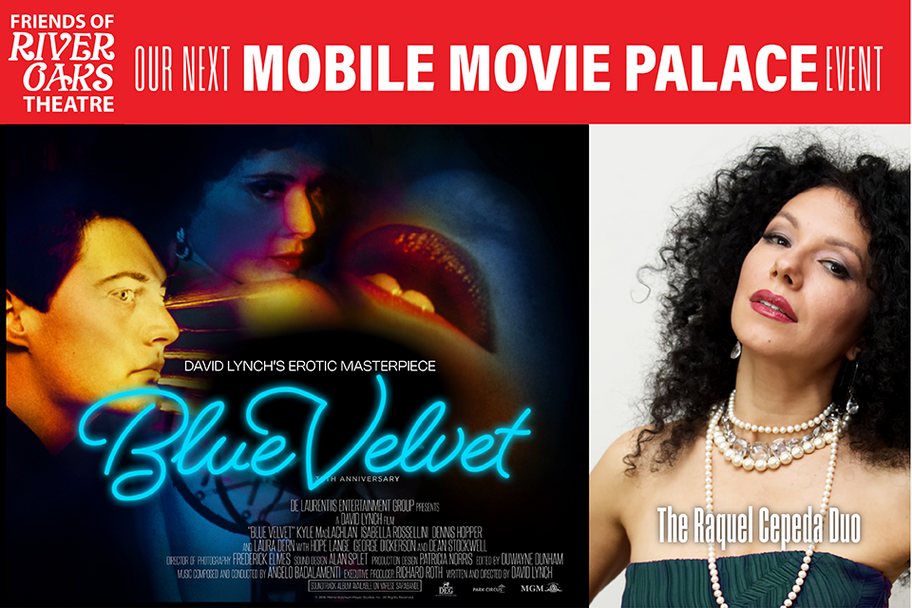 a special 4K restoration screening
The Friends of River Oaks Theatre invite you to a screening of David Lynch's masterpiece Blue Velvet (in 4K restoration!), opening with a live performance by highly regarded jazz singer and songwriter Raquel Cepeda, accompanied by pianist William Sigismondi. As an homage to the music of the film and enigmatic nightclub singer played by Isabella Rossellini, let Raquel Cepeda stir you with her sultry jazz vocals before the screening.
FREE for CINEPHILE MEMBERS!
Become a Cinephile Member for as little as $15 a month and enjoy free access to special events. Own the mission, help keep the art in the arthouse, and save the River Oaks Theatre for years to come!
Cinephile Members get two tickets to our events per month (or more depending on level), plus merch and more!
Step 1: Become a CINEPHILE MEMBER
Step 2: Receive email with your Cinephile event code
Step 3: Go to MATCH site, click "Get Tickets" and enter your code at checkout to receive your free tickets
Already a Cinephile Member? You will receive an email with a code to reserve your tickets.
If you'd rather buy individual tickets to the show without becoming a member, you can do so through MATCH for $17 per ticket.
---
Thursday, July 27, 2023
7:00 PM
Raquel Cepeda Duo
8:00 PM
David Lynch's BLUE VELVET (4k Restoration)
Tickets:
$17 each
FREE for Cinephile Members
---
About Raquel Cepeda
Raquel Cepeda is a highly regarded jazz singer and songwriter who has shared the stage with such jazz legends as Ellis and Delfeayo Marsalis. Originally from Venezuela, she grew up in a family of musicians while forming as a Geologist and working over 15 years in the oil industry. Then, in 2015 Cepeda took a leap of faith to become a full-time singer.
She has released two albums as a soloist. Her latest album "Passion" was nominated for "Best Jazz Album" at the 2020 Pepsi Music Awards and remained in the #1 position of the Roots Music Report Jazz chart for 8 consecutive weeks.
Cepeda has performed at notable Houston stages including the Miller Outdoor Theatre, the MATCH, and the Heights Theater, and produces various concerts throughout the year, including her iconic "Jazz on Valentine's" every February 14, and her Christmas concert, among others. She is a frequent guest of diverse cultural organization and festivals and has been featured by such cultural organizations as Houston Da Camera, Kingwood Pops Symphonic Orchestra, Houston Latin American Philharmonic, Friends of Chamber Music of Bryan/College Station, and the Harris County Cultural Arts Center. Cepeda has opened for renowned artists including percussionist Poncho Sanchez and the legendary band The Commodores.
Cepeda is fluent in Spanish, English, and Portuguese, and has performed internationally in countries such as Brazil, Mexico, and Venezuela. Cepeda will perform with William Sigismondi on Piano.
About David Lynch's BLUE VELVET (4k Restoration)
Film synopsis: There's something going on behind the white picket fences of Lumberton, North Carolina. And after stumbling upon a severed human ear in a field, mystery-loving college student Jeffrey Beaumont is determined to find out what. Teaming up with the daughter of a local police detective, Jeffrey's investigation leads him into a strange world of sensuality and violence, with the intrigue of the missing ear seemingly stemming from the relationship between a troubled nightclub singer and a sociopathic sadomasochist. David Lynch's masterpiece of a sleepy small-town caught in the grips of the American Nightmare has retained all of its disquieting power. Colliding sensuality and violence, voyeurism and innocence, its dissection of the American psyche remains as potent as ever.
The film Blue Velvet stars Isabella Rossellini, Kyle MacLachlan, Dennis Hopper, and Laura Dern
"An American masterpiece," Empire
"Weird and mesmerizing," The Guardian