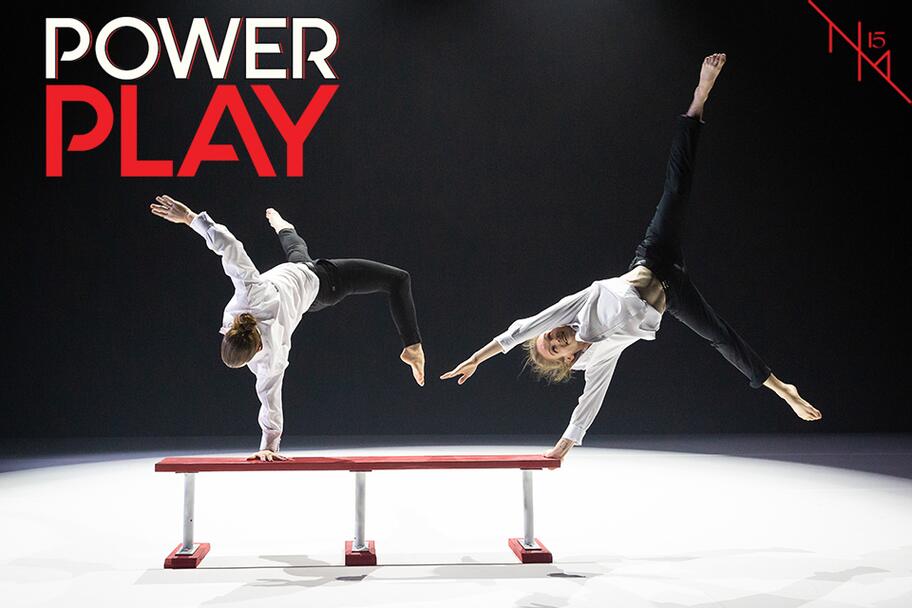 | Date | TIme | |
| --- | --- | --- |
| Friday, Jul. 21 | 8:00 PM | |
| Saturday, Jul. 22 | 8:00 PM | |
| Friday, Jul. 28 | 8:00 PM | |
| Saturday, Jul. 29 | 8:00 PM | |
| Sunday, Jul. 30 | 4:00 PM | |
Get inside the dance as NobleMotion delivers raw physicality and visually alluring worlds that turn logic upside-down.
NobleMotion kickstarts its 15th season with PowerPlay, a radical evening of dance featuring 3 world premieres that employ artificial intelligence, multi-media design, and NobleMotion's trademark physicality. Section 6 immerses the audience in a simulated A.I. training program as dancers invite participants into the action-packed performance. Sidelined playfully looks at power dynamics as it creates an absurd world where baseball umpires define the rules of the workplace. And Half-told Stories reveals a pivotal moment in the life of four women and features a collaboration with composer/multimedia artist Badie Khaleghian. Get inside the dance as NobleMotion delivers raw physicality and visually alluring worlds that turn logic upside-down.
What is Section 6? This immersive dance simulates an A.I. training program that's sole objective is to learn human tendencies. Twelve lucky audience members will be invited onstage to encounter a movement experience where the "dancing companions" train the audience to be more human. These participants are guided into different locations throughout the performance and asked to intimately engage with the dancers. Fascinating to watch, both inside and out, participants will serve as space holders of human architecture while the dance erupts around them in an environment of A.I. generated projection design by Boston-based multi-media artist Jeremy Stewart and an original sound score by Travis Lake. In one section, the participants even lie on the floor as the dancers perform over them. "It is a witty and totally unique work," Andy Noble states, "you will not experience anything like this anywhere else."
Get ready to play ball, Sidelined brings a winner-take-all mentality to the dance floor as the umpire is seen as the ultimate hero/villain. Since 2017, there has been substantial decline of youth baseball and softball umpires due to abusive treatment from parents. This reflects a larger issue. In this new 40-minute athletic dance, everyone wants to wear the umpire mask so they can change the rules. A commentary on consumerism, power structures, and cancel culture, this dance asks, "why everyone feels so Sidelined?"
Half-told Stories reveals the secrets of four women and the community they build to support each other. As part of the collaboration, each performer shares stories of an influential woman in their lives. Their stories influence the music, projection design, and movement. Themes of courage, independence, and forgiveness come to the forefront. Badie Khaleghian composes new music and creates an immersive projection landscape that surrounds the performers.
Collaborators include movement artists Wesley Cordova, Fiona Dorr, Colette Kerwick, Lindsey McGill, Tyler Orcutt, Jacob Regan, Lauren Serrano, Joseph Stevens, Zane Unger, Angelica Villa, Dillon Bell, Madeline Payne, light designer Bryan Ealey, A.I./multimedia artist Jeremy Stewart, composer/multimedia artist Badie Khaleghian, and composer Travis Lake.
---
Friday, July 21 through Sunday, July 30
Runtime:
90 minutes with 1 intermission
Tickets:
Pay-What-You-Can - $20 to $100
Groups of 10 or more recieve a $1 off each ticket when you use the discount code PowerGROUP at checkout.