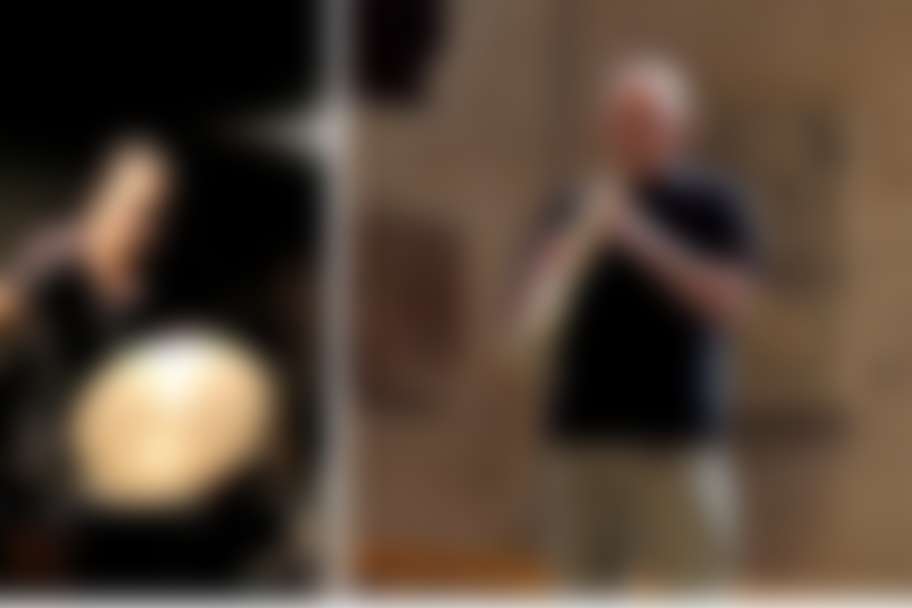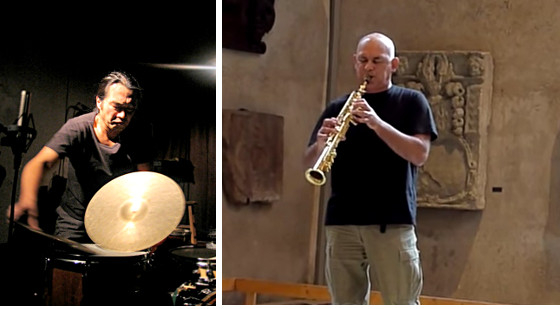 "As a duo, we create improvised music, derived from the simple ancient roots of sound." –Tatsuya Nakatani
Tatsuya Nakatani is a native of Osaka-Japan, who now resides in Easton PA. He is an improvising percussionist who tours constantly, and has played all over the world. Michel Doneda is a soprano saxophonist from Toulouse France. He is one of the most prominent and active improvisational musicians in Europe.
The duo first met and played together in 2002 in Toulouse France, two years later Nakatani and Doneda performed and recorded with alto saxophonist Jack Wright, in New York City. They formed the trio "From Between" and over the next three years they toured the US, France and Japan releasing two highly acclaimed CDs and a DVD.
As a duo, Michel Doneda and Tatsuya Nakatani have performed internationally throughout the USA, Canada, Japan, France, Luxembourg, Ukraine, Poland, Norway, Scotland and Belgium. They have played at the Musée d'Art Moderne et Contemporain in Strausburg, France, the University of Metz, the University of Lille, the Jazz Bez festival in Ukraine and Poland, at the NattJazz festival in Bergen, Norway, the Festival des musiques insolentes in Lorgues, France, the Musique action festival in Vandoeuvre les Nancy, France, the Festival international de musique actuelle de Victoriaville, Canada and the Glasgow improvised music festival in Scotland.
The duo have collaborated with such internationally renowned artists as Barre Phillips(bass), Frederic Blondy (piano), Oguri (dance), Kaoru Watanabe (flute), Serge Pey (poetry), Yurity Yeremchuk (sax), Leonel Kaplan (trumpet) and Ty Thanh Tien (dance).
Michel Doneda/Tatsuya Nakatani
Michel Doneda (Toulouse, France)
Tatsuya Nakatani (Japan/Easton, Pennsylvania)
Though Michel Doneda and Tatsuya Nakatani each explore a highly individual, sound-based (rather than melodic) improvisational language, don't expect austere experimentation in this duo collaboration. Whether wrenching out instrumental textures, honing laser-like overtones or teasing out acoustic resonances, the saxophonist and percussionist both explore the physicality of sound; and it's primarily from the intensity of their playing (physical and otherwise), that the deep drama of their music unfolds. This is a music that might be called "abstract expressionist". Its emotional weight is formed from lives of commitment, craft and collaboration.
A notoriously difficult instrument, the soprano saxophone has been the medium for a small handful of very distinguished and highly individual voices. Among those is Michel Doneda. His playing can be at turns lyrical, playful or raucous. It can switch from the liveliness of street melodies to circular breathing, microscopic sounds or intense outbursts. None other than saxophone great Dave Liebman has said "There is no doubt he has and is exploring new territory on the soprano." Always searching and exploring, looking for new situations and collaborators, Doneda has played with such luminaries as Elvin Jones, Evan Parker, Fred Frith, Keith Rowe and Barre Phillips, as well as the Pygmies of Gabon and the rock band Sonic Youth.
"Doneda's playing has that magic that leads us to the sound through a within perspective, delivering elements, breathy particles, sudden flashes and thick transparencies in a sort of pulsing-pixelating dance."
- Gianni Mimmo.
Both on and off the stage, Tatsuya Nakatani may be the hardest-working man in free improvisation. Solo performances, ad-hoc collaborations and performances of his gong-orchestra have taken him around the world. But perhaps even more noteworthy is the number of concerts Nakatani plays in the US. Criss-crossing the country in his famous customized van (a touring machine, storage space, bedroom and kitchen all-in-one), Nakatani has planted seeds for emerging improv communities, while further strengthening his already very powerful music. Nakatani's approach is visceral, non-linear and intuitively primitive, expressing an strong spirit while avoiding categorization. He creates sound via both traditional and extended percussion techniques, utilizing drums, bowed gongs, cymbals, singing bowls, metal objects and bells, as well as various sticks, kitchen tools and homemade bows. His approach is steeped in the sensibilities of free improvisation, experimental music, jazz, rock and noise, and yet retains the sense of space and quiet beauty found in traditional Japanese folk music. He has devoted himself to a musical aesthetic where rhythm gives way to pulse, often in a way that is not audible or visible, in currents that incorporate silence and texture.
"Orchestral brilliance, Tatsuya Nakatani is a methodical musician concerned with the development of an idea in time. His beginnings are arresting; his endings are satisfying. The right duration and variety of events are fully charged with a visceral intensity that can captivate a true listener."
- Eric Zinman, Improvisor Magazine
"Nakatani's sparse punctuation suggests observance of esoteric ritual."
- Julian Cowley, The Wire Magazine
Michel Doneda
Tatsuya Nakatani