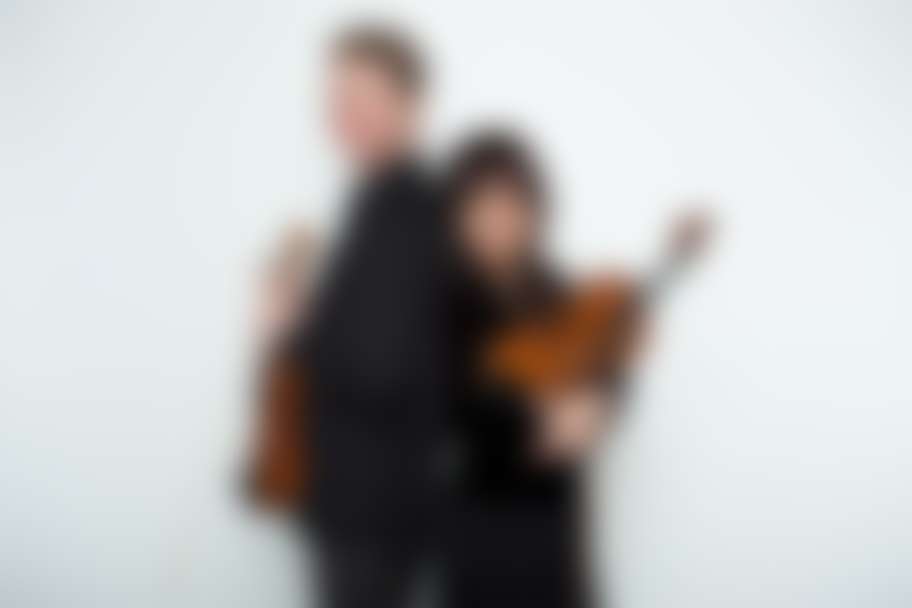 The Miller-Porfiris Duo explores how the rise of Fascism in Europe during the first half of the 20th century forever affected the artistic landscape of American film and its relation to music. The performance features Violin and Viola Duo music by Ernst Toch, Robert Fuchs, and Franz Schubert, in addition to a silent film.
Miller-Porfiris Duo Biographies:
Since giving his Carnegie Hall concerto debut in 1992, American violinist ANTON MILLER has appeared throughout the United States and abroad as a soloist, chamber musician, recitalist, and pedagogue. He has performed over fifty violin concertos with a number of orchestras on four different continents. Anton's world premiere performance of Xiogang Ye's "Last Paradise" for violin and orchestra in Beijing, China with the Central Philharmonic Orchestra was recorded for broadcast throughout Asia and released on CD. His most recent solo release on Naxos features the Kurt Weill Concerto for Violin and Wind Ensemble. Mr. Miller has also been concertmaster for a number of orchestras including almost thirty years with Lincoln's Symphony Orchestra and the New Jersey Festival Orchestra. On the violin and chamber music faculty at the Hartt School and New York University, he previously has been on the faculty of the Oberlin Conservatory, Lawrence University, and Swarthmore College. Anton completed his Master of Music degree at The Juilliard School studying with renown violin pedagogue Dorothy DeLay and chamber music with Felix Galimir and members of the Juilliard Quartet. He received his Bachelor of Music Degree from Indiana University as a student of Franco Gulli.
Violist RITA PORFIRIS has performed in major concert halls and music festivals worldwide both as chamber musician and as a soloist. She has been on the faculties of New York University, the University of Houston Moores' School of Music, Florida International University, and the Harlem School for the Arts in New York. In her former 20 year-long career as an orchestral musician in top American and German orchestras, 15 of which were spent with the Houston Symphony, she worked under some of the most recognized conductors of the 20-21 Centuries, including Leonard Bernstein, Sergiu Celibidache, Kurt Masur, Michael Tilson Thomas, and Christoph Eschenbach. Rita received both her BM and MM in Viola Performance from The Juilliard School, studying with William Lincer.
Anton and Rita first met over 20 years ago while studying at the Juilliard School. Their musical lineage can be traced back to famed pedagogues and musicians Ivan Galamian. Leopold Auer, Franz Kneisel, Joseph Joachim, and Josef Bohm, close friend and collaborator of Ludwig van Beethoven. In keeping with this distinguished pedigree, the duo has given concerts and masterclasses at festivals and institutions such as New York University, Duke University, Kutztown University, Foulger Festival at Kean University, ARIA International Arts Academy at Mt. Holyoke College, Three Bridges International Chamber Music Festival at the University of Minnesota Duluth, the Festival Eterna Primavera in Cuernavaca Mexico, Conciertos de la Villa Santo Domingo, Brunel Jazzbridge London, St. George Festival in Greece, and Point CounterPoint in Vermont.
Anton and Rita are Associate Professors of Violin and Viola respectively at the Hartt School in Connecticut.
For more information please visit their website at www.millerporfirisduo.org