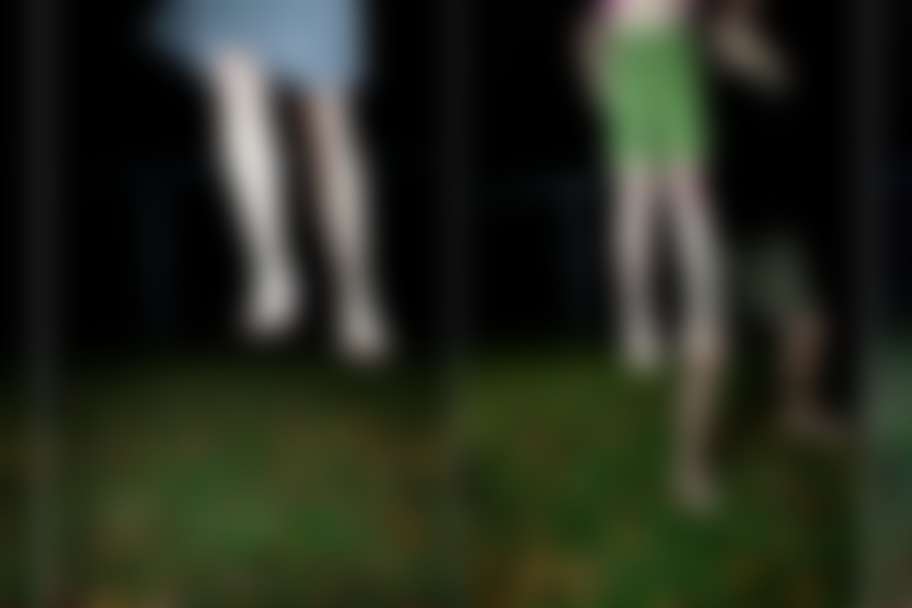 | Date | TIme | |
| --- | --- | --- |
| Tuesday, Apr. 12 | 7:00 PM | |
| Thursday, Apr. 14 | 7:00 PM | |
| Friday, Apr. 15 | 8:30 PM | |
| Saturday, Apr. 16 | 8:30 PM | |
Home Balance on April 16 at the Lawndale Art Center has been CANCELLED
Home Balance will move throughout the city, and is a free-flowing experience. It is unticketed and come and go. Check back for times and locations.
"We've been always thinking about how we can get the viewer inside our home. How can we get them to see our house? What kind of project can we do where the viewer participates in our home?" – Hillerbrand+Magsamen
A children's bouncy house is morphed into a contemporary art project about balance.
A large inflatable bouncy house—like the one popping up on your neighbor's lawn heralding the arrival of a child's noisy birthday party—is custom built with walls that become glowing film screens. A camera captures the actions of participants bouncing inside the house, projecting live images on one side of the house. The rest of the walls are illuminated by videos of the artists' (a wife-and-husband team) family inside their own home: the artists and their children jumping up and down, breaking things, hitting their heads against the ceiling, knocking over furniture, falling, creating complete havoc.
As the private space of the family home is made public for everyone to see, visitors can enter and bounce in the midst of the images. In a bouncy house the goal is to maintain stability in an environment not designed for stability, while our real homes are designed for a stability that our home-life can never attain. Home Balance questions what constitutes a home, and draws on childhood games to explore how family interactions challenge the desire to maintain orderly control of the structures in which we dwell.
Hillerbrand+Magsamen are the photographers and the photographed; their home is their canvas, their family is their subject, and their actions become their content. Home, family, belongings—nothing is left un-deconstructed in their art—often quite literally, as sofas, bedroom walls, and dinnerware come under physical attack. With humor, performance, video and everyday objects, Hillerbrand+Magsamen expand their family life into a contemporary art conversation about family dynamics, suburban life and American consumer excess.
"While it could be construed as being critical of big-box America, it is more about asking questions than it is about pointing fingers. The photos and videos are imbued with an unintentional kind of humor—dark, like a New Yorker cartoon brought to life." – Kerri MacDonald, The New York Times
Locations
April 12
Matchbox 3
3400 Main St.
Houston, TX 77002
April 14
Matchbox 1
3400 Main St.
Houston, TX 77002
April 15
Houston Center for Photography
1441 W.Alabama St.
Houston, TX 77006
April 16
Lawndale Art Center
4912 Main St.
Houston, TX 77002