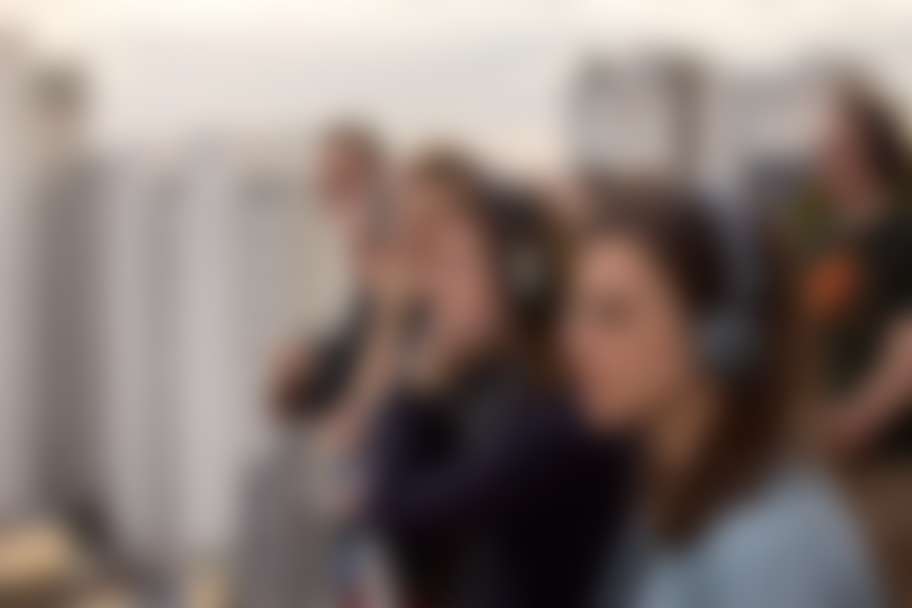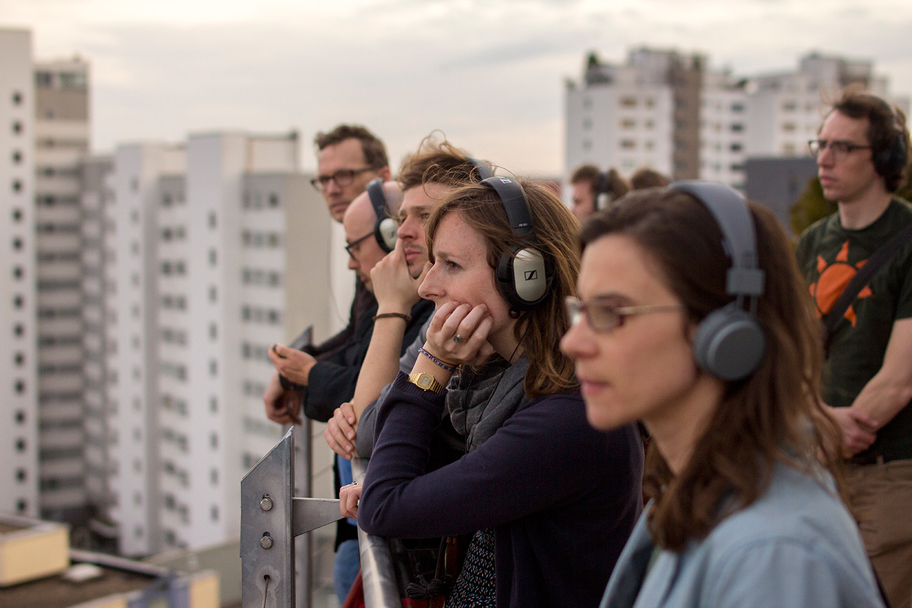 | Date | TIme | |
| --- | --- | --- |
| Tuesday, Apr. 12 | 4:00 PM | |
| Wednesday, Apr. 13 | 4:00 PM | |
| Thursday, Apr. 14 | 4:00 PM | |
| Friday, Apr. 15 | 4:00 PM | |
Presented in Partnership with Alley Theatre.
"I like to put spectators and their experiences in the center. I want the audience to be exposed to the unforeseen of the city in combination with the multiple layers of our text and the soundscapes." – Stefan Kaegi of Rimini Protokoll
Join a group of fifty people swarming out into the city on a guided audio tour that seems to follow you, as much you are following it.
Meet up, put on headphones, and your perspective changes—you are provided with a soundtrack to streets, parking garages, churches and backyards. A computer-generated voice sets you out on a trail through the city, guiding your group's movements in real time. You move about places normally unseen, places where humans encounter their limits, places where crowds gather, Houston's underground tunnel system, back alleyways, dark hallways, unseen areas of Houston, common areas seen through a new lens.
With recordings and soundscapes taking over your ears, the cityscape of Houston turns into your personal film. As you move along, the voice in your headphones becomes a more active participant, artificial intelligence exploring human activity, and you are the vehicle for that exploration. You are the observed as much as the observer. At times the group is given tasks—take the bus, perhaps a race—or breaks into smaller units, given separate instructions, then reform. From the outside, you are part of this strange group, appearing and disappearing within minutes. On the inside, you are fifty individuals sharing a secret view the city.
Concept, Script and Direction: Stefan Kaegi
Co-Director: Jörg Karrenbauer
Sound Design: Nikolas Neecke
Director's Assistance/Sound Editing: Ilona Marti
The artists' collective Rimini Protokoll is based in Berlin, Germany, and headed by a team of author–directors¬—Helgard Haug, Stefan Kaegi and Daniel Wetzel—who have worked together since 2000. They work to development new theatrical tools and to expand the definitions of what a stage is, allowing for unusual perspectives on our reality. Their productions exist in the realm of theater, sound, and radio plays, film and installation.
"Remote X" is a production of Rimini Apparat. In coproduction with HAU Hebbel am Ufer Berlin, Maria Matos Teatro Municipal and Goethe-Institute Portugal, Festival Theaterformen Hannover/Braunschweig, Festival d'Avignon, Zürcher Theater Spektakel, Kaserne Basel. Supported by the Capital Cultural Fund Berlin and by Swiss Arts Council Pro Helvetia and Fachausschuss Tanz und Theater Kanton Basel-Stadt. A House on Fire coproduction with the support of the Cultural Program of the European Union. Voices by Acapela Group.
Remote Houston is produced by the Alley Theatre in association with the University of Houston Cynthia Woods Mitchell Center for the Arts 2016 CounterCurrent festival. Remote Houston is made possible in part through the City's Initiative Grant Program of the Houston Arts Alliance.
Performance of Remote Houston continue past the dates of CounterCurrent. More information and tckets are available through www.alleytheatre.org.