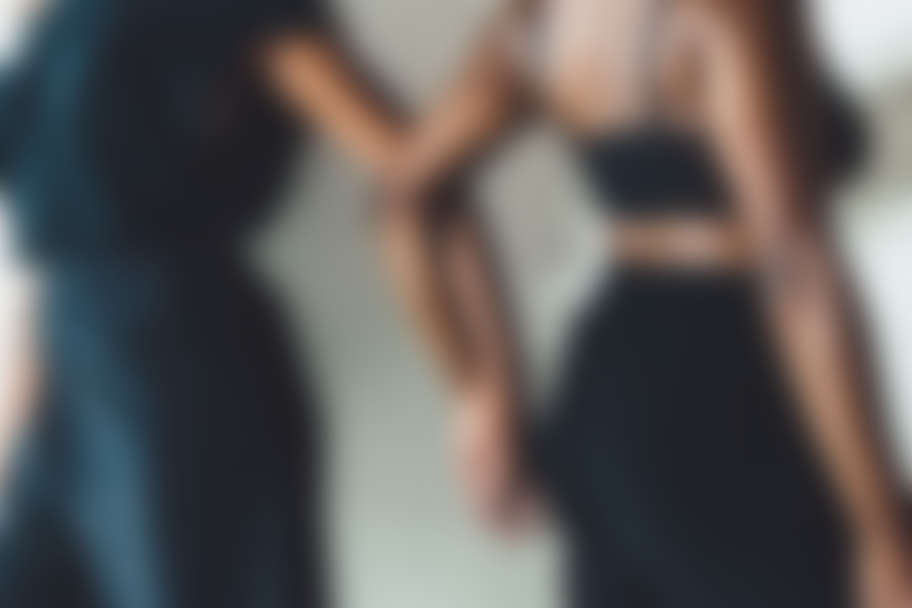 presented in conjunction with the exhibition 'into the midst of things'
[in between space]
[in between space] is an afternoon of participatory workshops and discussions that explore how the creative process can be a form of personal expression and healing. The artist collectives leading these sessions were invited because of their emphasis on supporting and nurturing one another through their processes of creative growth. Workshop participants will be provided with the tools and space to tell their own stories through artistic expression.
All ages and levels of artistic experience (or non-experience!) are welcome. [in between space] is free of charge, and participants may choose to select individual sessions or attend the entire afternoon.
1 PM - 2 PM
Impulse with Celestina Billington and Brittani Broussard
Performance artists Celestina Billington and Brittani Broussard present a workshop demonstrating how to find inspiration for performative practice. Participants will engage in exercises that encourage expression through movement and mark making. Provided tools for discovery will include objects, fabrics, phrases, drawings, and words. The workshop space provides a locus for the development of original performance skill sets.
Brittani Broussard is a multidisciplinary artist based in Houston. Her work explores themes that alter the figure using the language of costuming, masking, movement and dance.
Celestina Billington is an interdisciplinary artist and writer from Houston. She collaborates in various projects, including performance theater, writing for local newspapers, and zine-crafting.
2:30 PM - 3:45 PM
AMPLIFYING THE MARGINS with DAMN GXRL
DAMN GXRL collective members Jessica Fuquay, Mandy Clinton, and Megan Easely will present a lecture and workshop exploring the figurative and literal processes of amplification. The three artists will give a brief overview of DAMN GXRL's origins, mission, and ongoing projects, followed by a performance and interactive demonstration based in Easely's experimental noise practice. Easely uses water as a conduit for experimental sound meditation and will create both acoustic and digital percussive sounds that Fuquay and Clinton will amplify for a live audience. Through this interactive demonstration, participants of all artistic and musical backgrounds will gain insight into the techniques and tools used for creative expression through sound.
Jessica Fuquay is an artist, musician, and co-founding member of the collective DAMN GXRL. Her art practice and collaborative projects attempt to confront power by centering marginalized voices and locating opportunities for creative subversion.
Mandy Kim Clinton is a Houston-based musician, producer, and activist. She has fronted such acts as Pearl Crush and The Lories, as well as played lead guitar in Clare and Rose Ette. She is an advocate for women and other marginalized groups in the local music community and has volunteered as a band coach and guitar instructor with Girls Rock Camp Houston. She is a founding member and organizer of DAMN GXRL, Houston's feminist booking collective.
Native Houstonian Megan Easely unites her eternal love of music and the natural world into one creative practice. Using water as an instrument, she seeks to give water a "voice" and hopes that those who listen will take away a deeper appreciation for our water and all life forms that surround us. Easely is currently a core member of DAMN GXRL.
4 PM - 6 PM
s h a d e s o f m a t t e r with htxpeopleproject
htxpeopleproject (Morganne Nikole and Bria Lauren) will screen their most recent documentary film, c r e a t i n g s p a c e. and workshop a think-space conversation to encourage individuality, freedom, and openness through a wellspring of artistic expressions and non-linear thinking. In what ways can art isolate and dissect intersecting oppressions against marginalized groups and create safe spaces for the expression of authentic individuality?
Bria Lauren is a local Houston creative, born and raised in Third Ward. Two years ago, she founded and created htxpeopleproject, The essence of the people project represents the intersecting experiences of real people, real lives, real history, and real conversation.Through creative storytelling, the project has become a catalyst for individuals to use their voices without apology and to create space for those that are often silenced.
Morganne Nikole is a writer and artist based in Houston, Texas. As part of htxpeopleproject she interlocks subjects of loss, love, oppression, depression, healing, vulnerability, femininity, sexuality, and breakthrough. Nikole's creative direction and personal idealism are rooted in undisguised transparency with the intent to achieve liberating freedom of expression for all people regardless of sex, class, gender, race, or sexuality.