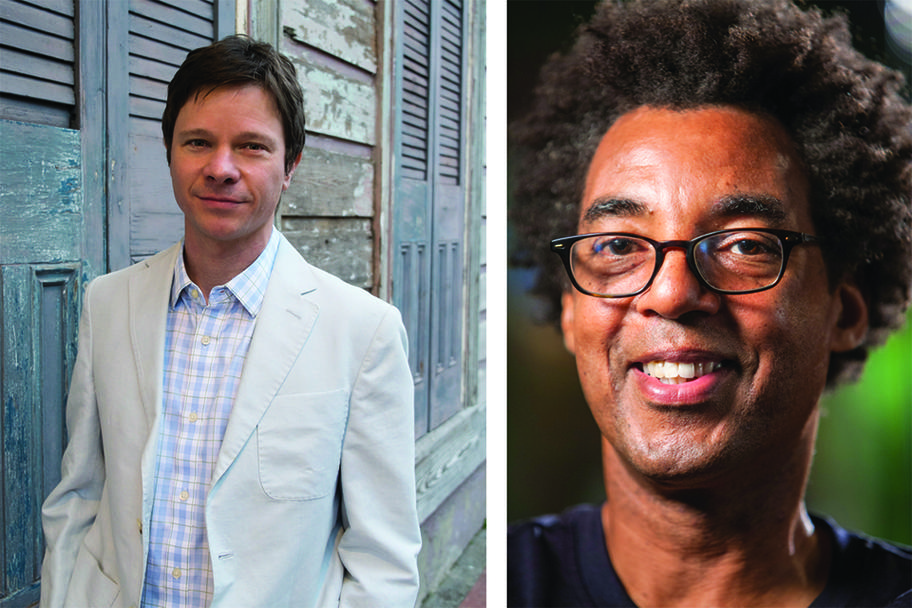 Get the inside scoop on one of America's most forward thinking contemporary art triennials, Prospect New Orleans. Hear from Prospect.4 Artistic Director Trevor Schoonmaker, Chief Curator and Patsy R. and Raymond D. Nasher Curator of Contemporary Art at the Nasher Museum of Art at Duke University, in conversation with Rick Lowe, Founder of Project Row Houses, Houston.
Prospect New Orleans is a citywide triennial of contemporary art. Emphasizing collaborative partnerships, Prospect presents the work of diverse local, national, and international artists in unique and culturally exceptional venues, creating an optimistic cartography through the education and engagement of residents and visitors. The fourth iteration of Prospect New Orleans' international art exhibition, Prospect.4: The Lotus in Spite of the Swamp (P.4) opens to the public on Saturday, November 11, 2017 and runs through February 25, 2018, aligning with the City of New Orleans's Tricentennial celebration.
Presented by DiverseWorks, in collaboration with Prospect New Orleans.
BIOS
Trevor Schoonmaker is the Artistic Director of the U.S. Triennial, Prospect New Orleans 4 (P.4), scheduled to open November 11, 2017. He is also the Chief Curator and Patsy R. and Raymond D. Nasher Curator of Contemporary Art at the Nasher Museum of Art at Duke University. Hired in 2006 as its first contemporary art curator, he has been instrumental in shaping the museum's curatorial vision and contemporary art collection. His Nasher Museum exhibitions include Reality of My Surroundings: The Contemporary Collection (2015), Wangechi Mutu: A Fantastic Journey (2013), The Record: Contemporary Art and Vinyl (2010), Christian Marclay: Video Quartet (2009), Barkley L. Hendricks: Birth of the Cool (2008), and Street Level: Mark Bradford, William Cordova & Robin Rhode (2007). He most recently co-curated Southern Accent: Seeking the American South in Contemporary Art with Miranda Lash, Curator of Contemporary Art at the Speed Art Museum in Louisville, Kentucky. Southern Accent, on view until January 8, 2017 at the Nasher Museum, explores and reframes the way we look at the complex and contested space of the American South in contemporary art.
Prior to the Nasher Museum, Schoonmaker's exhibitions included The Beautiful Game: Contemporary Art and Fútbol (with Franklin Sirmans, 2006), DTroit (2003), Black President: The Art and Legacy of Fela Anikulapo-Kuti (2003), and The Magic City (2000). His exhibitions have been presented at museums in New York, Boston, Philadelphia, Miami, New Orleans, Houston, Cincinnati, Chicago, Seattle, San Francisco, Los Angeles, Manchester and London. He is the editor of several exhibition catalogues as well as the book Fela: From West Africa to West Broadway (2003). In 2001 he cofounded New York's first Afrobeat club night Jump N Funk with DJ Rich Medina, and in 2013 he curated the artwork for Luaka Bop's LP release of Who is William Onyeabor? Schoonmaker serves on the board of the Andy Warhol Foundation for the Visual Arts.
Rick Lowe lives in Houston. His exhibitions include; Phoenix Art Museum, Contemporary Arts Museum, Houston; Museum of Contemporary Arts, Los Angeles; Neuberger Museum, Purchase, New York; Gwangju Biennale, Gwangju, Korea; Museum of Fine Arts, Houston, Glassell School; the Kumamoto State Museum, Kumamoto, Japan; Venice Architecture Biennale; Cittadellarte, Biella, Italy; Nasher Scuplture Center, Dallas; and Documenta 14, Kassel, Germany and Athens, Greece. Community building projects include Project Row Houses, Houston; Watts House Project, Los Angeles; Arts Plan for Rem Koolhaus designed Seattle Public Library with Jessica Cusick; Borough Project for Spoleto Festival with Suzanne Lacy and Mary Jane Jacobs, Charleston, SC; Delray Beach Cultural Loop, Delray Beach, Florida; a project for the Seattle Art Museum in their new Olympic Sculpture Park with David Adjaye; and a project for the Anyang Public Art Program 2010, Anyang, Korea. Among Lowe's honors are Rudy Bruner Awards in Urban Excellence, AIA Keystone Award, the Heinz Award in the arts and humanities, Skowhegan School of Painting and Sculpture Governors Award, Skandalaris Award for Excellence in Art Architecture, U.S. Artists Booth Fellow, and the Creative Time Annenberg Prize for Art and Social Change, and in 2014 he was named a MacArthur Fellow. In 2015 he received the University of Houston's President's Medallion Award. Academic appointments include: Loeb Fellow at Harvard University (03), Mel King Fellow at MIT (14), Auburn University Breedan Scholar (15), Stanford University Haas Center Distinguish Visitor (16). In 2015, he received honorary doctorate degrees from the Maryland Institute College of Art and Otis College of Art. In 2013, President Barack Obama appointed Lowe to the National Council on the Arts.
PHOTO CREDITS
L: Trevor Schoonmaker, Prospect.4 Artistic Director and Chief Curator and Patsy R. and Raymond D. Nasher Curator of Contemporary Art at the Nasher Museum of Art at Duke University. Photo: Sophie Lvoff.
R: Rick Lowe, Founding Director, Project Row Houses. Photo: John D. & Catherine T. MacArthur Foundation