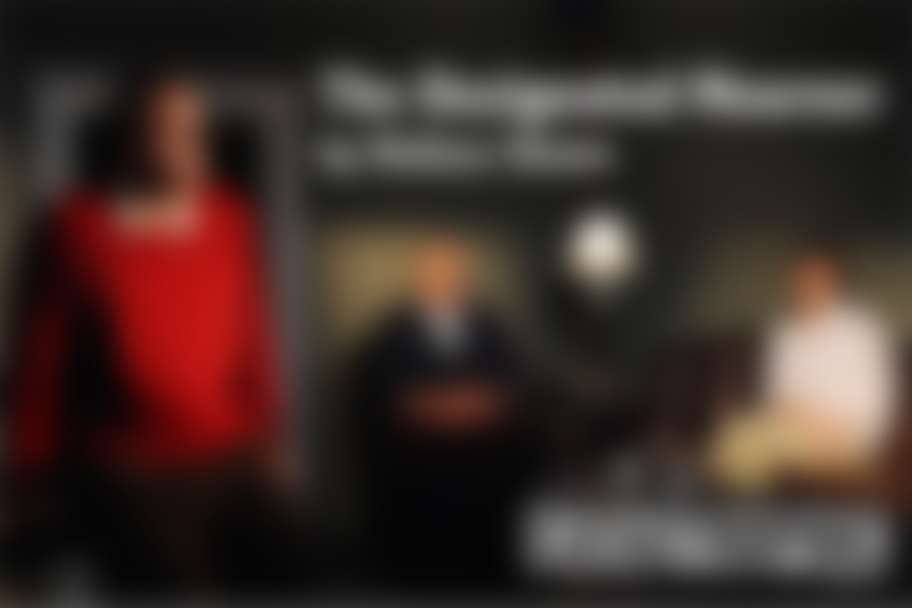 | Date | TIme | |
| --- | --- | --- |
| Thursday, Jan. 5 | 8:00 PM | |
| Friday, Jan. 6 | 8:00 PM | |
| Saturday, Jan. 7 | 8:00 PM | |
| Sunday, Jan. 8 | 2:30 PM | |
| Thursday, Jan. 12 | 8:00 PM | |
| Friday, Jan. 13 | 8:00 PM | |
| Saturday, Jan. 14 | 8:00 PM | |
| Sunday, Jan. 15 | 7:00 PM | |
Standby Process
If your desired performance date is sold out, you can purchase a standby ticket during our box office hours by calling the box office at (713) 521-4533 or in person. For full information on how standby works, please visit our box office information page.
---
Starring Greg Dean, Patricia Duran, and Paul Menzel
Directed by Jason Nodler
Please join us for a very limited run of Wallace Shawn's fiercely urgent, frighteningly prescient masterwork, The Designated Mourner, a special, off-season addition for those that need it.
The Catastrophic Theatre previously staged The Designated Mourner in 2010, in a production The Houston Chronicle called a "quietly stunning realization." Although it takes place in an unspecified time and place, its themes are immensely timely especially right now, and Catastrophic Theatre artistic director Jason Nodler decided to offer a limited run of the play as a necessary add-on to the current season. Greg Dean as Jack and Paul Menzel as Howard return from the 2010 cast and are joined by Patricia Duran (Middletown, The Pine) as Judy.
Through a series of intertwining, confessional monologues, three characters reveal the harrowing details of an unnamed country in the near future in which a popular uprising has deemed the arbiters of high culture to be enemies of the state and targeted them for execution. Following Jack ("a former student of English literature who went downhill from there"), his wife Judy, and her revered yet controversial writer father Howard, the play explores love, sex, morality, the idea of "the self," the struggle between high and low culture, and what it means to designate groups of people as "enemies." In many ways, it's a simple play—just three people talking to the audience and sometimes to each other—but it contains almost indescribable beauty, heartache, and release. And in light of the present state of the world, it feels more urgent than ever before.
Nodler, who calls The Designated Mourner his favorite piece of writing for the theatre from the last fifty years, notes: "This is not a play that chooses sides with regard to American politics, but it does speak to the unprecedented division in our country between the haves and have-nots, and it is more relevant today than any time since it was written. The day after the divisive election season came to its end, at least five people contacted me asking that we bring this play back now. None of them could have known I was already halfway there myself. It will be tough adding an off-season play to be performed almost immediately, so why are we doing this at this moment? It has something to do with 'the fierce urgency of now.' It is truly a masterwork, a play about, well, everything—an enormous story told with such intelligence and generosity, and somehow told so simply and with such economy, an almost impossible thing of beauty. Since it was published in 1996 I have frequently, repeatedly, gathered friends together to read it aloud late at night.
Certainly, for anyone who cares about the future of culture (or civilization or whatever you care to call it), The Designated Mourner is a must.
Everett Evans, Houston Chronicle
This is a playwright who does not just tell you what it is like to be arrested at night by goons or to fall morally apart and become an aimless yet weirdly contented ghost of yourself. He has the originality to make you feel it.
The Times (London)
As with every Catastrophic Theatre production all tickets are available on a sliding scale according to what each audience member can afford. As it has been for years now, everyone is welcome regardless of ability to pay and no one will be turned away for lack of funds.
---
About the Playwright
Wallace Shawn has enjoyed well-received productions of THE FEVER at such venues as the New York Shakespeare Festival, Second Stage, and the Mark Taper Forum. This one-man play, which he both wrote and starred in, received a 1990 Obie Award. Mr. Shawn has had six plays produced at Joseph Papp's Public Theater in New York, including MARIE AND BRUCE, A THOUGHT IN THREE PARTS, THE MANDRAKE (translated from Niccolo Machiavelli), and the Obie-award-winning OUR LATE NIGHT. His THE HOTEL PLAY had a highly successful run at La MaMa Experimental Theater Club in the summer of 1981. Mr. Shawn's play AUNT DAN AND LEMON premiered at the Royal Court Theatre, London, in the summer of 1985 and enjoyed a subsequent New York run at the Public Theater. With Andre Gregory, he wrote the screenplay and performed in the film "My Dinner with Andre." As an actor, Mr. Shawn has also appeared in such films as "Mahattan," "Simon," "Starting Over," "All that Jazz," "The Hotel New Hampshire," and "We're No Angels."