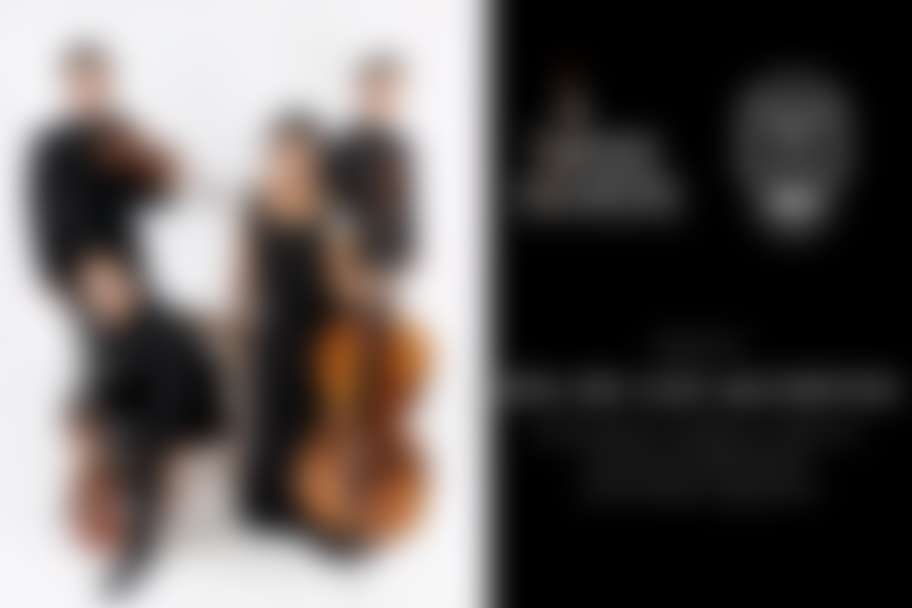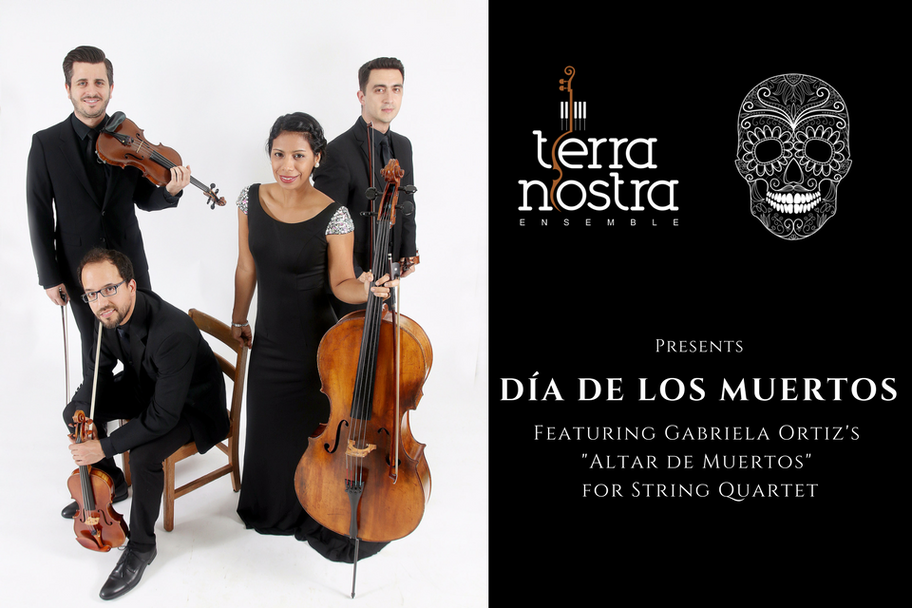 Terra Nostra Ensemble opens its second season presenting "Día de Los Muertos," commemorating one of the most celebrated Mexican traditions. The annual celebrations for the Day of the Dead reflect how Mexicans embrace death as a natural part of life observing it with resignation, reflection, and even humor.
This concert features Gabriela Ortiz's "Altar de Muertos" for String Quartet. Commissioned by David Harrington, first violin of the Kronos Quartet, "Altar de Muertos" is a staged piece that incorporates extra musical elements that, in the words of the composer ". . . enriched my profesional experience and extended my own concept of 'ritual performance' understanding how important it could be when non-aural stimuli become powerful tools of the dramatic musical discourse."
The piece is divided in four parts (movements) each one of them describing diverse moods, traditions, and spiritual worlds, all of these encompassing the global concept of death:
Ofrenda: chants played as offerings giving the idea of funeral processions ending with all four spirits converging in a single chant.
Mictlan (the place of the dead): the conception of death by pre-hispanic cultures as a cycle in constant movement. The passage of death and the eternal struggle between night and day recreate an obsessive ritual music always in continuous movement.
Danza Macabra: the image of death which is static, motionless, where there is place only for constante alternative between glory and hell.
La Calaca (the skeleton): the comical side of the torment of the thought of death, the reflection of joy through the music.
"Altar de Muertos" is a dramatic yet vibrant work that embraces all elements of the tradition. It is a multimedia work that goes beyond the traditional String Quartet setting combining non-aural stimuli and extra musical elements with the music itself.
Composer Gabriela Ortiz:
Two times Latin Grammy nominee composer Gabriela Ortiz is one of the foremost composers in Mexico today, and one of the most vibrant musicians emerging in the international scene. Her musical language achieves an extraordinary and expressive synthesis of tradition and the Avant-garde; combining high art, folk music and jazz novel, frequently refined always in personal ways. Her compositions are credited for being both entertaining and immediate as well as profound and sophisticated.
Although based in Mexico, her music is commissioned and performed all over the world by prestigious ensembles, soloists, and orchestras such as: Los Angeles Philharmonic, Essa Pekka Salonen, Kroumata and Aminda Percussion Ensembles, the Kronos Quartet, Dawn Upshaw, Sarah Leonard, Cuarteto Latinoamericano, Pierre Amoyal, Sothwest Chamber Music, and the Liverpool Philharmonic, among others.
Ortiz has been honored with the National Prize for Arts and Literature, the First Prize of the Silvestre Revueltas National Chamber Music Competition, the First Prize at the Alicia Urreta Composition Competition, and the Rockefeller Foundation Medal Award, among others.
Gabriela Ortiz currently teaches composition at the University of Mexico in Mexico City and serves as visiting faculty at Indiana University.