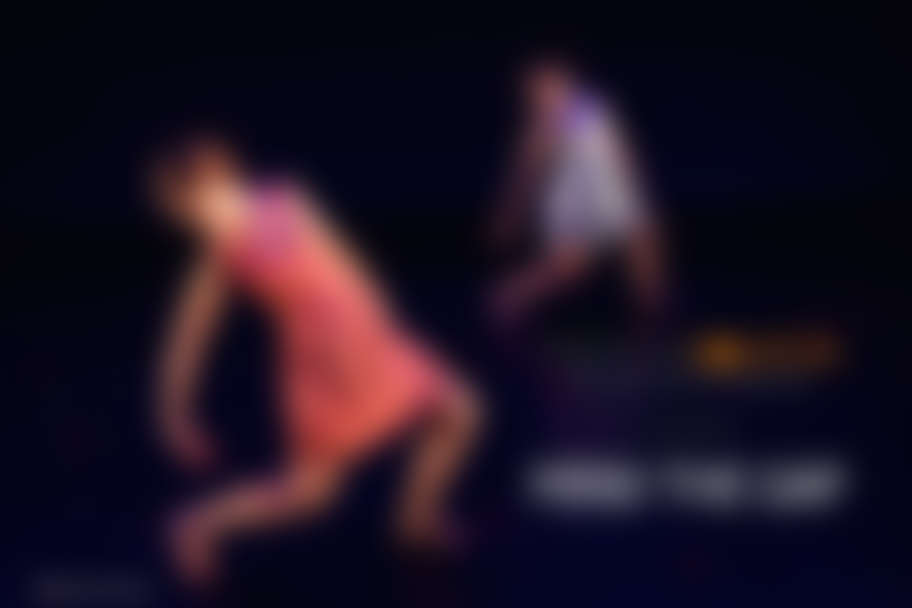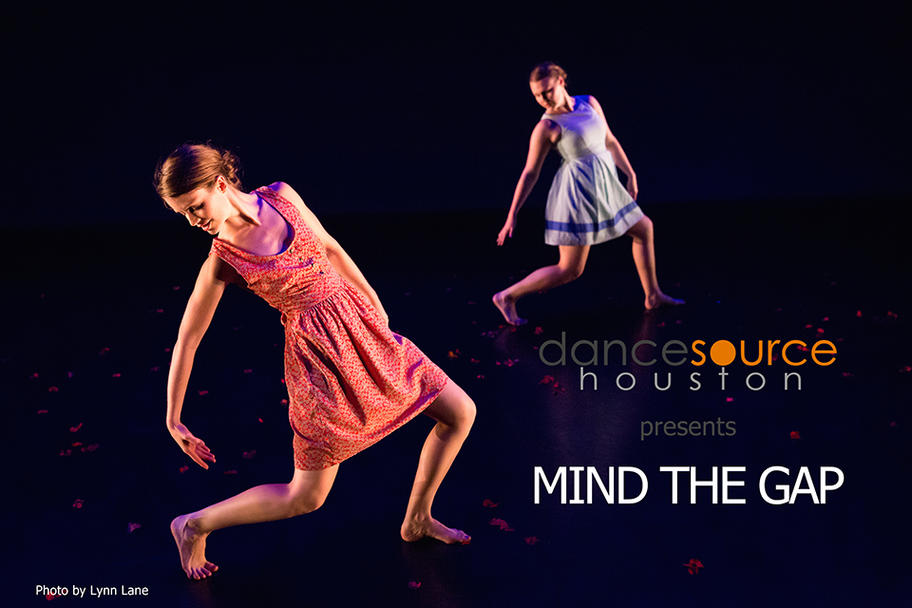 Dance Source Houston, in collaboration with MATCH, will present the second Mind The Gap performance of the 2017-18 season on November 28, #Giving Tuesday. The evening will featuring reprisals, premieres and works-in-progress by DSH members Nicola Bennett, Gillian Bowen, Somya Gupta, Jennifer Mabus, Tina Mullone and Heather vonReichbauer.
Mind The Gap supports artists by offering both an artistic platform and real-time professional development. In addition to creating vital performance opportunities for local dancemakers, Mind The Gap provides support in production planning and management, as well as marketing, budgeting and audience development. Members of both MATCH and DSH staff work with the participating artists to ensure they have the tools and information necessary to successfully present in the art-centric space.
Choreographer Bios
Nicola Bennett grew up in Spring, TX and began her dance training at an early age. She studied ballet, jazz and lyrical throughout childhood and into high school, where she was an officer with the Klein Bearkadettes. Nicola's focus shifted to modern dance upon entering Texas State University, where she received a Bachelor of Fine Arts degree in 2008. Bennett studied Erick Hawkins technique under the instruction of LeAnne Smith, Michelle Nance, Kaysie Seitz-Brown and Pat Stone. She went on to apprentice with the department in contact improvisation and modern dance, and received several scholarships, including the Orchesis Dance Scholarship and the Joan Hays Achievement in Choreography Award. During and after her time at Texas State, Nicola was a member of Orchesis Dance Company and Merge Dance Company, both based in Austin, TX. When her husband relocated to the North Houston area, she took a break from dancing to put down roots and start a family, while still dropping in for classes from time to time. After connecting to an adult modern class at TADA she felt ready to jump back in with a talented group of dancers. Nicola is a founding member of Ascend Dance Collective and serves as Co-Director, alongside Donna Frogge. She is excited to serve as both a dancer and choreographer for the company.
Gillian Bowen is a dancer/choreographer based in Houston. Her training includes Maine Central Institute for classical ballet training, Patel Conservatory in Tampa, the University of Houston, and Peridance in New York. She has trained and worked with choreographers including Igal Perry, Victor Quijada, Cindy Salgado, Loni Landon, and Jesse Zarrit, as well as attending Sidra Bell's 2017 Dance Module. She has also studied in Houston and Austin with Nobel Motion Dance, METdance Company, and with Amy Morrow. Recently, Gillian has choreographed and performed at ACDA, Austin Contemporary Dance Festival, and Boston Contemporary Dance Festival.
Somya Gupta recently graduated from University of Houston with a major in Media Production and a minor in Dance. Gupta hopes to find her way into professional dance with a focus on film and dance. Currently, she has her hand in graphic design and videography for local Houston businesses/companies. She is excited to keep moving forward and plans to keep things interesting along the way!
Jennifer Mabus, a dance artist currently based in Texas, has performed internationally as a soloist and founding member of Robert Battle's BattleWorks (NYC), the Amy Marshall Dance Company (NYC), Heidi Latsky (NYC), Takehiro Ueyama (NYC), Bruce Wood Dance Project (TX), Noble Motion Dance (TX), and Dark Circles Contemporary Dance (founding dancer, TX), among others, and she currently performs as a collaborator in the Transitory Sound and Movement Collective. Mabus has presented choreography in festivals such as the Dance Gallery Festival (TX), the Dumbo Dance Festival (NYC), Cool/NY Festival, 254 Festival (TX), and she has been commissioned to create work on the dance companies Contemporary Ballet Dallas, Muscle Memory Dance Theater(TX), Omega Dance Company(NYC), and Elle Danceworks (TX). In Houston, she has been commissioned to create work for the Miller Outdoor Theater and Zilka Hall at the Hobby Center by the Foundation for Modern Music and the Windsync ensemble. Mabus was the 2015 Rice University Dance Artist in Residence, one of Noble Motion Dance's 2016 "Next Step" emerging artists, and one of Dance Source Houston's 2017 Artists in Residence. As an educator, she has served on the dance faculties of Texas Christian University, Booker T Washington HSPVA, Interlochen Arts Academy, Houston's HSPVA, San Jacinto College, and Sam Houston State University. Mabus received her BFA in Dance from Southern Methodist University and her MFA from Sam Houston State University.

Tina Mullone, a Texas native, began her dance training under Fernando Schaffenburg in Fort Worth, TX. She continued to study at Dallas Black Dance Theatre and the University of Oklahoma. After completing a Bachelor of Arts degree in Art History, she performed and taught for JAADE Dance Theater, Contemporary Dance/Fort Worth and Beckles Dancing Company. Besides the Fort Worth/Dallas metroplex area, Tina taught at the Texas Ballet Theater School and Texas Christian University. She performed with Kariamu and Company: Traditions and Bianca G. Harris Dance Ensemble (Philadelphia, PA). After receiving a Master of Fine Arts degree from Texas Christian University, she continued teaching at several Dallas/Fort Worth community colleges. She has performed in Germany, Mexico, New York, Philadelphia, Louisiana and Texas. Over the years, Ms. Mullone attended numerous dance workshops including the Alvin Ailey American Dance Theater, Philadanco Dance School, Urban Bush Women and the William Evans Dance Institute. She is currently Associate Professor of Dance at the University of Louisiana at Monroe. Ms. Mullone continues to commute from Louisiana to Texas to work with Beckles Dancing Company, Contemporary Dance/Fort Worth (as Associate Artistic Director) and co-director of M2 (m squared), a performance art ensemble based in Monroe, LA. She sits on the South Regional board for the American College Dance Association, the Arts Advocacy committee under the National Dance Education Organization, Women of Color in the Arts, is a certified Pilates mat instructor and M'Singha Wuti level Umfundalai contemporary African dance instructor. Miss Mullone is proud to be a part of this
year's Dance/USA's Institute Leadership Training program.

Heather von Reichbauer is a choreographer, educator, and Artistic Director of Bones and Memory Dance. An avid reader, vonReichbauer is inspired by the written word and aims to weave literary and allegorical elements into a visual tapestry of movement and music, connecting the audience to the work on a physical and emotional level. Formerly an Artist in Residence with Dance Source Houston, vonReichbauer is currently creating a new evening length concert in collaboration with Pilot Dance Project that will premiere in March 2018. Her work has been presented at Barnstorm Dance Fest, 254 Dance- Fest, Houston Fringe Festival, Houston Choreographers x6, American Dance Festival's Acts to Follow, NC Dance Alliance's Annual Event Showcase, and Greensboro Fringe Festival. Heather is currently adjunct dance faculty at Houston Community College and previously taught at Rice University, Greensboro College, Catawba College, and The University of North Carolina at Greensboro. Since 2007, Heather has worked as a freelance musical theater choreographer for universities, high schools, and community theater groups Heather holds an MFA in Choreography from The University of North Carolina at Greensboro and a BA in Dance from Coker College. In the fall of 2016, she began the Dance for PD Teacher Training Program through the Mark Morris Dance Group. vonReichbauer was an inaugural graduating member of the 2017 Artist Inc -Houston program, a professional 8-week workshop for artists.