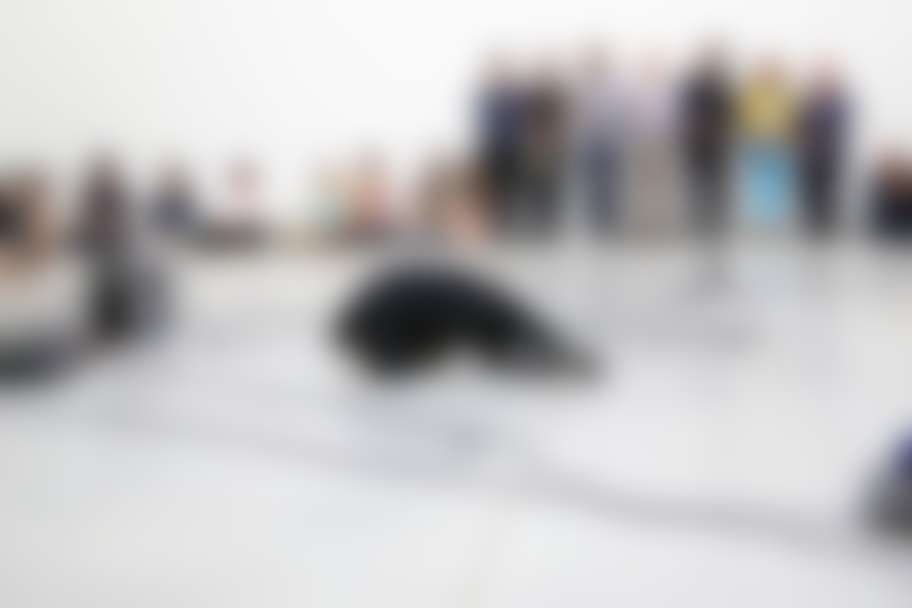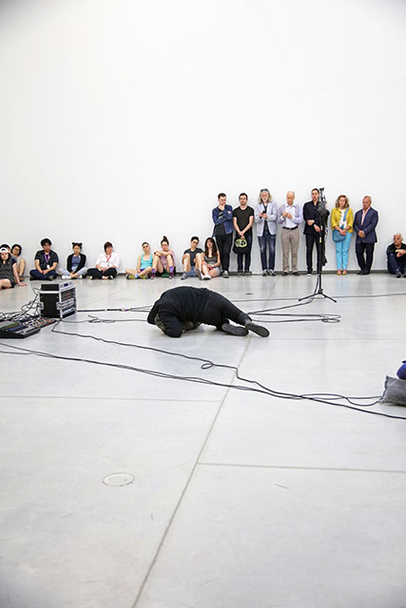 | Date | TIme | |
| --- | --- | --- |
| Tuesday, Apr. 18 | 12:00 PM | |
| Wednesday, Apr. 19 | 12:00 PM | |
| Thursday, Apr. 20 | 12:00 PM | |
| Friday, Apr. 21 | 12:00 PM | |
| Saturday, Apr. 22 | 12:00 PM | |
Presented in partnership with Project Row Houses
Installation and Performance
The Historic Eldorado Ballroom
2310 Elgin St.
Houston, TX 77004
Movement V: Ballroom is an unticketed installation open to the public during the following hours:

Installation Hours: April 18-23 from 12:00 PM to 8:00 PM
Opening Reception: Thursday, April 20 from 7:00 PM to 9:00 PM
Performance: Saturday, April 22 at 8:00 PM - ticket reservation required
"Our engagement with darkness is what generates visibility." - Kevin Beasley
Enter a historic ballroom, one that's pitch black inside, lit only by exit signs and a series of lights activated by sound.
Artist Kevin Beasley is taking over the Eldorado Ballroom, the iconic Third Ward venue, and creating an original site-specific sculptural and sound installation. Sixteen sculptural works amplify the sounds produced by the movement of visitors, with the sound in turn producing light, creating a combination of a movement-based performance and listening sessions, an installation that exists—visually and aurally—only with the movement of bodies and a physical engagement between visitors and the space.
The Eldorado Ballroom featured a who's who of the great blues and jazz players—and was the place to cut loose—from the 1940s to the 1970s. Beasley explores the cultural, personal, and historical contexts of the materials and spaces with which he assembles his art, then radically transforms and reinterprets them. Movement V: Ballroom continues a series of experiments in materiality and sound, exploring the fading in and out of culture, and the erasure of predominately black cultural spaces.
On April 22 at 8pm, Beasley will engage the installation with his own movements for a performance.
Since 2013, Kevin Beasley has created Movements I-V, performance installations that explore the implications of liveness and the body—including his own—within varying spaces. These works are invested in how the body, an agent of motion, affects the experience in multi-faceted ways, including visually, sonically, physically and culturally. His work has been exhibited at the Whitney Museum of American Art, the Museum of Modern Art, and the Solomon R. Guggenheim Museum.
Movement V: Ballroom is part of Performing the Neighborhood, a five-year partnership between the Mitchell Center and Project Row Houses to commission and present major performance-based works by contemporary artists in the Third Ward neighborhood of Houston. These large-scale co-commissions will draw upon the neighborhood, as well as the rich, often complicated intersection between the university campus and its surrounding community.
NOTE: Movement V: Ballroom is based in darkness, with minimal lighting and visitors moving about. The installation might be disorientating for some.