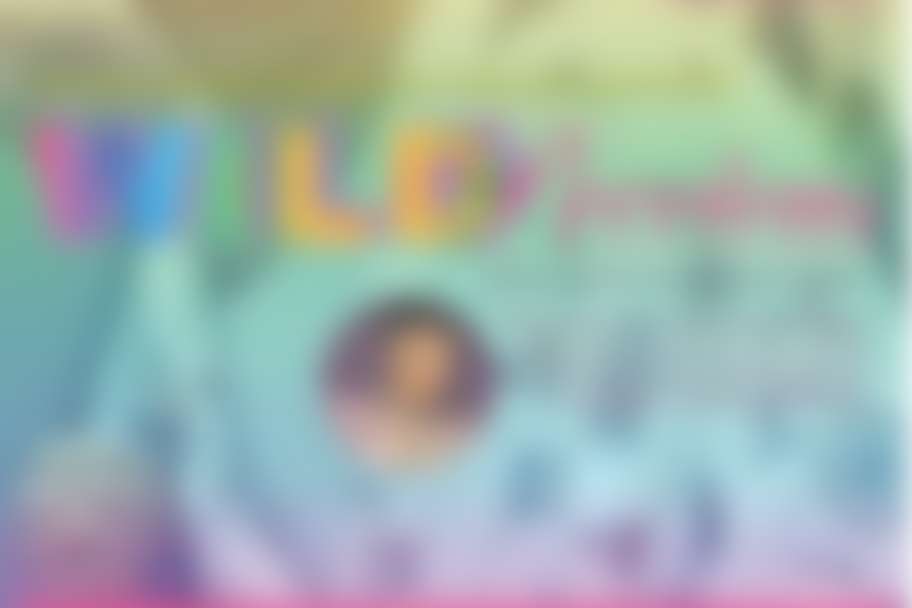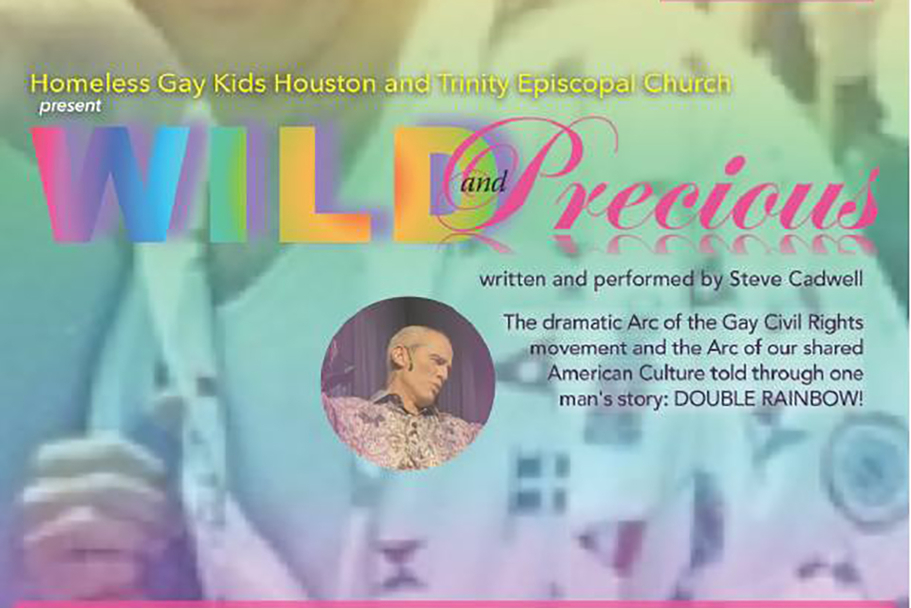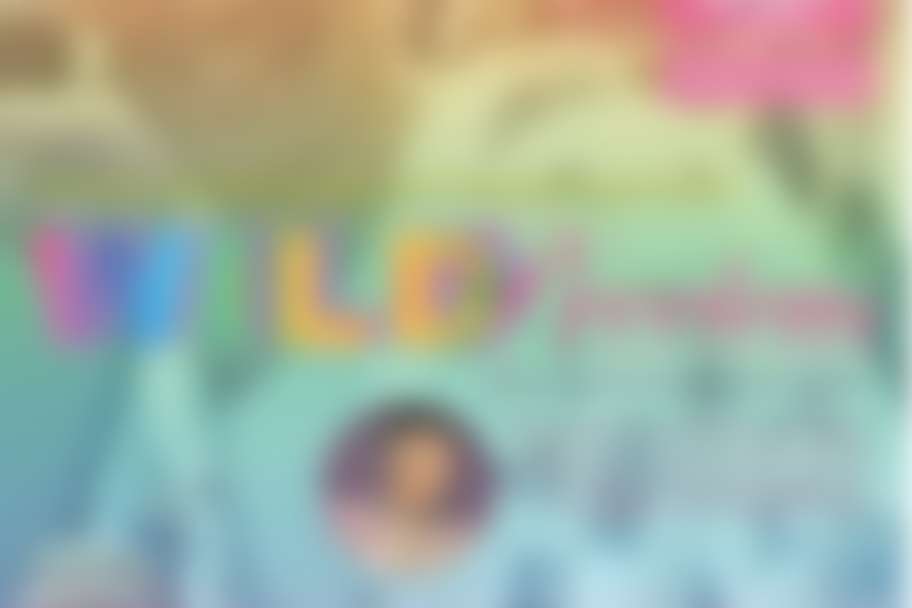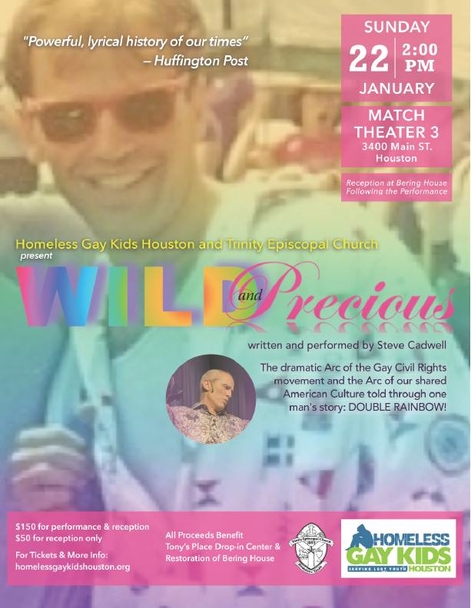 Performance Will Benefit Tony's Place Drop-in Center and Bering House
"Wild&Precious the nationally acclaimed one-man show, is coming to Houston. It will benefit Tony's Place drop-in center for homeless gay kids and Trinity Episcopal Church's restoration of the historic Bering House.
In Wild&Precious, Steve Cadwell dramatizes, celebrates, and educates about the arc of the last 60 years of Gay Liberation -- social transformation. The Huffington Post called it a "powerful, lyrical history our times."

Tickets are $150 for the performance at MATCH and a reception afterward at Bering House, 3400 Fannin. Tickets for the show only are $100 through the MATCH Box Office.
Wild&Precious is a multi-media performance of original songs, photographs, costume, stories, and poems. Steve tells his story: a Vermont sissy boy in the 50's, deep in the closet in the late 60's, a breakdown from emotional stress of the closet, breakthrough as part of the gay movement in the 70's in Houston, AIDS activist in the 80's, and now psychotherapist "married to his man." They have a son. Steve celebrates the social and psychological resilience that helped him and his generation come out of the "straight" jacket into fullness of being men.
This is a story of change for the better! As a psychotherapist, Steve's been listening to people's stories for 40 years to good healing effect. This is his story about what it means to be a man in our one wild and precious life -- one man's version of our Social Change History. The piece dramatically brings to life universal themes: gender, sexuality, shame, stigma, mental health, social change, resilience, parenting, aging, the therapeutic relationship, HIV, grief, empowerment, diverse family structure, family life cycle, and the healing power of love.
Steve Cadwell, Ph.D., got his MSW at the University of Texas at Austin after working in child welfare in Houston. Now he is a senior psychotherapist in Boston and writes and teaches on issues of gender, sexuality, shame, and group therapy at Boston Universities Graduate School of Social Work and with Harvard Medical psychiatry residents. In this performance piece, he tells his story about our universal quest for meaning. The show has been featured at theaters, campuses, clinical conferences, and Pride Festivals coast to coast: Boston, New York City, Seattle, San Francisco, Los Angeles, Austin, and Vermont, as well as at Brown University, Amherst College, Smith College, Clark University, and the University of Texas.
See more on web site: wildandprecious.org and www.steve-cadwell.com
Steve Cadwell
Ph.D. Psychotherapist, Performer, Educator,
(617) 320-2512
steve@steve-cadwell.com