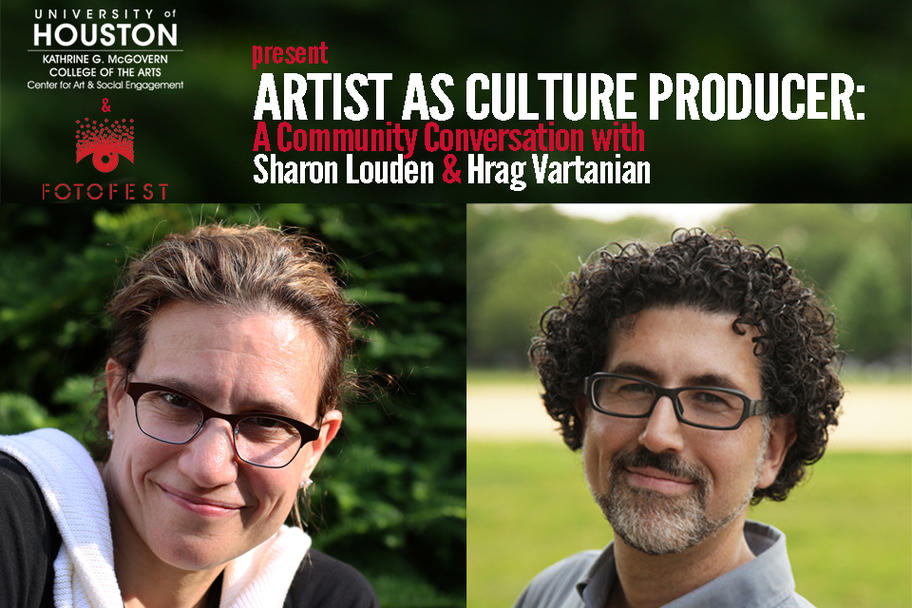 as part of a national book tour
CASE with FotoFest have invited artist and advocate Sharon Louden and frequent collaborator Hrag Vartanian (Editor-in-Chief and Co-Founder of Hyperallergic) to Houston to explore the ideas from her book "Artist as Culture Producer – Living a Sustaining Life." Informed by the national conversations Louden has been having as part of her conversation tour, we will begin the community conversation with "What does it mean to be an 'artist citizen' today?" and "What is 'success' today to artists and organizations in regard to the elevating the value of arts today." Audience participation is encouraged and a book signing will follow.
This is the next in a series of Community Conversations moderated by CASE Director Sixto Wagan that bring national thought leaders to spark conversations with Houston arts communities.
Admission is free. A limited number of books will be available for sale at the event.
This presentation is a collaboration with FotoFest and the Contemporary Arts Museum Houston, and is funded in part by the City of Houston through Houston Arts Alliance and with support from the Kathrine G. McGovern College of the Arts and the Houston Endowment.
About Sharon Louden
Sharon M. Louden is an artist, educator, advocate for artists, and editor of the Living and Sustaining a Creative Life series of books published by Intellect Books and distributed by the University of Chicago Press. The book is now in its 7th printing and with sales in over 18 countries, it has become Intellect Book's #1 best-selling publication two years in a row. Louden has continued this momentum bringing her second book, The Artist as Culture Producer: Living and Sustaining a Creative Life, on an extensive 100+ stop conversation/book tour. The last book in the trilogy of Living and Sustaining a Creative Life books, Last Artist Standing, will be published in 2020. The Ford Foundation has endorsed the The Artist as Culture Producer Conversation Tour with fiscal support for events that cross-pollinate book contributors with local artists in communities who wouldn't otherwise have the opportunity to participate.
She graduated with a BFA from the School of the Art Institute of Chicago and an MFA from Yale University School of Art. Her work has been exhibited in numerous venues including the Aldrich Contemporary Art Museum, the Drawing Center, Weatherspoon Art Museum, and her work is held in major public and private collections including the Whitney Museum of American Art, National Gallery of Art, Yale University Art Gallery, and the Museum of Fine Arts, Houston, among others. Sharon is a faculty member in the MFA Fine Arts program at the School of Visual Arts in New York and a Senior Critic at the New York Academy of Art where she organizes a popular Lecture Series.
www.livesustain.org
www.sharonlouden.com
About Hrag Vartanian

Hrag Vartanian is editor-in-chief and co-founder of Hyperallergic, a publication he created in 2009 in response to the changes in the art world, publishing, and the distribution of information. Breaking news, award-winning reporting, informed opinions, and quality conversations about art have helped Hyperallergic reach over 1 million readers a month. Hrag launched the Hyperallergic podcast in 2016 which travels around the globe to uncover the evolving world of art. In addition, he has curated projects, exhibitions and has organized public events since 1997. Highlights of his curatorial efforts include exhibitions at BAM, Storefront Gallery in Brooklyn, NY, and #theSocialGraph at Outpost, the world's first multi-disciplinary exhibition of social media-related art in 2010. He has visited many universities and colleges as a visiting critic including RISD, Brooklyn College, UC Davis, Pratt, Columbia and UNLV, as well as moderated panel discussions and juried exhibitions for various organizations, including the Metropolitan Museum of Art, the Brooklyn Museum, and Chautauqua Institution. Beyond his writing, he is an avid photographer and collector of photographs. He is committed to serious, playful, and radical storytelling that pushes the boundaries of writing.