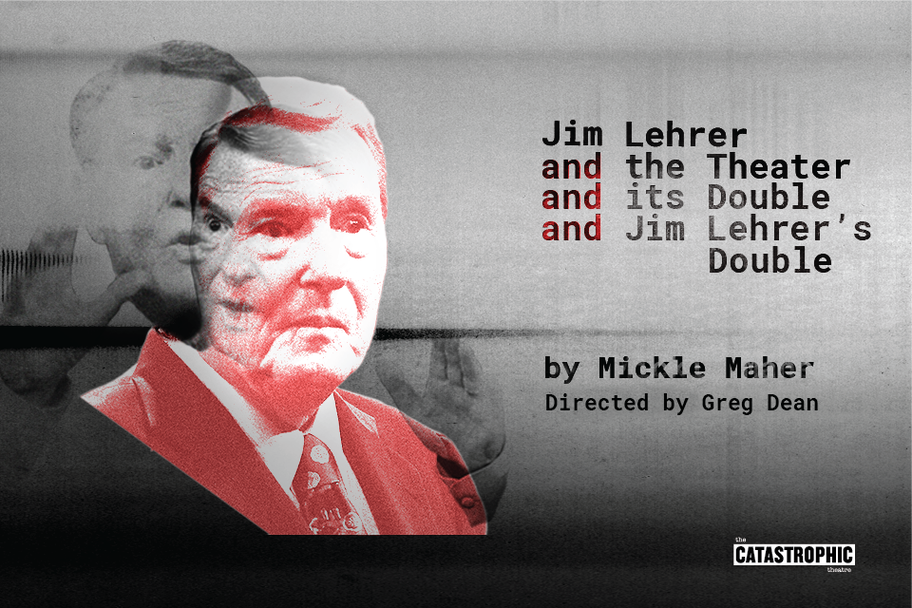 | Date | TIme | | Note |
| --- | --- | --- | --- |
| Friday, May. 18 | 8:00 PM | | |
| Sunday, May. 20 | 2:30 PM | | |
| Monday, May. 21 | 9:15 PM | | Double Header |
| Friday, May. 25 | 8:00 PM | | |
| Sunday, May. 27 | 2:30 PM | | |
| Thursday, May. 31 | 7:30 PM | | |
| Saturday, Jun. 2 | 8:00 PM | | |
| Sunday, Jun. 3 | 4:15 PM | | Double Header |
Standby Process
If your desired performance date is sold out, you can purchase a standby ticket during our box office hours by calling the box office at (713) 521-4533 or in person. For full information on how standby works, please visit our box office information page.
---
The Jim Lehrer Plays Marathon!
We are offering two opportunities to see both The Strangerer and Jim Lehrer and the Theatre and Its Double and Jim Lehrer's Double on the same day! Performances listed as a Double Header are preceded by a performance of The Strangerer. Kill two Lehrers with one stone!
---
By Mickle Maher
Directed by Jason Nodler
"There is nothing that has no twin."
Jim Lehrer, legendary PBS news anchor and presidential debate moderator, is now retired and sitting alone on a gloomy evening in his suburban Washington, DC home. Suddenly his double, Jim Lehrer the aspiring playwright, bursts in, having narrowly escaped the rabidly angry audience from the opening night of his first produced play. Lehrer II must now convince his twin their lives are in danger from the mysteriously incensed mob. At the same time, something—or someone—keeps making odd noises from deep within the house. This gothic horror-comedy uniquely blends the writings of Edgar Allan Poe and mad theatre genius Antonin Artaud with the politics and theatre of our day.
The Catastrophic Theatre's mini-festival of Mickle Maher plays continues with this wildly inventive sequel to THE STRANGERER, Maher's play that combines the existentialist writings of Albert Camus with the first 2004 presidential debate between George W. Bush and John Kerry and moderated by Jim Lehrer. Both plays, presented together in repertory, feature Seán Patrick Judge as Lehrer and are directed by Catastrophic Theatre artistic director Jason Nodler.
When asked about the relationship between the two plays, Maher responded: "I'd say both STRANGERER and JIM LEHRER AND HIS DOUBLE were prodded out of me by the political insanities of the times I wrote them in (STRANGERER around 2006, post-Katrina, when the pro-torture Bush administration was clawing bottom, and DOUBLE during the heat of the 2016 campaign, after Trump had the nomination but before he'd won.) Jim's way of coping with the fraught situations he's in in both plays is something I relate to deeply and intensely and on a day-to-day basis: he's a close observer of things right in front of his face, but is entirely blind to their larger import. In STRANGERER he gets that Bush is trying to murder him, he just can't prioritize that fact enough to do anything about it. In DOUBLE he understands the possibility that a wickedness may have invaded his home, he just can't see that as reason to distract him from his routines. I should stress that I don't see the character as a commentary on the actual Jim Lehrer, who seems like a fine fellow. The character is my best attempt to express my own feelings of absurd impotence. The cadence of the actual Lehrer's reportage (mesmerizing, insistent, dispassionate but personable) is what leads me to that expression, for whatever strange reason."
In repertory with THE STRANGERER
Thursdays at 7:30 PM
Fridays and Saturdays at 8:00 PM
Sundays at 2:30 PM
May 11 – Jun. 3
All tickets Pay-What-You-Can