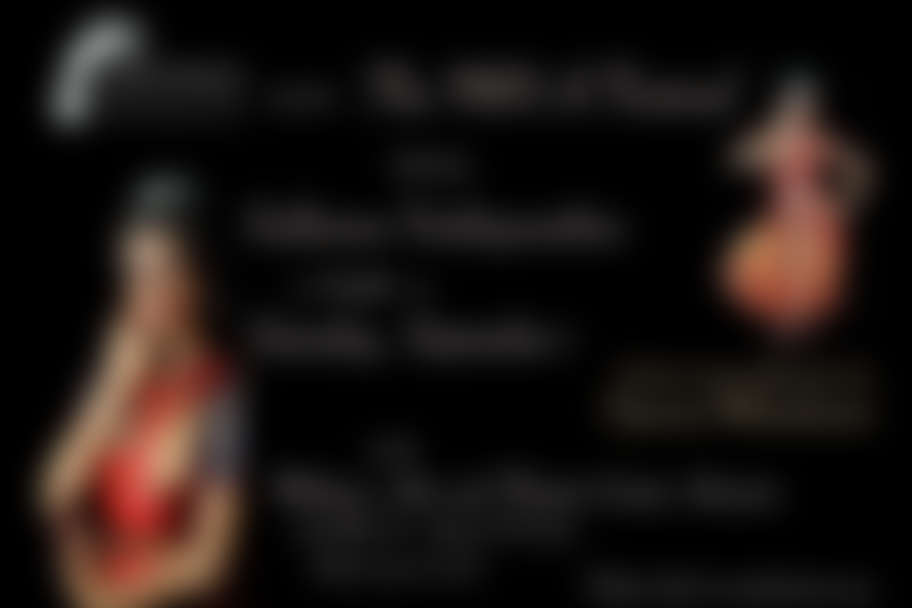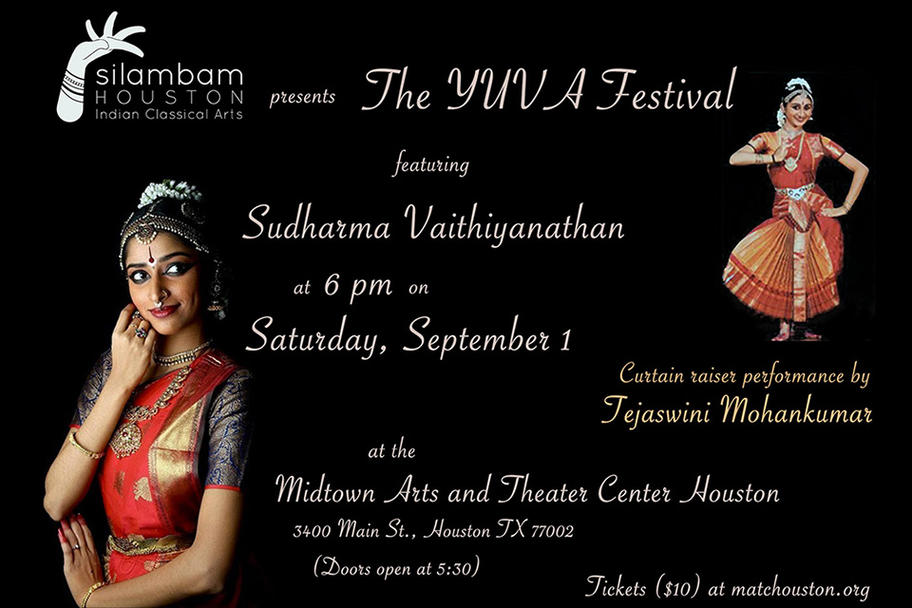 Sadir: A Solo Journey - Bharatanatyam by Sudharma Vaithiyanathan, with a curtain raiser performance by Tejaswini Mohankumar
An evening of Bharatanatyam by two gifted young Indian classical dancers. The feature performance, 'Sadir: A Solo Journey', is a solo work by child prodigy and rising star Sudharma Vaithiyanathan, from India, on tour in the US this fall.
Houston's own talented Tejaswini Mohankumar performs in a short solo curtain raiser performance preceding the feature presentation.
Sudharma Vaithiyanathan, a promising and budding young Bharathanatyam performer, is a disciple of famed guru A. Lakshman for the past 12 years. Previously, she trained under Smt. Srekala Bharath under whom she performed her stage debut at the tender age of 6 ½, earning her recognition as a child prodigy. Since then, she has performed extensively, both as a sought-after solo performer and in numerous companies. She has traveled extensively across the globe, performing in the USA, France, UK, Singapore, Germany, and Switzerland. Her recognitions include Natya Chudar in 2017, Best Individual Performance in HCL Concert Series in 2016, Natana Bhava Padhmam award from Brahma Gana Sabha in 2017, The Gutty Vasu Memorial Prize in the 27th Spirit of Youth Festival of Music and Dance from The Music Academy Madras in 2017, Young Achiever Award from Rotary club and M.G.R. Medical University, Yuva Kala Bharathi from Bharat Kalachar, and a scholarship from the Ministry of culture, Government of India for 10 consecutive years.
Recently, as a part of a fundraiser for the All India Movement For Seva, she performed across the United States over 2 months, raising over $900,000. She has performed in Berlin and Stuttgart along with Kathak legend Pandit. Birju Maharaj, and has also performed in the prestigious Oriental Festival in France. Her performances have garnered high acclaim from stalwarts in the field of Bharatanatyam and in leading newspapers in India and around the world.
Tejaswini Mohankumar began her artistic journey began at the age of 5, when she started learning Indian classical dance form Bharathanatyam from Dr. Lavanya Rajagopalan at Silambam Houston. She was immediately captivated by this intricate and nuanced art and has pursued it with passion and talent ever since. Following a thorough initial grounding in dance technique, Tejaswini's quest for a more immersive experience led her to India, the birthplace of this ancient art form, where she underwent 3 years of intensive training from the acclaimed dancer/guru A. Lakshmanaswamy. Under his guidance, she presented her solo debut (arangetram) in India at the age of 13.
Tejaswini returned to Houston invigorated and ready to tackle more advanced skills and techniques, and to pursue a career in performing arts. She was immediately recruited into the Houston-based pre-professional Silambam Houston Dance Company, and was cast in lead roles in their productions Krishna…?, Shambhavam: Dance of the Cosmos, Maya: A Midsummer Night's Dream (in which she played the role of Titania), and Kavya: Poetry In Motion. Tejaswini is an incoming senior at Glenda Dawson High School in Pearland, TX.