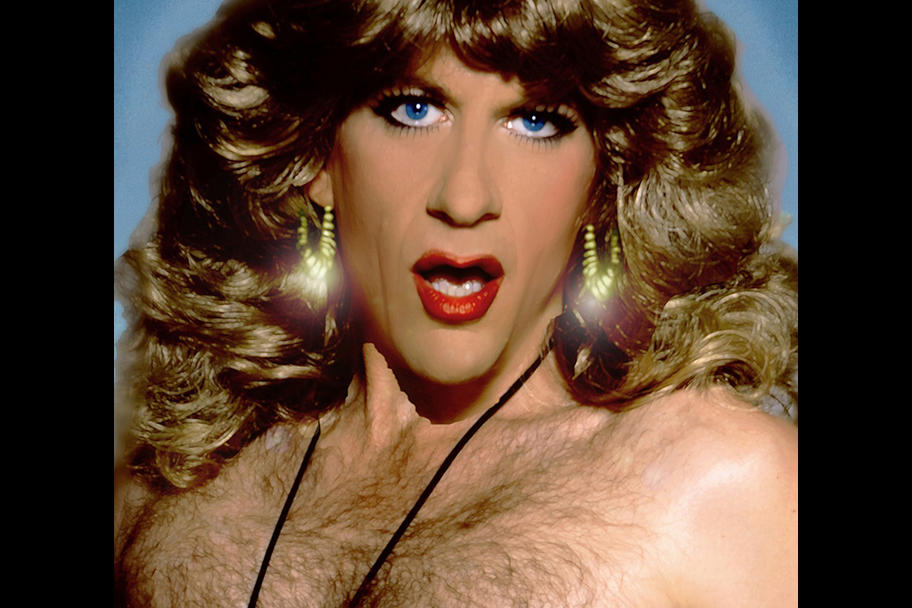 "Ground-breaking!" -- Frontiers Magazine
"Pure absurdist drag camp on the comic surface, but beneath lays a complex heroine with heart and soul of John Waters' proportions." -- Huffington Post
"Unlike anything you have ever experienced on a stage." -- Venice Magazine
John Cantwell's FADE TO CONNIE is a "thoroughly exhilarating, triumphant tribute to 70's cinema classics including Eyes Of Laura Mars, Taxi Driver, Apocalypse Now, King Kong, Airport '75, Saturday Night Fever and Jaws" says the Huff Post. It stars a high-kicking, body positive, non-speaking drag queen (Cantwell) who's dance moves, cleverly choreographed by Robin Carrigan, with leave you breathless and begging for more. And Love Connie gives it all!
FADE TO CONNIE is a nearly wordless performance. The only dialogue you hear is from Connie's maniacal Hollywood agent, voiced by legendary drag artist, Coco Peru. The show is told solely through dance, mime and physical comedy and is equal parts playful drag musical and performance art. But the secret weapon in FADE TO CONNIE's feast for the eyes and ears, is the unique, psychedelic backdrop of film and retro pop music spliced together by top sound and video editor Zig Gron (The Matrix, The Bourne Supremacy). It is an LSD trip that also features art by Adrian Carroll, graphic design by Mark Nubar and costumes by Miguel Jose Barragan. It was directed by Jim Fall (Trick) who (along with choreographer Carrigan) cast Cantwell in their musical "Blood Orgy Of The Carnival Queens", which was his NYC stage debut back in 1993.
JOHN CANTWELL is a veteran comedic performer with over 25 years experience in "showbiz". He cut his performance teeth in New York with legendary gay sketch comedy group, The Nellie Olesons where the character of "Connie Slocum" (Love Connie) took flight. After touring with the group, including a stop at the Just For Laughs Festival in Montreal and a rave review in the New York Times, Cantwell moved to LA and appeared (as "Connie") on shows including "Will & Grace" (directed by James Burrows), "The Riches" and the films Nick & Norah's Infinite Playlist and Dog Gone Love. He has appeared on TV alongside greats including Jack Warden, Norm MacDonald and Eddie Izzard, but most people will remember John from Legally Blonde and his now famous line "Oh, my God, the bend and snap works every time!"
In 2010, John created his first drag show called "Love, Connie", starring his alter-ego and her cat, Vickie, which ran for 3 years in L.A. at the Cavern Club, Highways Performance Space and Celebration Theater. It also played as part of the Afterglow Festival in Provincetown, MA curated by John Cameron Mitchell of "Hedwig" fame. Since then he has created over 10 original shows: "Connie Love Juice" (2013), "Desperately Seeking Vickie" (2014)," Fade To Connie" (2015), a tribute to legendary glam band Roxy Music, with "Fade 2 Connie: The Roxy Files (2016), House Of Love (2017), a greatest hits collection called "Xtreme Makeover" (2017), "Purple Connie" (2018), an homage to Prince and this year's sequel to his first show, "Love Connie 2: Electric Boogaloo" (2019). His popular holiday revues include "My Connie Nightmare" (2018) and "My Connie Valentine" (2018) & "My Connie Valentine 2" (2019) both which featured legendary Kids In The Hall alumn, Scott Thompson as "Buddy Cole". These show have featured the choreography of many L.A. & NYC talents including Ryan Heffington (Sia's "Chandelier" video) and 2 time Emmy award winner, Kathryn Burns ("Crazy Ex-Girlfriend").
2019 also marks Love Connie's debut appearance on 2 episodes of Season 11's Emmy Award winning RuPaul's Drag Race which has garnered her a world-wide following & the arrival of her World Of Wonder web series called "Connie-wood" a "Spinal Tap"-esque version of her (and Cantwell's) life as a struggling, unsung, Hollywood ingenue. Season 2 will arrive in 2020.