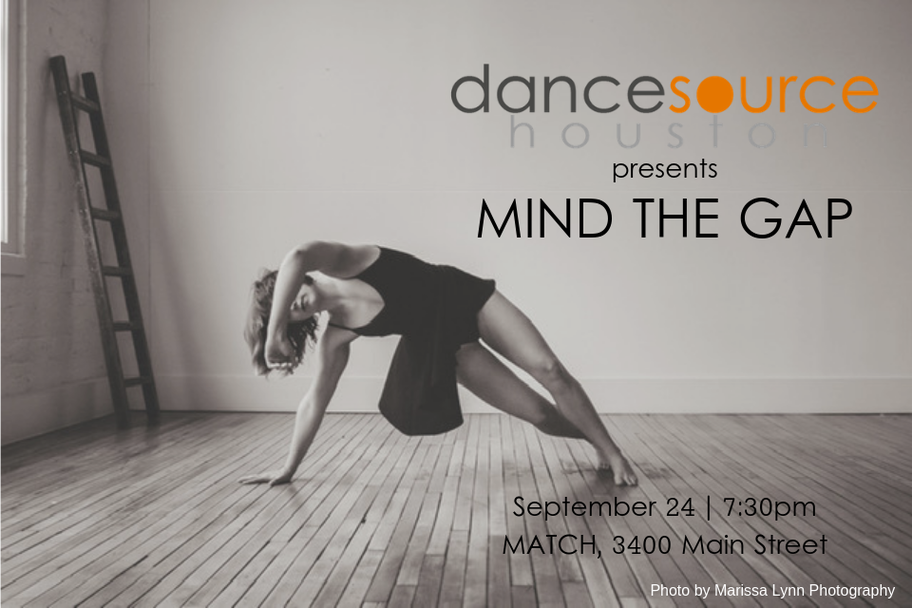 Dance Source Houston's second Mind The Gap of the 2019-2020 season features a program of works by Jacquelyne Boe, Padmini Chari, Kimberly Kieffer, Haley Shaw, and Lizzy Woodson. The evening will feature a diverse showcase of aerial, Bharatanatyam, contemporary, and modern dance works. Mind The Gap offers choreographers working in all dance genres a platform to share their work with audiences while receiving production and marketing support from Dance Source Houston.
Jacquelyne Boe is Houston based professional dancer, choreographer and educator interested in activism through the arts. Boe received her early education from the High School for Performing and Visual Arts Houston and her BFA from the University of Oklahoma, where she graduated as the Weitzenhoffer Family College of Fine Arts, Graduate of the Year. She is currently a company member of Frame Dance and Hopestone Dance. Boe has also had the pleasure of working with organizations and individual artist such as Erick Hawkins Dance, Erin Reck, Houston Grand Opera in productions Carousel, Nixon in China and Faust, Noble Motion Dance, Open Dance Project and Teresa Chapman among others. Boe is a critically acclaimed dance maker that has been creating original works since 2014. She was named Houston Press';100 Creatives and was a recipient of Dance Source Houston's Artist in Residence Program. She has recently received the honor of being a participant in the 2019-2020 Lawndale Studio Artist Program. Jacquelyne teaches a wide range of technical levels and ages for organizations such as Frame Dance, the Hope Project and the Houston Ballet. Connect with Jacquelyne @jackiejayboe and jjboe.com
Padmini Chari is the disciple of the two most illustrious Bharatanatyam Gurus: the late Kalaimamani Adyar K. Lakshman and the late Kalanidhi Narayanan, both from Chennai. She has extensively trained under the world-renowned Gurus, the Dhananjayans, also from Chennai. Dance in the exquisite Kalakshetra style is second nature to her. Padmini Chari in her multiple roles as performer, choreographer, and teacher upholds the highest standards of the art of Bharatanatyam. During they years 1973-1981, Padmini taught in Munich, Germany and Vienna, Austria and performed extensively in Europe before coming to the USA in 1981. In 1982, Padmini founded the Nritya School of Dance in Houston. The school has grown to include a branch in New Orleans for over 20 years. In addition to training hundreds of students and conducting over 100 arangetrams, Padmini Chari has performed regularly in this country for programs to benefit and fund humanitarian causes. In commendation, the mayor of Houston proclaimed March 19th, 2006 as the "Nritya School of Dance Day." She has also been awarded the "Established Artist" Award from the Houston Art Alliance. Nritya will be celebrating its 37th year of existence this year. Padmini's tireless dedication and devotion to this art form has inspired her students to love and continue learning Bharatanatyam.
As a dancer, choreographer, and teacher, Kim Kieffer endeavors to combines aerial movement and apparatuses with floor-based modern dance technique. Kim has presented work and taught workshops in Florida, Arizona, California, Oklahoma, Texas, Arkansas, Kansas, and New Hampshire. Kim enjoys cats, tofu, audiobooks, and back bending.
Haley Shaw is a senior at the University of Houston's (UH) School of Theatre and Dance studying to receive her BFA in dance. Haley's recent performances include 13th Annual Splendid China at Miller Outdoor Theatre (2018), UH's Emerging Choreographer's Showcase (2018) and UH's Ensemble Dance Works (2018) at Lyndall Finley Wortham Theatre. She is a dancer for UH Dance Ensemble and Young Audiences Touring Company and has performed in works choreographed by Karen Stokes, Amy Smith, Jennifer Mabus, Jamie Williams-Zahradnik, and Jennifer Wood. Haley is a choreographer and instructor at Dayton Academy of Dance in Dayton, Texas. Subjects she teaches include ballet, jazz, acrobatics, and contemporary for the youth and she is currently training to instruct children's aerial classes at The Artz aerial studio in Houston, Texas. Her area of focus is concert dance performance and dance education. Post-graduation, she plans on dancing professionally and traveling before pursuing her MFA in dance.
Lizzy Woodson is a student at the University of Houston and will be receiving her BFA in Dance in December of 2019. Woodson is assistant Artistic Director of Dayton Academy of Dance and is one of the lead choreographers for their company, Kate's Dance Productions. Woodson has been a guest performer in NobleMotion's "Catapult" and is currently a guest dancer for Psophania's upcoming show, "Colony".