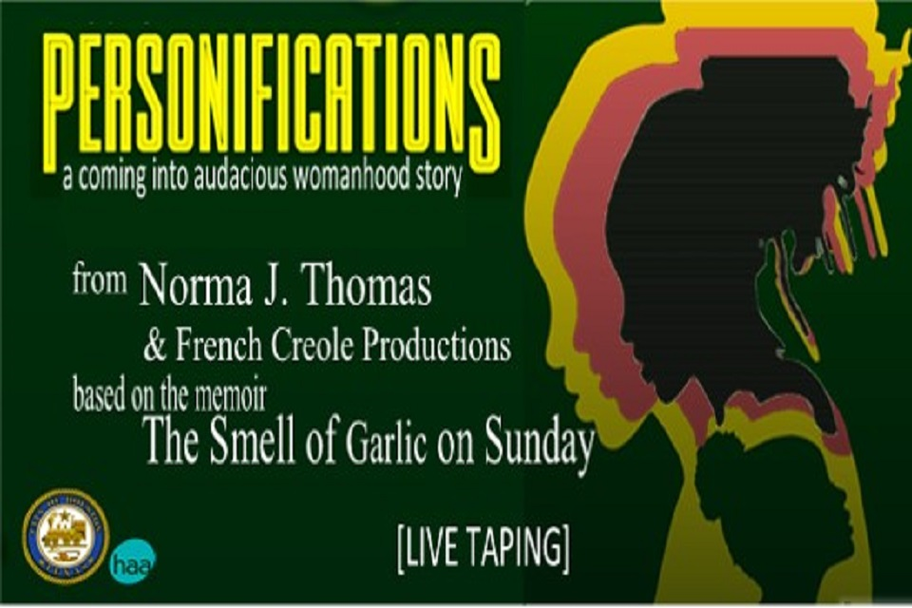 coming face to face with all that you are and have ever been
Personifications, a coming into audacious womanhood story, is the stage play adaptation of the memoir, The Smell of Garlic on Sunday, both written by Norma J. Thomas. In The Smell of Garlic..., the author explores those experiences which carried the most emotional weight in her life and were most influential in her becoming. She examines the feelings those experiences left behind and how they informed her behaviors, decisions, and self-identity.
She discovers that the little girl, the teen, and the young adult she was are introducing her to the woman she is. The memoir concludes with an offering of the steps the author took in that self-exploration as steps that anyone can follow, with a short handbook entitled, Learning the Language of Feelings.
*The Smell of Garlic on Sunday will be available for sale during the run of the show.
The stage play explores what happens when the level of soul searching chronicled in the memoir literally gives life to and brings the Soul Searcher face to face with her past selves, forcing her to finally accept them and how they have shaped who she has become.
The show features a talented cast of 7 actresses including:
Norma J. Thomas (writer/director/producer/performer; Drama Teacher, Houston ISD) ... the Soul Searcher
Terri Renee (professional stage and film actress; Engineer ) ... Voice
Joi Hughes (professional stage and film actress; Drama teacher, Fort Bend ISD) ... Single Mama
Avary Dawn McCoy (Atlanta based stage and film actress) ... Dreamer Deferred
Kamiliyah Washington (8th grade student of Fine Arts, YWCPA) ... Motherless
Kam E. Thomas (Community Theatre actress; Social Studies teacher, Houston ISD) ... Slow Drag
Janique McCray (Community Theatre actress; Nurse, Aldine ISD) ... Bull Dagger
[LIVE TAPING]
"All the Web's a Stage"
Personifications comes to MATCH via the "All the Web's a Stage" project, funded in part by the Houston Arts Alliance (Let Creativity Happen Grant) and The Mayor's Office of Cultural Affairs. "All the Web's a Stage" explores the integration of live theatre and the web. by, first, infusing the live stage play with memes projected throughout the show. Because memetic communication has become a viral staple of the web, where immediate viewer response is possible, the LIVE TAPING will allow "All the Web's a Stage" to further explore the ability to receive immediate audience feedback to each meme infused into the play. Finally, Personifications will broadcast from the web in 6 episodes, including a Behind the Scenes Documentary of the project, in mid- October. Visit www.NormaT.xyz for web broadcasting information.