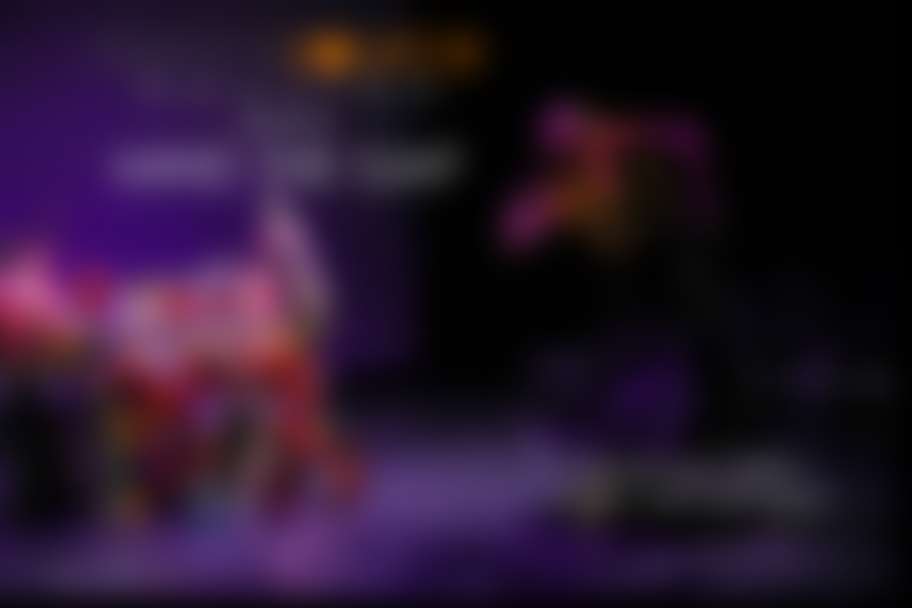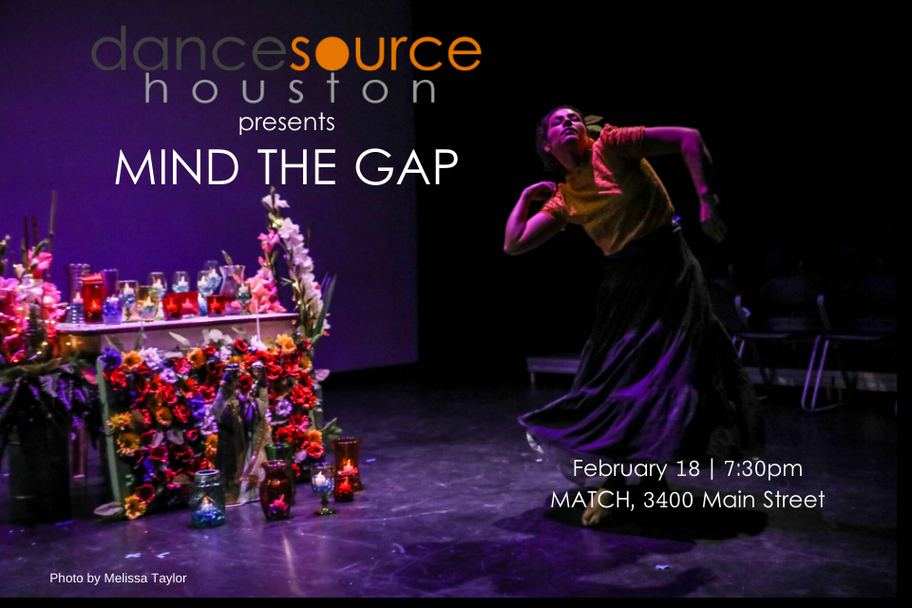 Dance Source Houston presents Mind The Gap 15.0, highlighting local dancemakers with a showcase of works by Jacqueline Bobet, Adam Castaneda, Karen Imas, Derek Nicholson, and collaborations by Haley Shaw / Michelle Reyes, and Sandhya Raghuraman / Bhuvana Venkatraman. The Mind The Gap series provides choreographers at in any phase of their career the opportunity to share work at any stage of their creative process without the burden and expense of self production.
About the choreographers
Jacqueline Bobet is adjunct dance faculty at the University of Houston and Rice University. She is also an independent choreographer and has presented work at the Wortham Theatre in downtown Houston, Big Range Dance Festival and Houston Fringe Festival. She is originally from Washington D.C. and received her B.A. in dance and studio art from Mount Holyoke College in Massachusetts. In addition to being involved with dance, Jacqueline is also a visual artist, writer, and jewelry maker.
Adam Castan͂eda is a dancer, writer, and arts administrator living in Houston, Texas. He is the Executive and Artistic Director of the Pilot Dance Project, a non-profit arts organization with the mission of transforming and empowering communities through innovative dance, theater, and visual art. His programming has been funded by the City of Houston through the Houston Arts Alliance, Houston Endowment, Texas Commission on the Arts, the Morales Foundation, HoustonFirst, the Midtown Management District, and Dance Source Houston. As a company member of the Pilot Dance Project, he has performed in repertory and evening-length work by Ashley Horn, jhon r. stronks, Jennifer Mabus, Jaime Frugé-Walne, Heather VonReichbauer, Lori Yuill, Orlando Hunter (Brooklyn, NY) and Erica Gionfriddo (Austin). In 2018, he was a graduate of the second class of Houston's Artist Inc., and was one of 15 dance presenters selected from a national pool of applicants to participate in the Jacob's Pillow National Dance Presenters Forum. He was one of Dance Source Houston's 2018-2019 Artists-in-Residence, and will show work in February 2020 as part of Houston Choreographers X 6. When not dancing with his own company, he often appears onstage with Suchu Dance/Jennifer Wood and Psophonia Dance Company/ Sophia Torres. He was recently awarded a Let Creativity Happen! Express Grant from the City of Houston through the Houston Arts Alliance for his movement research and community-building project, The Flower Garden of Ignatius Beltran.
Karen J Imas holds a BA in Theatre from Towson University in Maryland and an MFA in Theater from Naropa University in Boulder, Colorado. A dancer from the age of three, and a professional performer in dance and theater since 2001. Performance experience has taken Karen to various parts of the world including Totnes and London in England, and Seattle, Washington. Karen is a co-producer of the Next Iteration Ensemble here in Houston, Texas. Additional past companies include BobbinDoctrin Puppet Theater, Implied Violence Theatre, and Theater Schmeater. Karen has collaborated with theatre and dance artists from various countries including France, Japan, Brazil, Italy, Spain, and the United Kingdom. Since 2011, Ms. Imas has creatively worked as a Montessori high school writing, art, and philosophy teacher at School of the Woods here in Houston.
Derek Nicholson is graduated with his B.A. in Dance at the University of Houston (2019). He started training in the Spring High School color-guard and continued with Cypress Independent and Blue Stars Drum & Bugle Corps. He teaches and performs in the Houston area and nationally. He performed as an AirBlade spinner in the NFL Super Bowl LI Halftime Show with Lady Gaga and performed trapeze in New York at the Manhattan Movement & Arts Center.
Sandhya Raghuraman is a Bharathanatyam dancer, teacher and choreographer based in Katy,TX. A talented and passionate performer, Sandhya has a natural grace and spontaneity the brings out the joy she experiences when dancing. Her strong sense of rhythm (nrtta) and compelling facial expressions (abhinaya) help her connect both visually and emotionally with the audience. Sandhya has trained under Dr. Ambika Kameshwar from Chennai, India and continues to explore the art through creative collaborations with several upcoming and renowned artists in Houston and Dallas.
Haley Shaw is a senior at the University of Houston's (UH) School of Theatre and Dance studying to receive her BFA in dance. Shaw performed most recently in Wanderlust 2019, Mind the Gap 12.0, and has performed with UH Dance Ensemble and Young Audiences Touring Company 2018-19. Shaw choreographs and teaches dance, acrobatics, and aerial in studios in the greater Houston area. Her interests lie in performance and continuing education as an artist both inside and outside of academia.
Tejas Dance was founded by Bhuvana Venkatraman in 2014 as a platform to enrich and popularize Bharatanatyam; identify and encourage talent in the field. Based on a strong belief in the ever-expanding potential of all art forms, Bharatanatyam in particular, Tejas Dance endeavors to blend the great art with changing times and concepts; and gain integration within different cultural milieus. As Artistic Directors of Tejas Dance, Chintan Patel and Bhuvana Venkatraman, are enthusiastic dancers/choreographers, strongly rooted in tradition striving to give new meaning to Bharatanatyam techniques and themes. The duo brings a great deal of innovation, creativity and enthusiasm through dynamic movements and expressions innate to this art form.