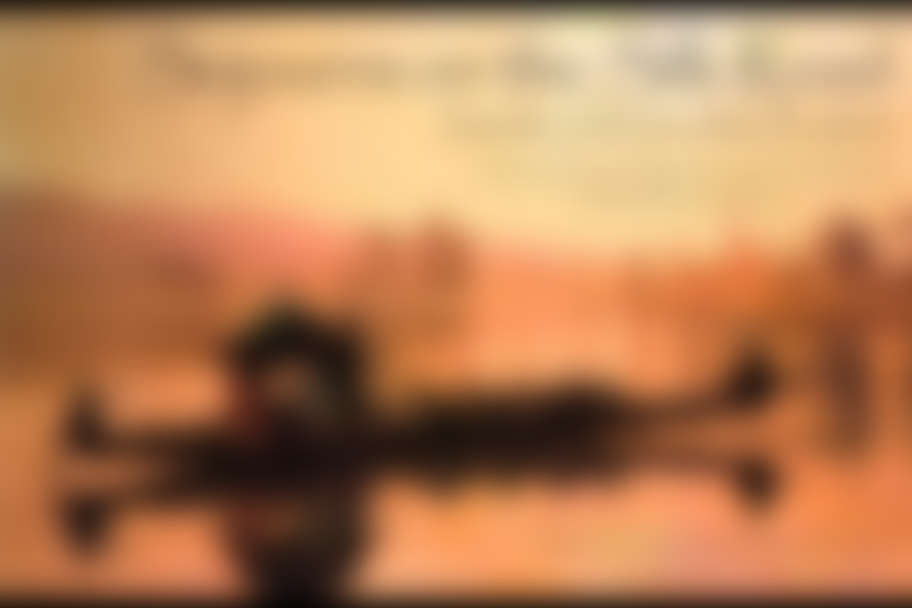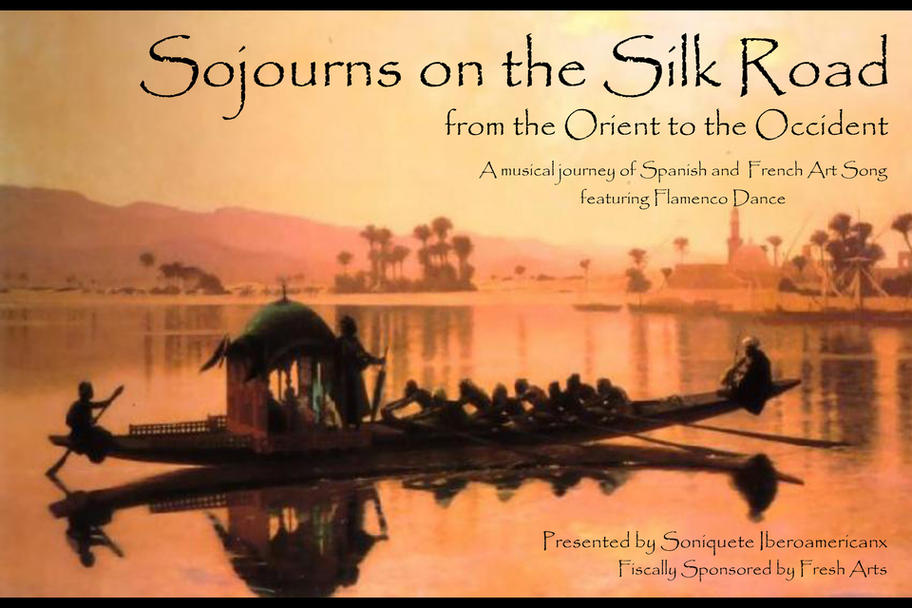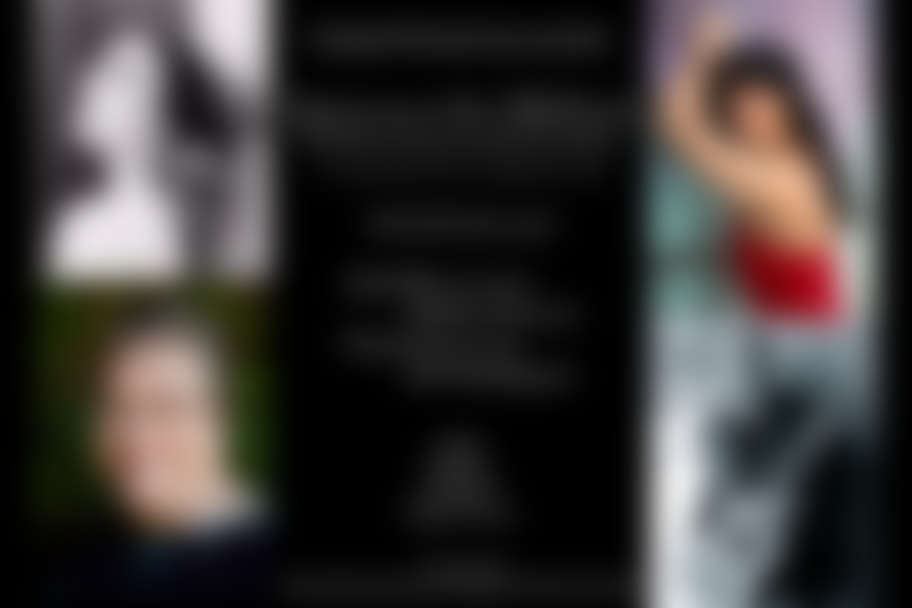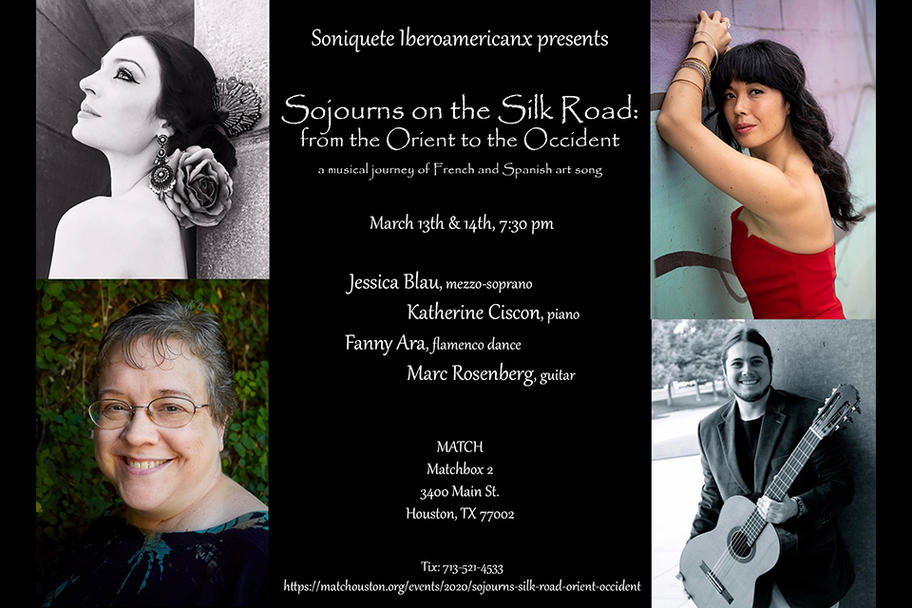 Fiscally sponsored by Fresh Arts
This event has been cancelled. All ticket orders will be refunded and ticket holders will receive an email confirmation. Please allow 7 to 10 business days to see refunds returned back to bank accounts.
For questions, please email our box office at boxoffice@matchouston.org or call (713) 521-4533.
---
Sojourns on the Silk Road: From the Orient to the Occident is a musical journey of French and Spanish art song on themes of the "Orient" featuring mezzo-soprano Jessica Blau, pianist Katherine Ciscon, guitarist Marc Rosenberg, and internationally-acclaimed flamenco dancer Fanny Ara. The 19th century Western perception of "the Orient" was largely based on the colonial expansions into Africa and Asia during that time. French composers became entranced with the "exotic" elements of these distant lands, creating their own fantasies of the "Orient," which included all non-Western cultures from the Far East to Africa and especially Spain, with its Gypsy (Romani) and Moorish influences. French and Spanish musical ideas of "Oriental" identities will be explored and contrasted with the visual accompaniment of lyrical flamenco dance in works by Ravel, Bizet, Debussy, De Falla, Lorca, and Albéniz, among others.
Fanny Ara is a dancer uniquely qualified to bring this music to life. The French Basque native is an internationally sought-after and award-winning choreographer, performer, and instructor credited as one of the foremost dancers "breaking boundaries in flamenco" today (Alice Blumenfeld, Dance Magazine). She is an artist who excels in the full spectrum of flamenco, from the most traditional to the avant-garde. Fanny has toured extensively in Canada, Central and South America, the Middle East, Africa, and throughout Europe. She has been distinguished with nominations from the Isadora Duncan Dance Awards in the categories of Most Outstanding Individual Dancer, Most Outstanding Music Ensemble, Individual Performance for her project, Juncal Street, and Best Ensemble for her work with the San Francisco Opera in La Traviata. Fanny has done many collaborations in the classical music world, including a notable performance as a featured soloist in Washington National Opera's 2016 production of Bizet's Carmen.
Jessica Blau has performed with opera companies throughout the United States. During the 2018-2019 season, she sang the title role in Opera Cultura's La Llorona (San Jose), Rosina in a bilingual touring production of The Barber of Seville with Portland Opera To Go (Portland), and Cherubino in Mozart's Le Nozze di Figaro with Pocket Opera (San Francisco). Jessica has a Bachelor of Arts in Art History with a concentration in Latin American and Iberian Studies from Bard College, in addition to a Master of Music from Texas State University, San Marcos, and a Performance Certificate from the University of Houston Moores School of Music, both in Vocal Performance. The repertoire presented this evening is a curated collection of cultural vignettes inspired by Jessica's own relationship to Orientalism as a Chinese-American woman, as well as her extensive travels throughout Spain and Asia, most notably her time spent living in Seville, Spain and in Yangshuo, China.
Chicago native Katherine Ciscon received her bachelor's degree in Piano from Rice University's Shepherd School of Music and a double master's degree in Piano Performance and Collaborative Arts from the University of Houston Moores School of Music. She was named Principal Pianist of Houston Ballet in 1995 and has also been a vocal coach and Visiting Artist Professor of Music at the Moores School of Music. While at Houston Ballet, Ms. Ciscon has performed as a soloist in the world premieres of Justin Peck's Reflections, Stanton Welch's Class, Nosotros, and The Core, Garret Smith's Reveal, James Kudelka's Passion, Ben Stevenson's Eclipse, and Trey McIntyre's Bound, among others.
Marc Rosenberg began his collegiate studies at TCU and earned his Master's at Carnegie Mellon. He participated in masterclasses with Pepe Romero and Bill Kanengiser, and others. In 2013, Rosenberg was accepted in a Master's program at the University of Alicante in Spain, where he studied with David Russell, Ignacio Rodes, Hopkinson Smith, Roberto Aussel, Manuel Barrueco, Carles Trepat, and Nigel North. Afterwards, Rosenberg returned to Houston where he has collaborated with Opera in the Heights, Musiqa, Texas New Music Ensemble, and Greenbriar Consortium. He is on faculty at Houston Community College while maintaining a private studio.