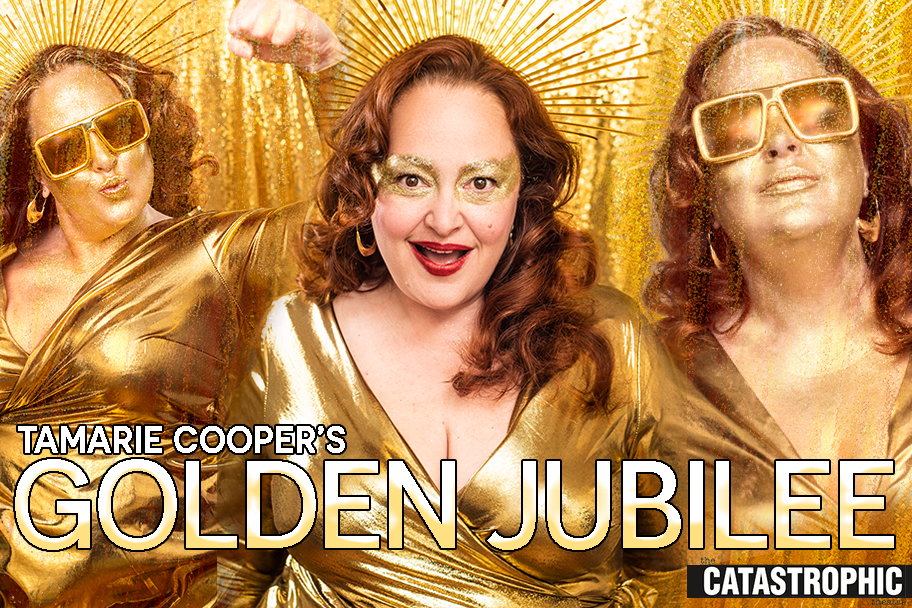 | Date | TIme | | Note |
| --- | --- | --- | --- |
| Friday, Aug. 13 | 12:00 PM | | Stream Begins |
| Saturday, Aug. 14 | 9:00 PM | | Viewing Party |
| Saturday, Aug. 21 | 9:00 PM | | Viewing Party |
| Saturday, Aug. 28 | 9:00 PM | | Viewing Party |
| Sunday, Sep. 5 | 11:59 PM | | Stream Ends |
Livestream available for purchase and viewing through September 5.
Click the GET TICKET button below to purchase.
The 24th installment of the Tamarie Cooper Show, a highly popular series of original musicals, is back this summer as a virtual extravaganza, streaming August 13 through September 5. Join us for in-person viewing parties on the rooftop garage at KHON's Wine Darts Coffee Art, 2808Milam. Outdoor seating will be provided for safe socially distanced viewing. Details are listed on the ticketing pages for the viewing party events. Seating opens at 8:30pm and viewing starts at 9pm.
It's 2021 and Tamarie is now 50 years old!! Just like any fabulous queen, she's celebrating her 50 years of existence with an all-new episode of her robust and ridiculous virtual series. But not to worry, this is no AARP commercial. Tamarie and friends playfully riff on the theme of "50," including not only this comedy crone's 50 year-old ass, but also that damn 50 pounds that won't go away, and Tamarie's collection of 50 bad dates. Featuring all new original songs, scenes, dance numbers, and adorable pet appearances, with a cast of crazies helping us all ride out another Houston summer, Tamarie style!
Tamarie Cooper's Golden Jubilee!
Conceived, directed, choreographed, and costumed by Tamarie Cooper
Written by Patrick Reynolds
Additional writing by Tamarie Cooper
Music composition: Miriam Daly, Erin Rodgers, Alli Villines
Lyrics: Tamarie Cooper and Patrick Reynolds
Video design, direction, and editing: Tim Thomson
Sound design, audio engineering, and mixing: Shawn St. John
Tamarie 2021 House Band: Mara McGhee, Brett Needham, Erin Rodgers, Kirk Suddreath, Alli Villines
Performers: Ronnie Blaine, Noel Bowers, Tamarie Cooper, John Dunn, Sara Jo Dunstan, Xzavien Hollins, Bryan Kaplún, Mara McGhee, Karina Pal Montaño-Bowers, Rebecca Randall, Kyle Sturdivant, Alli Villines, Abraham Zeus Zapata, and Walt Zipprian.
Special cameos: Amy Bruce, Norma Catlin Thomson, Greg Dean, Dennis Draper, Rose Elkins, Julia Openheim, Tamara Siler