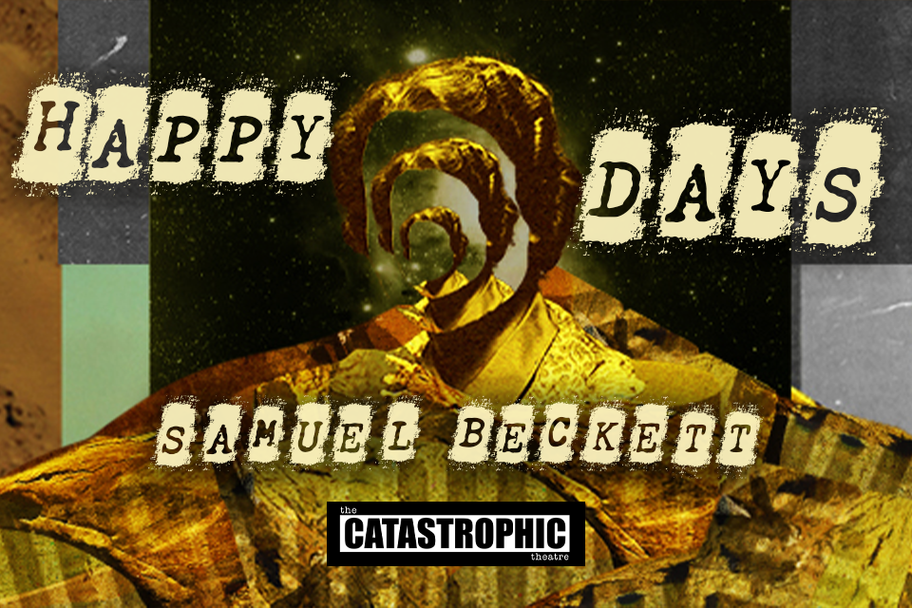 | Date | TIme | | Note |
| --- | --- | --- | --- |
| Friday, Sep. 23 | 8:00 PM | | Opening Night |
| Saturday, Sep. 24 | 8:00 PM | | |
| Sunday, Sep. 25 | 2:30 PM | | |
| Thursday, Sep. 29 | 7:30 PM | | |
| Friday, Sep. 30 | 8:00 PM | | Free Beer Fri! |
| Saturday, Oct. 1 | 8:00 PM | | |
| Sunday, Oct. 2 | 2:30 PM | | |
| Monday, Oct. 3 | 7:30 PM | | Industry Night |
| Thursday, Oct. 6 | 7:30 PM | | |
| Friday, Oct. 7 | 8:00 PM | | Free Beer Fri! |
| Saturday, Oct. 8 | 8:00 PM | | |
| Sunday, Oct. 9 | 2:30 PM | | |
| Thursday, Oct. 13 | 7:30 PM | | |
| Friday, Oct. 14 | 8:00 PM | | Free Beer Fri! |
| Saturday, Oct. 15 | 8:00 PM | | |
FINAL PERFORMANCE SOLD OUT
Our final performance is SOLD OUT but we are selling Standby Tickets at the door!
A Standby Ticket allows you to take any empty seat at curtain time. If you don't get in you get a full refund.
---
"Here all is strange."
Beckett's existential tragicomedy Happy Days concerns itself with the plight of Winnie, a middle-class, middle-aged woman who is quite literally stuck, buried to her waist in crusted earth. Her husband Willie lives in a hole behind her mound, physically and emotionally out of reach. Even in his company she is essentially alone.
Armed with a shopping bag of everyday items and routines, a series of half-remembered stories, songs, and prayers, and a heroic capacity for optimism, she presses through an endless series of unforgiving days to the merciful night to come. The bell rings again and when the blazing sun comes charging back, she is buried up to her neck. Her last resources depleted, her arms and body sunk and gone, her predicament is irreversible, hellish, seemingly eternal. Through it all she perseveres, struggling with that which remains to make real her impossibly hopeful exclamation: "Oh this will be another happy day!"
The Houston Chronicle wrote that Catastrophic's productions of Samuel Beckett's plays "demonstrate exactly why this company and its artistic director Jason Nodler are so important to the city's cultural life." The Houston Press opined, "If man's wretched existence ever needed a finer hand to paint comic despair, look no further than director Jason Nodler with his superlative interpreters all in the service of the apocalyptic vision from Samuel Beckett."
Catastrophic's co-artistic directors Tamarie Cooper and Jason Nodler reprise their roles as Winnie and director, as they did with Infernal Bridegroom Productions (IBP) 22 years ago. Greg Dean rounds out the cast as Willie.
---
Don't miss a single show this season!
SUBSCRIBE TODAY!
The Catastrophic Theatre is thrilled to announce its 2022-23 season, highlighting the work that has made it, along with its forerunner Infernal Bridegroom Productions (IBP), Houston's premier avant-garde theatre for three dang decades.
Subscribe to the full season (6 plays) or purchase a mini subscription (3 plays).
Happy Days by Samuel Beckett
"Here all is strange."
They Do Not Move by Brian Jucha with the Catastrophic ensemble
(World premiere)
Eddie Goes to Poetry City by Richard Foreman
"You're a mirror, Eddie."
Cleansed by Sarah Kane
"Love me or kill me."
A Maroon's Guide to Time and Space by Candice D'Meza
(World premiere)
Tamarie Cooper's TOTALLY TRUE Revue (plus lies too)! by Tamarie Cooper & Patrick Reynolds
(World premiere)
Click the button above or click HERE to learn more and subscribe TODAY.