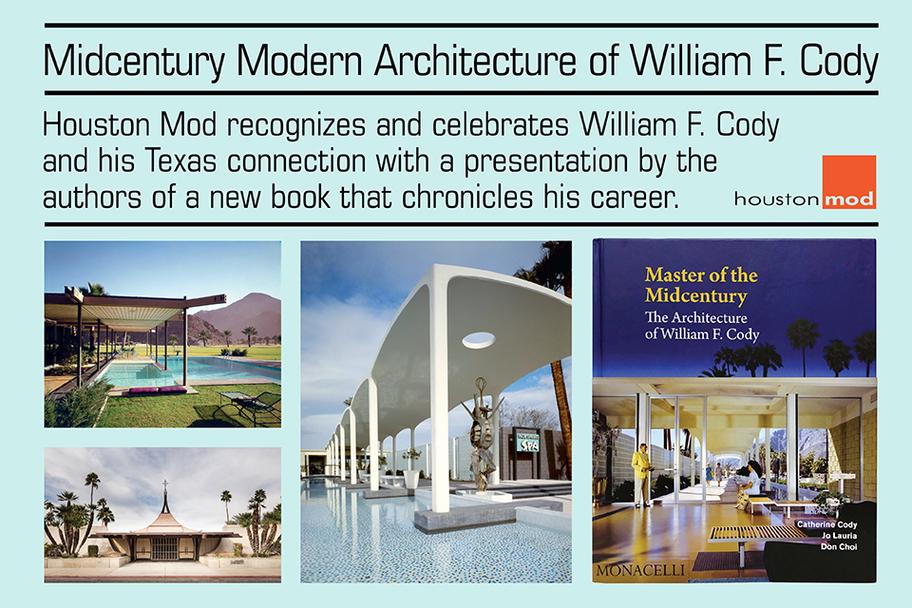 RECEPTION + LECTURE + BOOK SIGNING
The Book
Master of the Midcentury
The Architecture of William F. Cody, Monacelli 2021
The authors will present and discuss their new authoritative resource of Cody's work, a richly illustrated book with photographs, original renderings and drawings of extant and now lost structures. His daughter will share memories of her father, and Cody's work in Texas will also be discussed.
Presenter /Author
Catherine Cody is the third daughter of William F. Cody; in 2006 she became steward of her father's papers. She has a background in residential design and interior design.
Katie Nartonis is a writer, curator, and filmmaker who specializes in 20th Century Art + Design. After a decade working in film and television, she switched careers and spent over 20 years in the auction business having worked at LAMA, Bonhams and Heritage in their respective 20th Century Design departments.
Her documentary film on San Diego designer/maker Jack Rogers Hopkins will debut at the 2023 Palm Springs Modernism Week in February. She currently runs the Joshua Tree Art Gallery and is the Arts Writer for the Joshua Tree Voice magazine.
Don Choi, PhD is an architectural historian and professor at California Polytechnic State University where he teaches courses in architectural history and theory. He has a connection to Houston as his MArch is from Rice University.
Presenter
David Bucek, FAIA, Stern and Bucek Architects, serves on the boards of Houston Mod and Architecture Center Houston Foundation. He is Chair of the Houston Archeological and Historical Commission.

About Cody
Of the architects who made Palm Springs a crucible of midcentury American modernism, William F. Cody (1916-1978) was one of the most prolific, diverse and iconic. Directing a practice ranging from residences to commercial centers and industrial complexes to master plans, Cody's designs are so recognizable that they provide a visual shorthand for what is widely hailed as "Desert Modern." Cody's projects defined the emerging West Coast lifestyle that combined luxury, leisure, and experimental design. He pushed the boundaries of engineering, with beams and roof slabs so thin that buildings seemed to defy gravity. He was also a gifted artist, taught by his mother and producing notable work even as a child.
---
NOTE: This lecture has been approved by the AIA for continuing education credits - AIA CE 1.5 LU