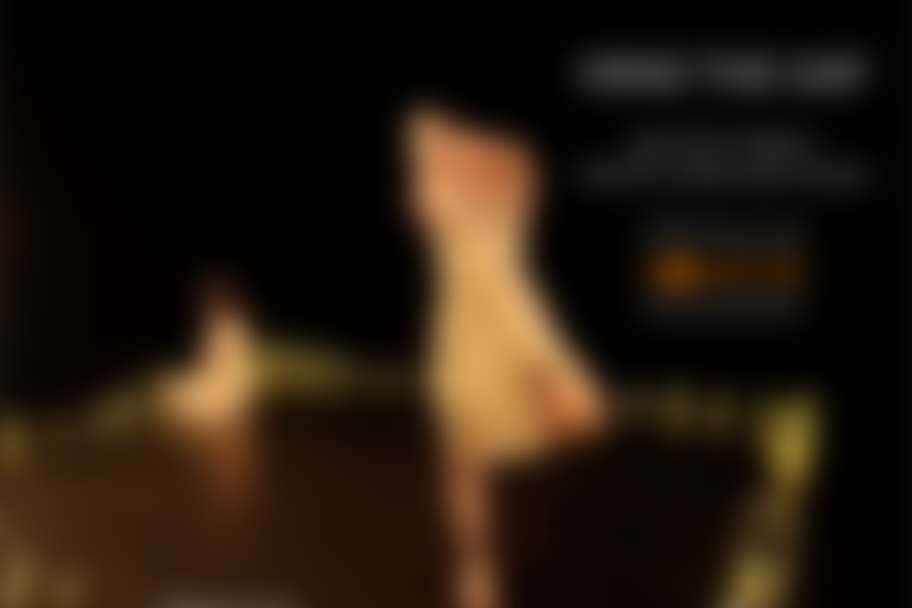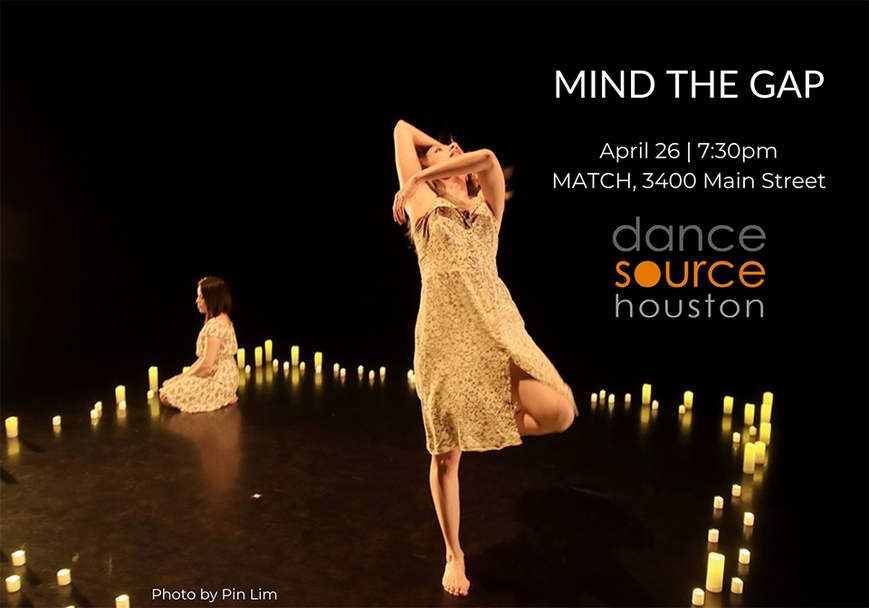 An evening of danceworks by local choreographers Dorianne Castillo, Mimi diLuna, Keeley Dunnam, Dolly Goyal, and Loren Holmes
Did you miss the performance? No problem!! Purchase Video-on-Demand access NOW through April 29th. You will have until midnight on May 13th to watch the show!
Dance Source Houston presents the 20th edition of Mind The Gap, a showcase series featuring danceworks by local choreographers. The program includes works by Dorianne Castillo, Mimi diLuna, Keeley Dunnam, Dolly Goyal, and Loren Holmes.
Mind The Gap was created in partnership with MATCH to support independent choreographers and small dance companies present their work. The program offers participants high production value, low administrative burden, shared ticket income, as well as production and audience development support. Begun in January 2017, Mind The Gap has featured works by more than 95 local dancemakers to date.
CHOREOGRAPHER BIOS
Dorianne A Castillo is a native from Puerto Rico, where she received her formal dance training at the Escuela de Bellas Artes in Ponce, PR and Andanza School of Dance in San Juan, PR. After moving to Houston in 2005, Dorianne had the opportunity to join dance companies that include Freneticore, Mnemosyne Dance Company, Rice Dance Theater and Suchu Dance. She is currently dancing for Adam Castañeda and The Pilot Dance Project. In addition to her work at these companies, she also enjoyed working with choreographers: Rivkah French, Ashley Horn, Jaime Fruge, and Kristina Koutsoudas. After over 20 years of dance experience, she is venturing on making a voice of her own through choreography.
Mimi diLuna is founder of Kathak Meetup and hosts the Dance to Inspire Podcast. She holds a BA in Performing Arts & French from the University of Texas at Arlington's Honors College. Mimi is currently pursuing a Choreography Diploma from the Natya Institute of Kathak and Choreography. She shares her original artistic films & tutorials on her trilingual YouTube channel "Mimi diLuna." She has also been awarded a grant from Houston Arts Alliance in 2022. Learn more about Mimi on her website.
Keeley Dunnam received her B.F.A. in Dance from the University of North Texas in 2018 where she studied with Shelly Cushman, Robin Lakes, Amiti Perry, Whitney Geldon, Karen MacIntyre, Claudia Howard-Queen, Sue Collins, and Mary Lynn Babcock. She is a candidate for her M.F.A at Sam Houston State University to be completed in 2022 where she is studying under Dionne and Andy Noble, Dana Nicolay, Jennifer Pontious, Adele Nickel, and Joshua Manculich. Keeley started dancing at four years old at The Dance Academy and trained in a variety of styles including ballet, pointe, modern, jazz, tap, musical theater, and hip-hip. In 2008, she danced with Lone Star Ballet and performing the roles of Spanish corps, Waltz corps, Snow corps, and Arabian corps in the Nutcracker in 2009-10. She has performed two years with AmpDance and the Odysseus Chamber Orchestra in "Transfigured Night", and "Appalachian Spring". Keeley danced with imPULSE Dance Project (directed by Anastasia Waters) for two seasons from 2016-2018, and performed various works at Dallas Dance Fest, 254 Festival, and Brazos Dance Festival. Her work, "NArrow is the Way" was showcased in imPULSE Dance Project's annual summer show in 2018. Keeley continues to focus her choreographic works towards building community by using movement as a means to communicate about social and political issues.
Loren Holmes is a Beaumont native and she began her training at the age of 7 at The Art of Dance, under the direction of Lisa Badon. After graduating high school, she moved to Houston and attended Texas Southern University where she was a member of the Texas Southern University Dance Company. She later attended Houston Community College, where she graduated with an Associate in Arts with a Dance Specialty. She graduated with High Honors and was a member of The National Society of Leadership and Success. She was also a member of the HCC Dance Ensemble, where Shani Sterling was the director. In 2013, she became a member of Urban Souls II under the direction of Harrison Guy. In 2014, she became a teaching artist for The Ensemble Theatre. In 2015, she became a member of Sonkiss'd Dance Theatre where Chris Thomas was the artistic director. With Sonkiss'd, she performed locally and nationally. She was a member of Statements Dance Company, under the direction of Nick Muckleroy, where they performed work that was socially conscious. Loren worked with recording artist Solange in 2018 and is in The Black Angels Collective for Tobe Nwigwe. It is in 2021 that she completed her first tour with Tobe, The Monumintal Tour. In 2018, Loren graduated from the SURE Entrepreneur Program held at the University of Houston. It is this program that helped to inspire her to create Hearts in Motion Hou, LLC. This company is a recipient of the TYAN (Texas Youth Action Network) grant, an Arts and Culture Connect Partner, member of Giants Inc. and a member of the Houston Black Dance Collective. She is also a teaching artist for Young Audiences of Houston and The Collective Four.
Steps For Dancing has been leading the way from 2018 in Houston to cater the requirements of Indian Classical Dance students where the main objective is to build a love for dancing in anyone, to give anyone the confidence and professional guidance to express through dance. The Journey began from India, traveled to Singapore and now serves in Houston and in neighboring cities like Pearland & Katy. Steps For Dancing offers Kathak, Bollywood, and dance workout sessions to different age groups. Steps For Dancing trains students for internationally recognized dance certifications in the field of classical dance Kathak. Giving opportunities to Steps for Dancing students to participate in big stage performances and dance competitions is part of their grooming as an artist. Quench your thirst for dance with Steps For Dancing.
NOTE: Patrons purchasing the livestream option can watch the event live OR via video-on-demand until May 13 at midnight.