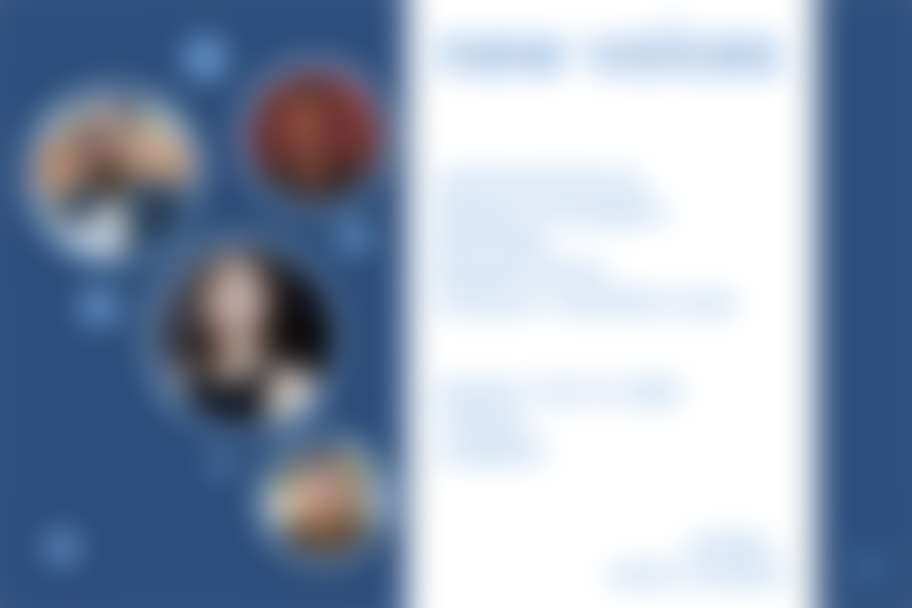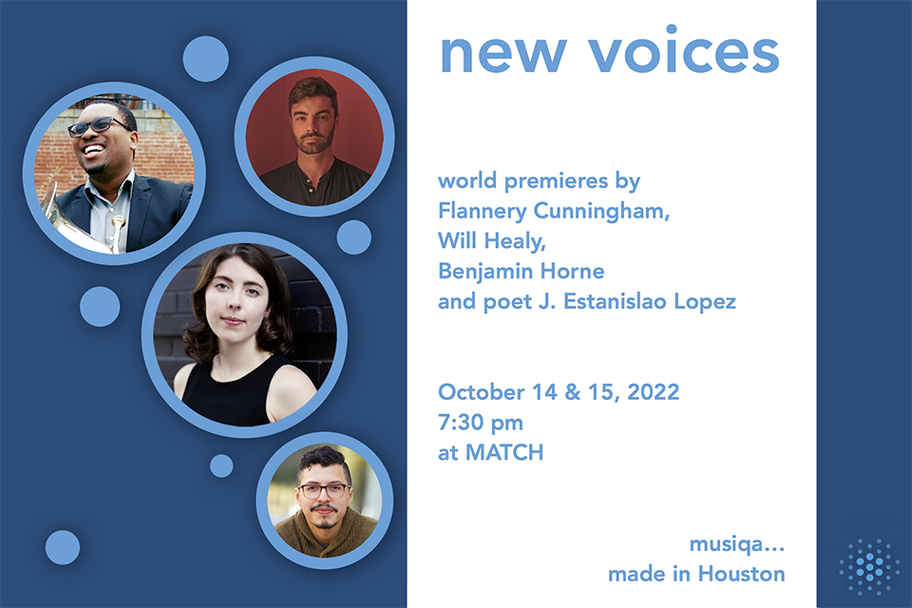 World premiers by emerging composers from across the country, including new works by Flannery Cunningham, Will Healy and Benjamin Horne, with poetry by J. Estanislao Lopez commissioned by Musiqa.
This October, Musiqa launches its 21st season with NEW VOICES, a program of new works by emerging composers from around the country, all commissioned by Musiqa. Together Flannery Cunningham, Will Healy and Benjamin Horne represent important voices in the future of concert music, and Houston audiences will be the first to hear this slate of world premieres. In addition, Musiqa has commissioned Houston poet J. Estanislao Lopez to write and read new poetry based on the themes in these composers' works for the occasion.
FLANNERY CUNNINGHAM
Musiqa's 2019 Emerging Composer Commission winner Flannery Cunningham is a composer of concert music as well as a musicologist who is deeply concerned with voices, sonic aspects of text, and uses of preexistent materials of many kinds (from field recordings to motet tenors, snatches of melody to notational procedures.) Besides writing for acoustic ensembles, she often composes for instruments and voices with live electronics, using gestural interfaces to allow for dynamic sound creation with motion, and linking various media. As a ghost before you on the road attempts to conjure a half-felt sonic presence. Its title paraphrases an English translation of a line from the Irish sean-nós song Aisling Gheal, or Bright Vision. Throughout the piece, delicate patterns on the viola, cello, and flute are spun out by the electronics in not-entirely-predictable ways to create a hazy vision of the title's ghost, and all three players must work together to bring this presence into any kind of focus. Profiled by the Washington Post in their 2021 article "Composers Who Sound Like Tomorrow," Cunningham won National Sawdust's 2020 Hildegard Competition and Heartland Symphony Orchestra's 2018 Composers' Competition, as well as Musiqa's 2019 Emerging Composer Commission.
WILL HEALY
Will Healy is a composer and pianist based in New York. Noted for his "lushly bluesy" sound and "adroitly blended... textures" (New York Times), he is the artistic director of ShoutHouse, a collective of hip-hop, jazz, and classical musicians. In addition, he is an accomplished pianist specializing in Bach, with a repertoire that includes the complete Goldberg Variations and Well-Tempered Clavier. Small Spaces was written in the small space of his Brooklyn apartment in the winter of 2021, and drawn from a short piano recording he made two years previously in a different but equally cozy apartment. Healy carried this one-minute recording around with him on his phone through four apartments, two relationships, and countless other musical projects, while his life and our world transformed dramatically over the course of the covid pandemic. Now, he says "looking back at that initial recording feels like a time capsule, and it inspired a very different piece in this current moment than it would have in 2019." Small Spaces is written for flute, viola, cello and vibraphone. Healy is the winner of Musiqa's 2019 Emerging Composer Commission.
BENJAMIN HORNE
Benjamin Horne is a composer/arranger, low brass performer, and music educator residing in Indiana. He earned his Master's degree at the Jacobs School of Music at Indiana University and his Bachelor's at the Schwob School of Music at Columbus State University (GA) with degrees in Music Education, Music Performance, and a Certificate in Music Composition. His works and arrangements span various styles and have been performed around the world including at the Latzsch Trombone Festival in Germany, the International Tuba and Euphonium Conference and the International Trombone Festival. Horne is a past winner of the Mid-Atlantic Regional Tuba Euphonium Conference Solo Artist Competition. I Remember You was inspired by a family friend's loss of memory, and was commissioned by the Cross-Country Chamber Consortium in 2021. As the winner of the Consortium's first annual Emerging Black, Latinx and Indigenous Composer Commission, I Remember You will premiere in four other locations around the country over the course of this season. Musiqa is proud to partner with Atlanta Chamber Players (Atlanta), Decoda (New York), Picosa (Chicago) and SOLI Chamber Ensemble (San Antonio) for this collaboration unlike any other in the country to amplify the voices of artists in Black, Latinx and Indigenous communities, voices which have traditionally been under-represented in the world of modern music.
J. ESTANISLAO LOPEZ
J. Estanislao Lopez's poetry has appeared in spaces such as The New Yorker, Poetry Magazine, The Rumpus, and elsewhere. He has been nominated for the Pushcart Prize, Best New Poets, and Best of the Net. His debut collection, We Borrowed Gentleness, will be published from Alice James Books in October 2022. He lives and teaches in Houston.
NEW VOICES performers include Tyler Martin (flute), Maiko Sasaki (clarinet), Jacob Schafer (violin), Tonya Burton (viola), Chelsea de Souza (cello), David Dietz (piano) and Blake Wilkins (vibraphone).
Performances will be at 7:30 pm on October 14 and 15 at the MATCH, 3400 Main Street. Tickets for Musiqa performances are always Pay-What-You-Can: a suggested ticket price of $35 or more will help support our artists and mission, but everyone is welcome to attend regardless of financial means.