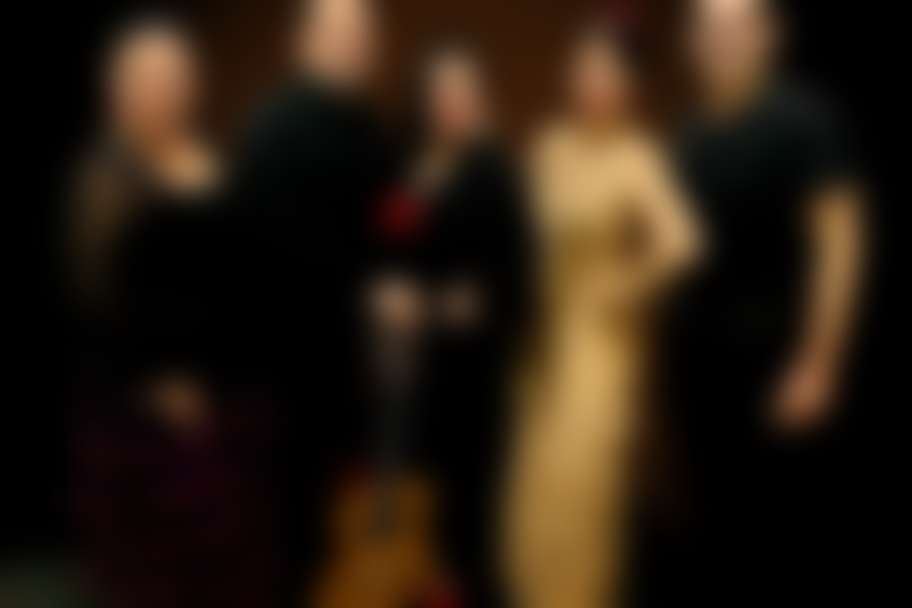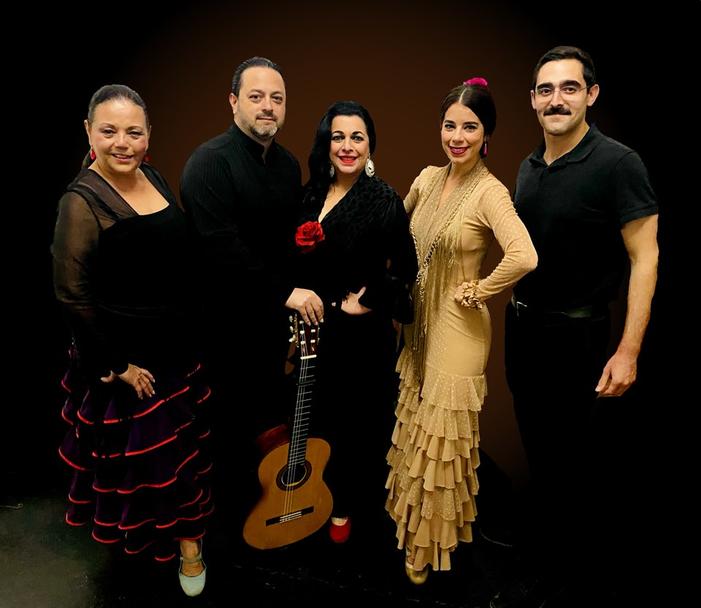 Solero Flamenco, Houston's premiere flamenco company, presents vibrant performances with artistic integrity and trademark passion. Soulful song, enchanting guitar and exhilarating dance converge in this highly improvised art form to present traditional, contemporary and original works. Whether in the theater, concert hall, or other venues, audiences experience the heart, soul and skill of professional flamenco artists.
Under the artistic direction of Irma La Paloma (cante) and Jeremias Garcia (guitarra), Solero Flamenco maintains an active performance calendar and enjoys collaborating with local and international artists. As founders and directors of the Houston Spanish and Flamenco Festival in collaboration with the San Jacinto College and the Consulate General of Spain in Houston, Solero Flamenco promotes flamenco arts, education and culture
The Solero Flamenco Artists
Irma La Paloma (cante)
Irma La Paloma is a flamenco artist, singer, and choreographer. She is co-founder/Artistic Director of Houston's Premiere Flamenco Performance Company, Solero Flamenco (2009). Irma performs and collaborates with local and international artists delivering Cante with sincerity and passion. She is a strong ambassador of flamenco arts and education in the city of Houston.
Born of Spanish descent in Havana, Cuba, she began her flamenco training with Spain's Olga Bustamante at Concepcion Arenal and with Maria Asela Bermudez at Escuela de Baile Monterroso y Antas de Ulla. She performed Flamenco and Spanish Regional Dances in Havana's Centro Gallego and Teatro Garcia Lorca. Her family later established residence in Madrid where she was further embraced by her heritage. Her love of poetry and lyrics led her to concentrated study of cante and dance accompaniment.
Recognized for her artistry and work ethic, La Paloma is a sought-after collaborator. Irma served as Choreographer for Houston Grand Opera's digital production, "Suite Espanola-Explorando Iberia" (2021). She performed and recorded her original work, "El Corazon Manda" in Kathak-Flamenco- A Celebration of Cultures (2019). In 2017, she performed selections from Manuel de Falla's "El Amor Brujo" with the Helena Symphony in Montana. She also recorded vocals in Khytaro's "Distancia" (2008).
Jeremias Garcia (guitarra)
Jeremias Garcia is a classical and flamenco guitarist and composer. He has performed in the US as a soloist as as the Co-Founder /Artistic Director of Solero Flamenco (2009).
He earned a Bachelor of Music degree in Classical Guitar Performance from Texas A&M-Corpus Christi and a MM degree from SMU in Dallas. He has continued his studies in Flamenco both here and in Spain.
Recently, he performed for Houston Grand Opera where he accompanied renowned soprano Ana Maria Martinez. He has also performed Rodrigo's "Concierto de Aranjuez" with the Fort Bend, Brazosport and Helena Symphonies. Jeremias has appeared in numerous recordings from Jazz to Classical. He recorded and released two CDs of original music-Garcia y Reyna's Baile del Sol and Cafe Khytaro's Distancia.
Jeremias served as Director of Guitar Studies at San Jacinto College for 20 years where he led an award-winning guitar ensemble. Today he is the Associate Artistic Director of the Houston Classical Guitar Festival and Competition. He maintains a private studio, directs guitar workshops and masterclasses while keeping a busy performance schedule.
Ana Maria Barcelo (baile)
Ana Maria Barcelo is a Flamenco dancer born in Puerto Rico. At the age of 3, she began ballet lessons. At 11, she was selected to be part of the San Juan Municipal Ballet Company. A few years later, Ana Maria received training in Classic Spanish Dance which sparked her interest in other Spanish dance styles. After moving to Valencia, Spain, to pursue a Masters in Cinematogaphic Screenplay Writing, she was introduced to the world of Flamenco.
In 2005, she returned to Puerto Rico and was invited by Antonio Santaella, a renowned Flamenco dancer from Granada, to be part of his Flamenco company "Mosaico Almudejar". She performed in many theaters and tablaos around the island. In 2008, Ana Maria went to Granada for several months to take full-time dance classes.
In Puerto Rico, Ana Maria established her own Flamenco Studio and started to produce Flamenco shows with the best singers and guitarists in the country. She was recently featured in Houston Grand Opera's Digital Production-"Suite Espanola".
Solangel "Lali" Calix (baile, castanets)
Solangel "Lali" Calix is a flamenco and Spanish classical dancer with excellent castanet technique learned from Maria Magdalena, one of Spain's prominent players. Her love of dance began in her native Honduras and culminated in extensive training in Spain where she studied Flamenco, Ballet Clasico and Espanol at Amor de Dios School, Madrid, with Ciro, and Maria Magdalena. In Sevilla's Escuela Flamenca, she studied with Juan Polvillo.
She later established Alianza Flamenca New Orleans as Co-Director with guitarist John Lawrence. From 1994-2005 she was the flamenco instructor at the New Orleans School of Ballet.
Andres Felix (cajon)
Andres Felix was tuned into flamenco music at an early age. His Spanish heritage and music were ever present in his childhood. He developed musically and rhythmically through guitar and percussion. Andres received guitar instruction at the Festival Flamenco de Albuquerque and from Jeremy Garcia. He also received cajon instruction from the late maestro Timo Lozano. Following that, he studied with Enrique el Peru and Chris Howard. Since 2011, Andres has performed professionally, providing percussion accompaniment for cante, guitar and baile in Houston and the region.