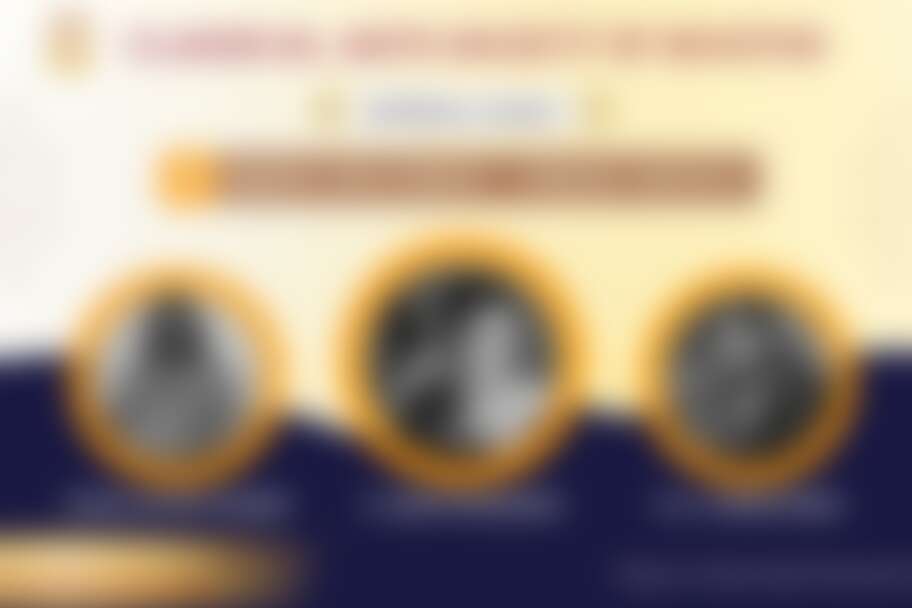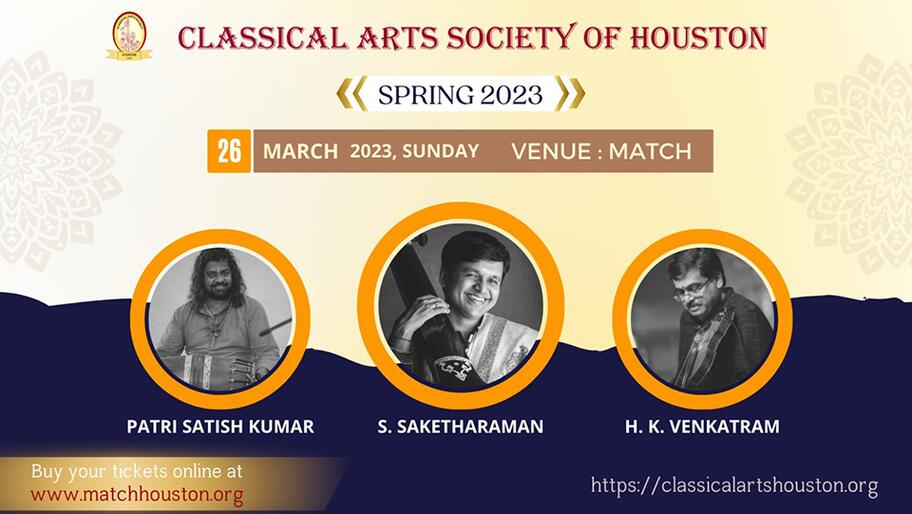 accompanied by H.K.Venkatram on the violin and Patri Satishkumar on the mridangam.
Vidwan Saketharaman has always lived his life celebrating music. Hailing from a rich musical heritage of Padmabhushan Lalgudi Jayaraman, Saketharaman had climbed up the ladder of his passion steadily and devotedly. His career in music has been decorated with many prestigious awards including Sangeet Natak Academy Award with performances in the prestigious halls all over the world including Madras Music Academy, Shanmuganandha sabha Mumbai, Thiruvaiyaru Thyagaraja Aradhana, Cleveland Thyagaraja festival, Learnquest conference Boston, Cannada, Theatre De Villa Paris, Sydney, Germany among many others.He is a unique musician with a perfect blend of intellectuality, innovation and tradition. He believes in a fluid approach to music, embracing the magic that unfolds with prolificacy and originality. Often called the "Prince of Pallavis", his presentations brim with superlative virtuosity, brilliance and aesthetics. His proclivity to explore, clarity of musical expressions, precision of delivery and delectable laya make his performances soul stirring and reverberates in the hearts of his listeners.
---
Sunday, March 26 at 4:30 PM
Runtime: 3 hours
Reserved Seating
---
ABOUT THE ARTISTS
S. Saketharaman Biography:
When Saketharaman was just 6 years old, his parents introduced him to the world of music through his first guru Srirangam Krishnamurthy Rao. At the same time, inspiration to pursue music came from his older sister Vishaka Hari, a well-known Harikatha exponent who was learning music under Srirangam
Krishnamurthy Rao at that time. To understand rhythm and perform better, he went a step further and learnt the Carnatic Mridangam, a percussion instrument. He has performed concerts all over the world. Saketharaman has imbibed the famous Lalgudi Bani rich in Bhavam. His voice that flows effortlessly in all three sthayis never fails to enchant the audience. His Pallavis are outstanding for its rich aesthetic and mathematical permutations and combinations with scintillating ragamalika swaraprasthara showcasing his scholarship and creativity. His Kalpana Swaras mirrors his rhythmic excellence. His methodical expansion of ragas, clear brigas and rich manodharma is a treat for music aficionados. He has composed chittai swaras for quite a number of kritis. His mastery over the swaras is extra-ordinary and is widely acknowledged. His style of winding up the concert with a thillana composed by his Guru Lalgudi Jayaraman is well known.
H. K. Venkatram Biography:
H.K. Venkratam is an Indian classical music violinist and Philanthropist. Venkatram has been an active violinist for over 30 years in India and abroad. He is known for his classical style of play and maturity on the violin. H.K. Venkatram started learning violin from his father, Prof H.V. Krishnamurthy at the age of 7. He gave his first concert at the age of 11 with his brother. Venkatram is one of the most sought-after violinists and is frequently seen in classical concerts in India and abroad. He is known for understanding the nuances of Carnatic Music and stressing on strictly following the classical approach to playing the violin.

Prathyarpana Foundation was founded as a charitable initiative by H.K. Venkatram and his wife, Triveni Venkatram. The institution is based in Bangalore. The foundation aims to use the Performing Arts for social causes. The foundation also aims to nurture and showcase new talent in the field of music.
Patri Satish Kumar Biography:
Kumar is an Indian Carnatic musician and composer, who is an exponent of the Mridangam, an Indian percussion instrument. He has been conferred with the prestigious Sangeet Natak Akademi award by the Government of India in the year 2020. He has also received an Honorary Doctorate for his outstanding endeavors in the field of Mridangam and for his special innovations and immense contribution to world music. Patri is also the recipient of the Global Peace Award for the year 2018 from the Universal Socio-Cultural Association in collaboration with Philanthropic Society India – International.

Although he is steeped in the highly conventional and codified Carnatic tradition of South Indian music—or perhaps because of it—Kumar is a firm proponent of keeping an open mind while creating, composing or experiencing music. Kumar is known for his fine dynamic control and architectural solo phrasings. He credits his teachers with broadening his mind, recounting that they never set him ambitious goals beyond immersing himself in the music as fully as he could.