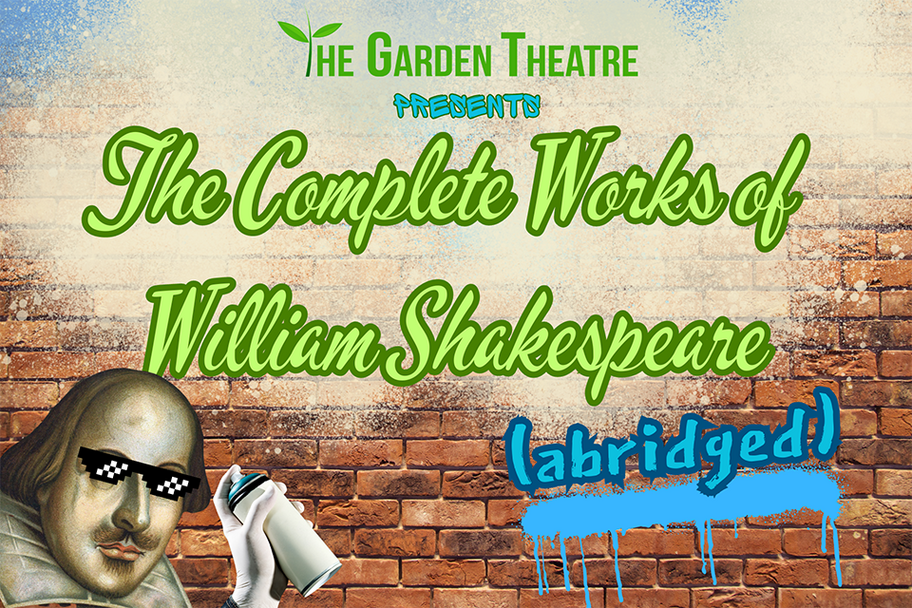 | Date | TIme | | Note |
| --- | --- | --- | --- |
| Friday, Oct. 20 | 8:00 PM | Buy Tickets | |
| Saturday, Oct. 21 | 2:00 PM | Buy Tickets | |
| Saturday, Oct. 21 | 8:00 PM | Buy Tickets | |
| Sunday, Oct. 22 | 2:00 PM | Buy Tickets | |
| Sunday, Oct. 22 | 7:30 PM | Buy Tickets | PWYC* |
| Thursday, Oct. 26 | 7:30 PM | Buy Tickets | PWYC* |
| Friday, Oct. 27 | 8:00 PM | Buy Tickets | |
| Saturday, Oct. 28 | 2:00 PM | Buy Tickets | |
| Saturday, Oct. 28 | 8:00 PM | Buy Tickets | |
| Sunday, Oct. 29 | 2:00 PM | Buy Tickets | |
By Adam Long, Daniel Singer, and Jess Winfield
SECURE YOUR TICKETS TODAY!
Purchase a SEASON PASS or FLEX PASS and secure your tickets in advance for all of the 2023-2023 Season at a discounted rate!
Single Tickets on sale August 1, 2023
Three people, one dead playwright, and 37 plays, all in just 90 minutes. The Complete Works of William Shakespeare (abridged) takes you on a wild romp through all of Shakespeare's classics including Romeo and Juliet, Hamlet, The Taming of The Shrew, and A Midsummer Night's Dream. Prior knowledge of Shakespeare's work is not required, but someone close by to call 911 in the event you pass out from laughing is.
Warning! This show is a high-speed roller-coaster type condensation of all of Shakespeare's plays, and is not recommended for people with heart ailments, bladder problems, inner-ear disorders, outer-ear disorders, Shakespearean scholars, degrees in Elizabethan history and/or people inclined to motion sickness. The Garden Theatre cannot be held responsible for expectant mothers!
---
Runs October 20 thru October 29
Runtime: 90 minutes
Tickets:
$28 Regular
$23 Students/Seniors
GROUP DISCOUNT
Groups of 10 or more can recieve a 15% discount on your ticket purchase when using promo code GARDENPARTY at checkout.
*PWYC= Pay What You Can!
The Garden Theatre wants everyone to see this wild Shakespearean romp. To accomplish this, they are offering Pay What You Can nights on the first Sunday evening and Thursday evening performances. Tickets start at $10 and increase depending on what you'd like to pay. Have a little more? Give a little more to support this new effort from one of Houston's newest theatre companies!
---
*In-Person Sales
Please note that our online sales will end 2 hours prior to each performance times. After this time, tickets will be available to purchase in-person at the box office while supplies last.